Types of Vacuums
So many vacuums. Which one to choose? Just like any other purchase, consider your needs in order to make the best decision. What types of floors are in your home? Do you have pets? Are you an allergy sufferer? Do you need something that's lightweight and easy to move from room to room or floor to floor? These are all important factors when determining which type of vacuum cleaner to purchase. This guide can help you figure out which vacuum is perfect for your home.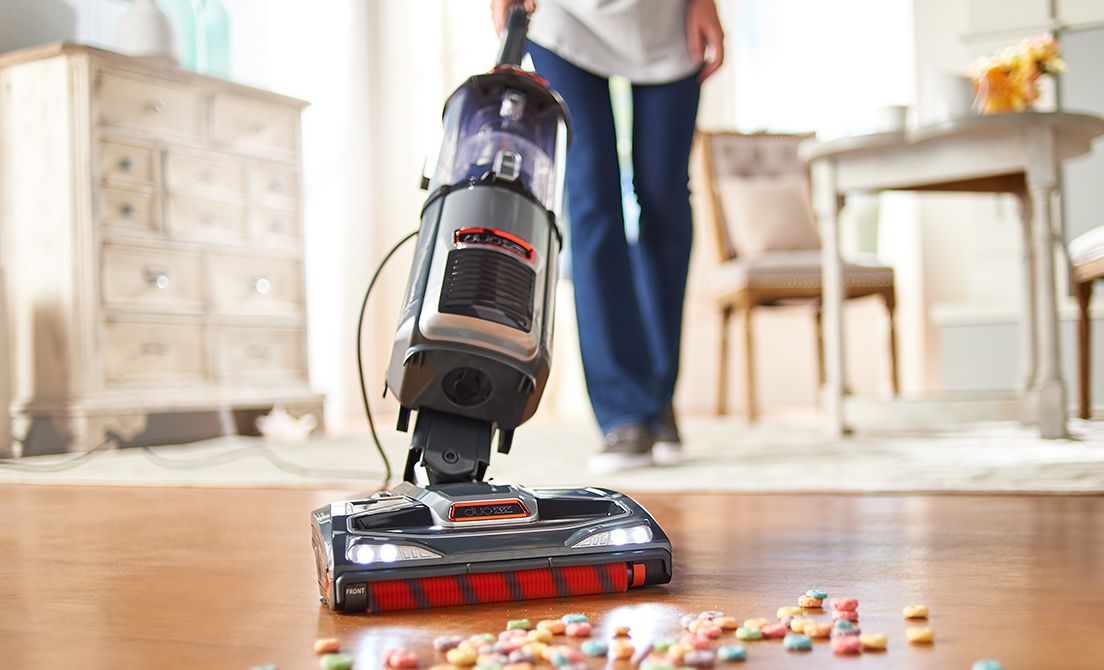 Upright Vacuums
This is your "traditional" vacuum—the one Mom or Dad probably used to clean the carpet when you were a kid. So, what are the benefits of an upright vacuum cleaner?
Size: Upright vacuum cleaners are quite comfortable to use because you don't need to bend much as you vacuum, as you would with a canister model. However, if your home has multiple levels, moving an upright vacuum from floor to floor is not the most convenient endeavor. In that case, consider a lightweight vacuum that's easier to transport.
Versatility: One difference between today's upright vacuums and the ones from years ago? Today's uprights not only take care of dirt on carpets, but most are also designed to handle just about every floor type. Several upright vacuum models have a carpet-height adjustment system that allows them to thoroughly clean carpets of virtually any thickness. If your home has plenty of bare floors, just be sure to look for models with soft bristle brushes to decrease the possibility of scratching your beautiful bare floors. No matter the floor type, upright vacuum cleaners perform their tasks quite well, providing perfectly adequate suction power.
Accessories: Most upright models are packaged with several vacuum accessories. A wand attachment can be used for cleaning curtains, corners, or other hard-to-reach areas; a stair tool gets pesky dirt on your steps; a crevice tool is ideal for cleaning your car or in between couch cushions; a dusting tool works well on blinds and ceiling fans; and, if you have furry companions, a pet hair accessory is essential to pick up dog and cat hair from furniture.
Design: Several upright vacuums are bagless, which means—yep—there are no bags! These are among the most popular upright vacuums, and feature dust containers that are much easier to empty than a bag. Many upright vacuums use an advanced filtration system, which can help if there are allergy sufferers in your home. Built-in bumper guards protect your furniture against damage from accidental whacks—and we've all done that. There are also plenty of uprights out there with long power cords, so you can vacuum easily without changing outlets.
Cost: Upright vacuums are easier on the wallet than canister models.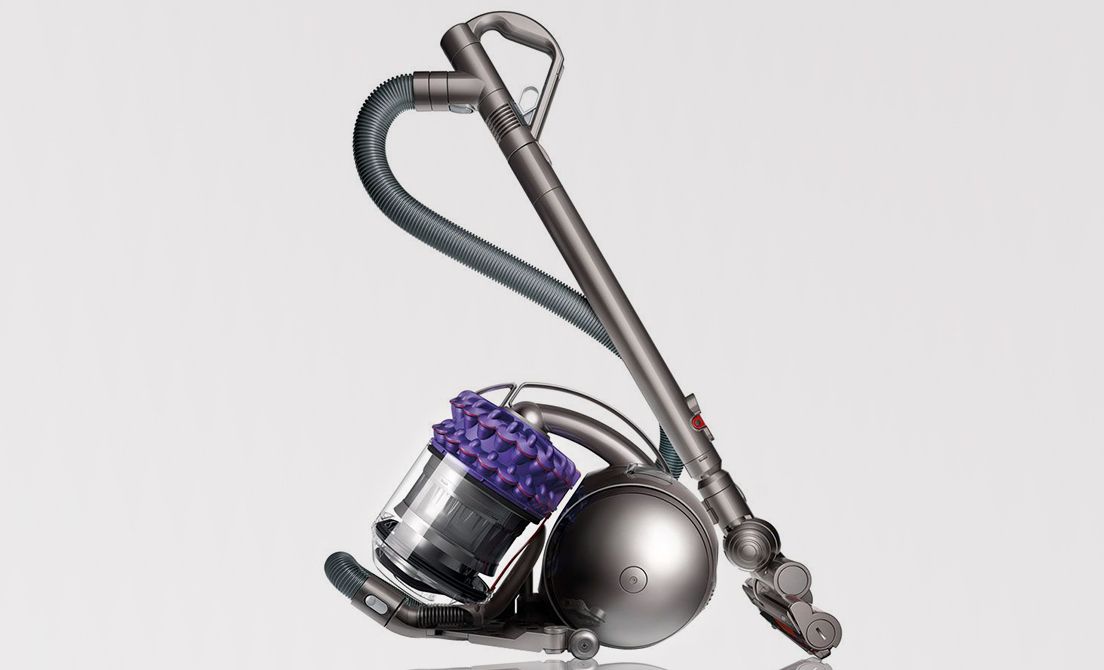 Canister Vacuums
Canister vacuums, or cylinder vacuums, are powerful models that are designed with the motor and bag in a separate canister unit (generally on wheels) connected to the vacuum head by a flexible hose. What are the pros of a canister vacuum?
Power: Most canister vacuums feature "power heads", which contain the same sort of mechanical brushes as upright vacuums. The difference? They're driven by a separate electric motor. Canister vacuums generally offer better suction, which means easier and faster cleaning, especially for bare floors
Maneuverability: A canister is generally a more lightweight vacuum than an upright, and the long attachment hose makes it easier to clean stairs and hard-to-reach places; it's also ideal for vacuuming drapes and cleaning cars. Canister models are being produced in a more compact, easy-to-carry design, which means they're also able to be stored easily—more so than an upright.
Versatility: Like upright vacuums, canister vacuums are very practical and functional, capable of doing a great job on either carpets or bare floors. Canister vacuums work well in homes where more than half of the flooring is hard surface, switching directly from carpet to hard-floor cleaning. There are bagged and bagless canister vacuums, many equipped with features like filtration enhancements and air purification technology.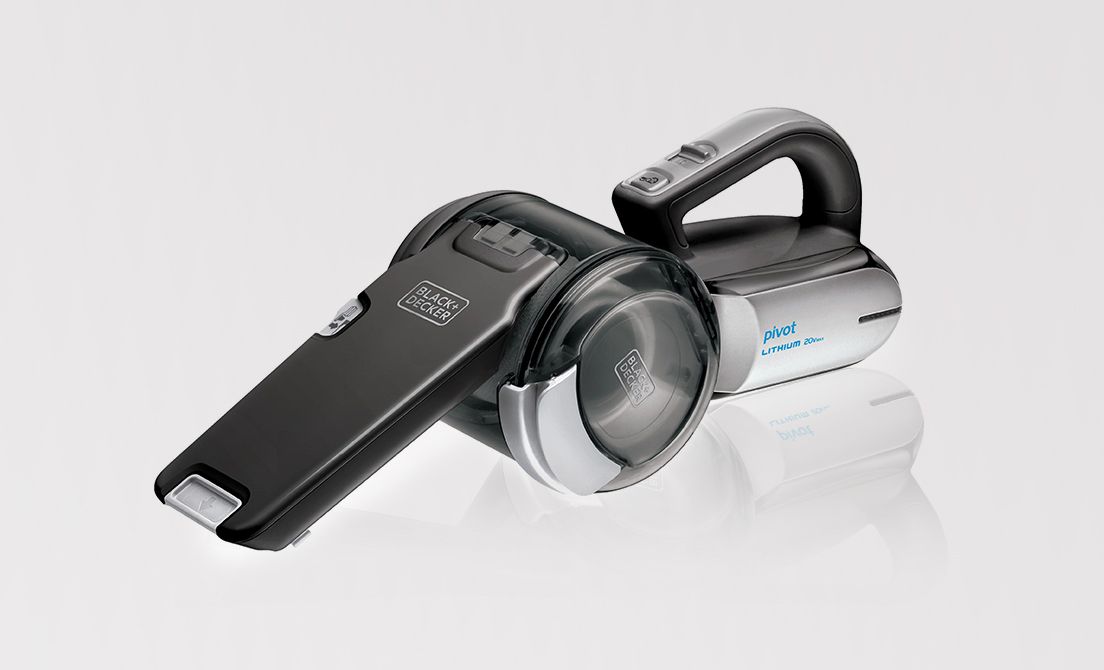 Handheld Vacuums
Not all handheld vacuums are created equal! Some are designed for power, some for convenience. Here are some pros.
Portability: The name says it all. These vacs can be held with one hand and are designed to be portable. Whether you're carrying it around the house or outside, it's easy to take with you.
Cordless convenience: Not all handheld vacuums are cordless, but the ones without wires are generally lightweight and better suited for small jobs like getting rid of lint or dirt from a sofa, doing a quick cleanup of a mess on the floor, or sucking up sawdust and debris from a work area. These cordless vacuums are easy to empty thanks to a small, removable dust container. Keep a rechargeable vacuum on its charger, and it's always powered up and ready for use.
Car cleanup: OK, handheld vacuums aren't confined to just cars. In fact, portable vacuums are perfect for boats, furniture, and other areas that need more suction power than the lightweight cordless hand vacuum. These models are designed with larger dirt receptacles for bigger jobs; and they're larger and heavier than the cordless hand vacuums, so this type of vacuum is better suited for occasional use.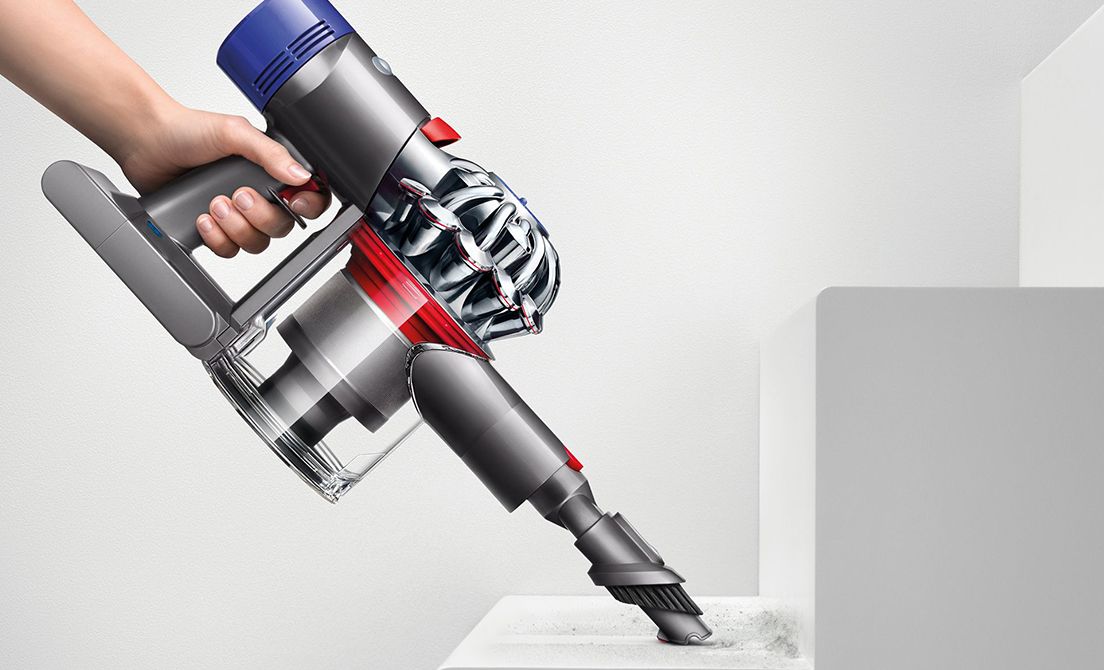 Stick Vacuums
Smaller job? Look to a stick vacuum to take care of light-duty messes. Stick vacuums, also known as sweepers, are a good complement to a traditional vacuum. They're ideal when you don't feel like lugging out the full-sized model to clean up a small mess. So, why else a stick vacuum?
No wires: With nothing tying you down, a cordless stick vacuum can be taken wherever a little cleanup is needed.
Surprising versatility: While most sweepers are designed for hard floors, others can be used to quickly clean small carpeted areas. Some models possess a degree of suction power, making them useful on either carpet or bare floors. Other stick vacuum cleaners operate on a brush-roll technology that scoops dirt and debris from the carpet into a small, tray-like container. Now, sweepers aren't ideal for larger carpeted areas since their cleaning path is narrow and their suction power generally isn't strong enough for deep carpets, but they'll take care of smaller areas and are great with large areas of bare floors.
Compact backup: Stick vacuums are ideal when you don't feel like dragging a full-sized vacuum around the house for minor messes. Cordless sweepers are slim and easy to store, so it's nice to have one in the kitchen or a closet in case you need to make a quick cleanup. They're also perfect for smaller living spaces and dwellings with limited storage space.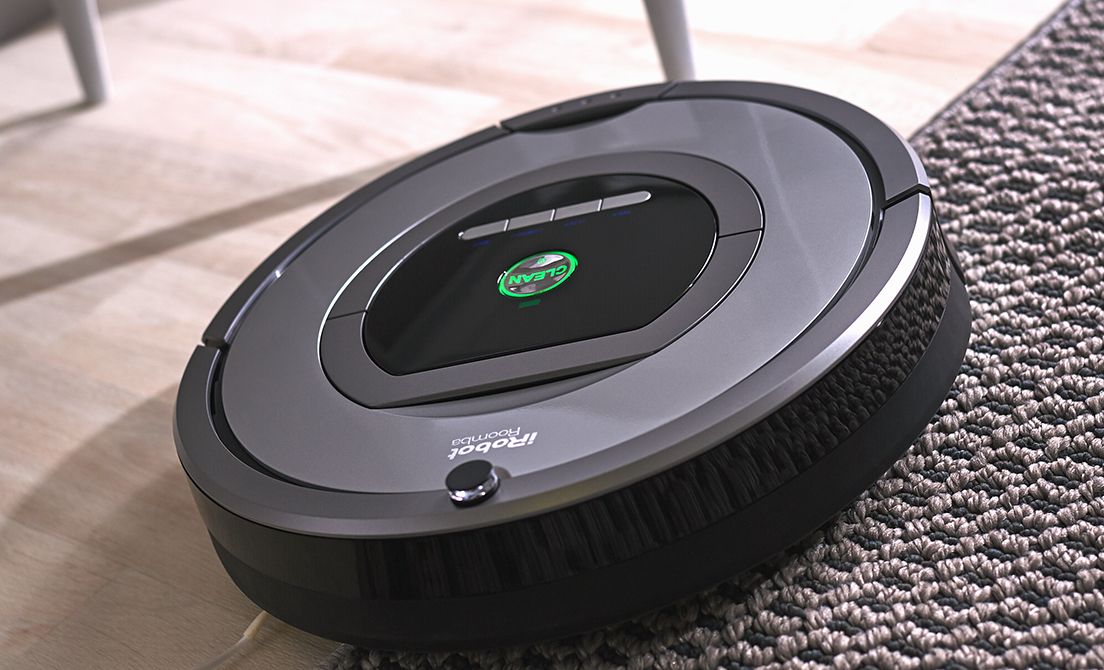 Robotic Vacuums
If you're just tired of vacuuming altogether, have a robot do it for you! Well, a robotic vacuum, anyway. Here's why you might love this cool gadget.

Programmable cleaning: With a robotic vacuum, you don't even need to be home to clean your floors! Most robotic vacuums allow you to program them to clean while you're away or busy with other tasks. But, there is some prep work involved—you need to make sure the floor area is clear of larger objects before sending the robotic vacuum on its cleaning mission.
Efficient sweeping: By design, robotic vacuums are not powerful enough to really dig deep into carpets. But they are ideal at sweeping and gathering surface dust and dirt, perfect for homes with lots of bare floors. If you really need to save some time and want a good sweeper, a robotic vacuum cleaner is a good choice. But, since it's better suited for light cleaning and dusting, and it comes with a relatively hefty price tag, it may not give you the best bang for your buck. You'll still want a primary upright or canister vacuum to take care of bigger messes.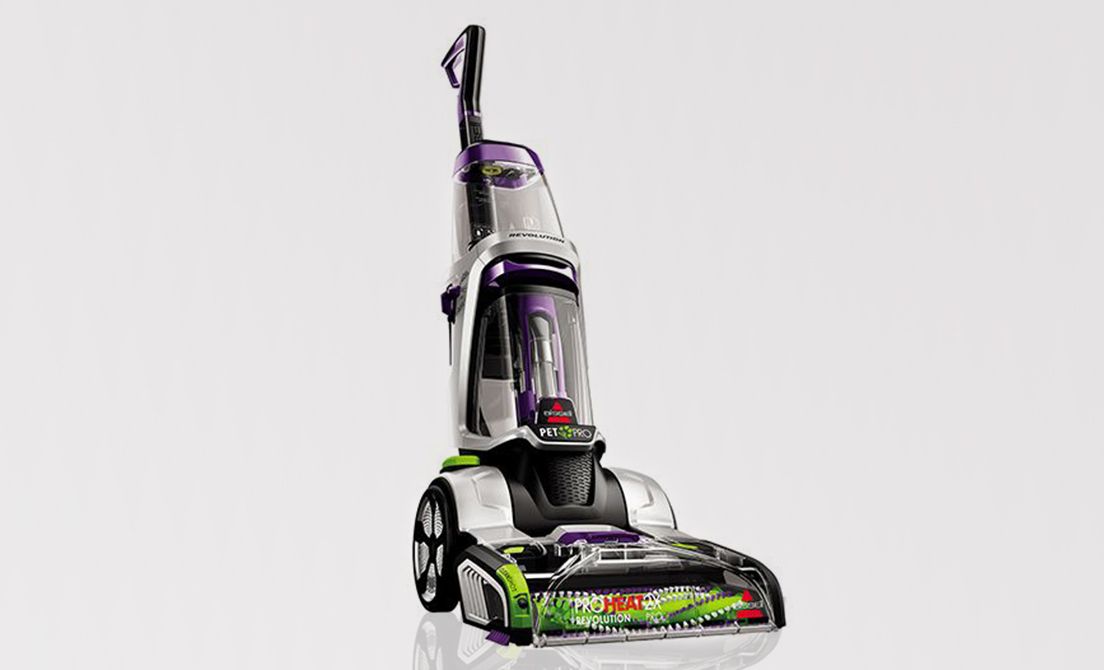 Carpet Cleaners
Pick up what vacuums leave behind and refresh your carpet. Remove dirt, spots, and stains with one of these cleaners. Most require some type of cleaning solution to loosen dirt and then suction it away. Here's some features to help you choose the machine right for your home.
Portable cleaners: Great for spot cleaning and stain removal.  Lightweight and easy to use and store.  Great for pet owners and small clean ups.
Upright Cleaners & Steamer: Allow for whole room cleaning. Some models have upholstery cleaning tools too. 
Wet/Dry Vacuums
Big mess? A wet/dry vacuum, also known as a shop vac, has the power to clean it up. These powerful vacuums were once relegated to workshops, garages, and basements, but more and more people are taking advantage of the wet/dry vacuum's versatility. Here are a couple reasons why you might want to have one around.
Tackles any mess: Just as its name states, wet/dry vacuum cleaners can effectively clean dry surfaces and also take care of liquid spills. Suction is top-notch, ensuring these vacuums can tackle larger messes, particularly helpful if you have a basement prone to flooding.
They're multifunctional: We already know shop vacuums can handle wet and dry spills, but some of these versatile vacuums also feature a switch or exhaust port that reverses the air flow, essentially turning it into a blower. This is very useful for clearing a clogged hose or blowing debris into a neat pile for easy cleanup.
Good value: Wet/dry vacuums are not very cost-prohibitive, so it's a good idea to have one around in case you encounter a large mess at some point. And, while they can be used for traditional carpet or bare floor cleaning, wet/dry vacuums tend to lack the filtration features you generally want in a standard vacuum, meaning they often return some dust to the room. They're also not the quietest machines in the world, so they are better suited for outdoor, basement, or garage cleaning. That said, newer models are being designed with quieter operation so they can be used more comfortably inside the home. 
Vacuum Versatility 
OK, now you know all about vacuums—so, what to clean with them? Vacuums are capable of cleaning far more than just carpets and flooring as you've read above. With all the attachments and accessories that most canister and upright vacuums come with these days, they've become very versatile cleaning tools for your entire home. Check out what else you can clean with a vacuum.
Furniture: Not many people think to vacuum their furniture, but you'd be surprised how much dust and even dust mites—sofas, shelves, and chairs gather. Try to vacuum your furniture weekly, especially if people in your household are sensitive to dust. For upholstered furniture, use a T-shaped upholstery vacuum attachment.
Inside cabinets and drawers: Surprised? Plenty of dust, crumbs, and other debris accumulate in these areas. Use a vacuum crevice tool to remove the dirt from all those drawers in your home.
Cutlery drawer: Dirt alert! You'll get plenty of crumbs in your silverware drawer, so use a wand attachment and vacuum them away.
Books: You probably don't want to take a cloth to those precious volumes of yours, so use a vacuum to dust books and magazines.
Stairs: A crevice tool, stair tool, or wand attachment works wonders to clean out those pesky corners of your stairs.
Closets: If you have a coat closet, you know that all the stuff that sticks to your shoes is probably on the floor. So, vacuum up all that dust, sand, and dirt that gathers near your shoes.
Pillows: Like furniture, pillows attract dust and dust mites, not to mention dead skin. You have a couple of options— vacuum a pillow, or place it inside a large plastic bag, and, while holding the bag slightly closed, gently remove the air with the vacuum hose. Simply fluff your pillow outside or anywhere the air is cleaner.
Mattresses: See pillows. Same issues for mattresses and box springs. Vacuum them regularly to reduce allergens and to ensure a nice, clean sleeping environment.
Rooms: Think of it more as a freshening. To remove airborne dust and allergens and freshen up the air in a room, just remove the hose and leave the vacuum on for 10 to 15 minutes in a closed room. The vacuum will return cleaner air to the room. This is a great way to contain or reduce disturbed dust while doing some spring cleaning. Pretty cool, huh? Just make sure not to leave your vacuum on for extended periods.
Vehicles: Whether you use a handheld vacuum, a wet dry vacuum, a car vacuum, or a traditional vacuum with accessories, vehicles are easy to clean with the right unit. You can take care of the upholstery, carpets, and floors of your car, trailer, or boat. Only use a wet dry vacuum if there is substantial dirt or if the area is wet.
Draperies and valances: You've probably never noticed, but lots of dust accumulates on your curtains, especially on the top of curtain headers and valances. Break out your vacuum and pop the wand and dusting attachment onto the hose to get cleaning. Some vacuums even have a delicate suction feature that works gently on draperies.
Walls: Vacuum walls? Dust gets everywhere, even walls! So, if you're planning on washing or painting a wall, it's smart to vacuum-dust the wall to remove the loose dust that will only be spread around with a wet cloth. It works especially well on wood and paneling.
Mirrors: Instead of smearing dust with glass cleaner, give your mirror a good, quick vacuum before wiping it down. Just be sure to use a very gentle and soft dusting brush on mirrors and glass.
Ceiling fans and light fixtures: Ceiling fans and light fixtures are dust magnets. Put a soft brush attachment onto your vacuum hose and clear out that dust and dirt from the fan blades and motor housing.
Lamp shades: It may not appear there's much dust on your lamp shades, but there is. Attach a crevice tool to your vacuum's hose and run it gently over your lamp shades to get it out.
Garbage cans: These are obvious gathering places for dirt and crumbs, but people don't think to clean them out. Put on a wand attachment and suck all that debris out of your garbage or recycling cans.
Humidifiers and air cleaners: Occasionally vacuuming the air intake and diffuser where air returns to the room is a great idea, since dust tends to collect in these areas. Air cleaners with built-in ionizers accumulate dust at a more rapid pace.
Runners and area rugs: Just be gentle when vacuuming small runners and mats. And, try to avoid vacuuming fringes or carpet corners.
Refrigerator coils: Here's a surprise. Vacuuming exposed coils behind your refrigerator can potentially reduce energy costs and make your fridge run even more efficiently.
Painting or staining projects: If you're refinishing or painting wood furniture, you'll get even better results by vacuuming the wood and ridding it of tiny sawdust particles, steel wool fibers, and other hard-to-see debris before you paint or stain.
Steaming or cleaning a carpet: Vacuum your carpet before steaming it, so you can get rid of particles, gravel, and other dirt. Doing this also helps lift dirt to the surface, making it easier for the steam cleaner to do an effective job. Once you're done with the carpet cleaner, vacuum again in order to fluff and raise rug fibers.
Other Vacuum FAQs
To bag or not to bag?
Bag vs. Bagless—which is better? Well, there really isn't a clear-cut answer. It comes down to matter of preference. Here's the dirt on both bagged vacuums and bagless vacuums.
Performance: A bagged vacuum cleaner is quite effective and powerful, but it's at its most effective when the bag is less than half full. Once the bag starts to fill up, the vacuum loses suction power. And that means you're buying and changing bags more frequently than you'd probably like. Bagless vacuums, on the other hand, have a clear receptacle that shows you when it's time to empty—no bag to fill up or clog. However, bagless vacuums do lose some suction power when their filters become clogged with dust. Checking and cleaning the filter is recommended for maximum performance. Many newer bagless models use multi-cyclonic technology that eliminates the filter having to separate the dirt, meaning the vacuum filters stay clean longer—and that results in constant powerful suction and improved cleaning.
Cleanup: Vacuum bags are pretty easy to remove and replace, so you don't have to deal with the dust cloud that can come when emptying a bagless model. Bagged vacuums are convenient because you can simply throw away the bag with the debris in it—no dust escapes. But then there's the hassle and cost of finding and buying replacement vacuum cleaner bags. A bagless model? Simply remove the dirt cup and empty into the trash; but again, this will probably result in some dust and dirt returning to the air. As a side note, bagless vacuums are more helpful if you've accidentally vacuumed something and you want to retrieve it. The clear receptacle allows you to see the dirt and debris, making it easier to locate something, whereas a bag would have to be opened. And that can be messy.
What the heck does HEPA mean?
You've probably seen many vacuums advertised as having a HEPA filter. The High-Efficiency Particulate Air filters in HEPA vacuums effectively trap germs and other contaminants, causing them to die in the dry environment of the filter fibers. HEPA filter vacuums can remove up to 99.97% of airborne particles by trapping contaminants like pollen, dust mites, dust, animal dander, smoke, mold, and other allergens that are 0.3 microns or larger, and removing them from the air; this can be very helpful for those who suffer from asthma or allergies. These filters also help prevent the spread of airborne bacterial and viral organisms. And let's not forget about pet hair! HEPA vacuums excel at ridding your home of that pesky fur. Watch out for imitations, though—not all filters are created equal! There are plenty of generic, HEPA-like filters out there, but an authentic HEPA filter displays its efficiency ratings right on the package. HEPA vacuum cleaners are usually pricier than other models, but if air quality is important to you, a HEPA vacuum might be worth the extra cost. Just be sure to follow the manufacturer's recommendations for changing your filter for the best possible performance.
What's a brush bar, and why should I know if my vacuum has one?
You're not alone in not knowing whether your vacuum has a brush bar. Some vacuums feature an on/off brush feature, which is a powerful cleaning option to have. So, what does this mean? When vacuuming hard surfaces, the vacuum's brush roll often pushes dust and debris away from the vacuum before it can be suctioned. By turning off the brush roll, the vacuum switches to a "suction-only" mode for fast, efficient cleaning of hard floors. This adds to your vacuum's versatility. Since you now have the built-in option of switching between hard-floor cleaning and carpet cleaning, you only need one vacuum for all your home's floor care needs! Also of note: if you're using the hose or other vacuum cleaner attachments, it's important to turn off the brush roll to prevent beating the carpet or hard floor in one spot.
How often should I vacuum?
The frequency of vacuuming is determined by the amount of wear your carpet gets. Areas can be classified into heavy and light traffic. This is based on the amount of "use" your carpet gets in these areas. For heavy traffic areas, vacuum the "traffic lanes" daily and the entire area twice weekly. In less frequently traveled areas, vacuum twice weekly.
Dirt and debris need to be removed to keep the carpet looking its best longer. Walking on dirty carpet allows the soil particles to work their way down into the carpet fibers, making it more difficult to remove and leading to possible damage. By vacuuming regularly, you'll remove these particles from the surface before they can get to the fibers and create a problem. To get the best possible results, be sure to vacuum the area slowly and go from side to side. Occasionally change your vacuuming direction to help stand the pile upright and reduce matting.
How many times should I vacuum a trouble spot?
For heavier traffic areas, give it a good five to seven passes. For less traveled areas, go over those spots three or four times. For best results, vacuum the area slowly, from side to side. Occasionally change direction to help stand the pile upright and reduce matting.
When do I replace my vacuum bag?
Check the dirt level in the bag before you vacuum. As previously mentioned, you'll get the best results if you change your bag when it is half or two-thirds full. Why? Small dust particles accumulate and can keep the air from circulating. This ultimately reduces the suction of your bagged vacuum cleaner. If you're vacuuming drywall dust, pet hair, other fine particles, or new carpet, you may need to change the bag sooner. Some bagged vacuums do feature an indicator that lets you know when the bag needs to be changed.
How do I know if it's time to change the belt or filter?
The belt may need replacement if the vacuum is not cleaning as well as it had before, or if the brush roll has stopped turning. With bagless vacuums, a clean filter is vital to maintaining peak performance. After several uses, filters get dirty and can clog, and this will lessen the vacuum's performance. Be sure to regularly clean and monitor your filters.
Why isn't my vacuum picking up dirt?
Shut down and unplug your vacuum and give it a good look. Inspect the belt for damage or to see if it's missing completely. If you have a bagged vacuum, make sure the bag isn't full; if you use a bagless model, make sure the filters are clean. Give the hoses and airflow areas a once-over to ensure there are no cracks or clogs. There could also be several other issues like a detached hose or worn brush bristles. If there's still a problem, consult your vacuum's manual for troubleshooting.
Flooring Types and How to Care for Them
You're now very knowledgeable about vacuums, so let's talk about all the types of flooring and how to care for them. Here you'll find information on different types of flooring and some ways to keep them looking their best.
Carpet: You've read about all the different types of vacuum cleaners; now you need to decide which one is best for your carpeted floors. Carpet, believe it or not, is one of the hardest floor surfaces to keep clean. They're thick and thin, delicate and durable, expensive and cheap, all different colors. So many variations. So many different ways to get dirty.
Vacuum: Regular—if not daily—vacuuming is obviously essential for carpets, as it prevents loose dirt and grit from working their way deep into the carpet pile where it can damage the fibers. Upright vacuums with revolving brushes work especially well, since they dislodge embedded dirt. Use a suction head for loop-pile carpets, since beater brushes and heads can cause the carpet to bobble. You also want to ensure that your vacuum's head is compatible with different carpet brushes. A vacuum that allows you to switch to brushes with softer bristles enables you to care for carpets of just about any texture.
Steam clean: An annual steam clean is never a bad idea to keep your carpet looking new and fresh. It's smart to clean according to wear, but higher-traffic areas should be cleaned once every two years, whether you do it yourself with a steam cleaner and solution or you hire a pro. Just make sure to give your carpet ample time to dry—12 hours should do it—before placing your furniture back in the room. For small stains, feel free to spot clean with a solution cleaner when they occur.
Rugs: It happens. Rugs get dirty. If the weather's bad or your kids or pets have been playing in the dirt, your rugs are going to suffer. When you need to clean your rugs, these vacuums are your best bet.
Bagless vacuum cleaner: The suction power of a bagless upright vacuum is ideal, no matter how dirty your rug is. Bagless vacuums' suction stays powerful throughout, ensuring a better clean than a bagged vacuum.
Upright vacuum cleaner: If you own an Oriental or Persian rug, clean carefully! These rugs are obviously very expensive and delicate, so it's recommended you use an upright vacuum with a rotating brush attachment. And only move the brush in the direction of the rug's fibers. Don't shake an Oriental rug—you will not like the results!
Wood Flooring: Hardwood floors are undeniably beautiful—but they're not as easy to maintain as other flooring because their smooth surfaces are very delicate. Wood floors should be cleaned frequently, especially in high-traffic areas, to keep them looking their best. Here are some tips on how to ensure your hardwood floors stay gorgeous.
Break out the broom: Wood floors should be swept regularly. This helps remove dirt, dust, and debris that can lead to scratching.
Vacuum?: Yes, a gentle vacuum does a great job on hardwood floors. Make sure the vacuum has a brush setting—you do not want to use a vacuum with a beater bar, as this could very easily damage your beautiful hardwood floors. Canister vacuums are generally the way to go for wood floors.
Mop it: Use a well-wrung mop about once a week, using soapy cleaner that's specifically made for wood. Avoid saturating the floor or allowing water to stand or pool—this can cause damage. To prevent staining the wood or removing the finish, clean up any spills promptly.
Treat: If you have waxed boards, wet-clean them sparingly, and use wax polish for an incredible patina. Remove dirty wax buildup with white spirit, and then have the boards re-waxed. You should treat engineered boards with oil or lacquer reviver and a soft cloth. If your floor gets really dirty, look into a neutral-pH wood cleaner. And, be sure to use wood-cleaning solutions designed for your floor's finish.
Cover it: You obviously don't want to hide your hardwood flooring, but strategic rug placement throughout your home (think entryways, hallways, and other high-traffic areas) can help your wood flooring avoid damage.
Be gentle: Aside from cleaning and treating your floor, there are plenty of ways you can keep your wood floors looking like new. Don't let high heels on your floor, whether they're yours or a guest's, since hardwood floors are very easily scratched by heels. And, avoid sliding furniture across the floor. If you're moving or rearranging, either lift the furniture off the floor completely or use felt protectors on the legs.
Tile Flooring: Tile floors are pretty easy to clean, so if you have them in your home, consider yourself lucky! For smaller rooms or bathrooms, just a small handheld vacuum may be needed. They do a pretty effective job of getting into corners and tight spaces. For a larger area, like a kitchen, it might make sense to get an upright vacuum—cordless is a convenient way to go. Just make sure you get one with a powerful motor; otherwise, it'll just blow all the dirt around, which sort of defeats the purpose. It's always a good idea to sweep up larger debris and dirt with a broom before vacuuming. Below is a list of tile surfaces and other ways to keep them looking spectacular.
Ceramic tile: Easy as can be. Clean your ceramic tile flooring with a mild detergent and water solution; no sealing necessary. You can wipe ceramic floor tile clean with a damp mop and a standard, all-purpose cleaner. Follow by drying the ceramic floor with a soft cloth to avoid streaking. Avoid using abrasive cleaners since they may scratch the glaze.
Brick tile/Stone tile: Brick and stone tiles are also ideal candidates for a homemade cleaning solution. Combine one gallon of lukewarm water with one cup of white vinegar. Then clean the tiles gently with a mop, scrub brush, or towel soaked in the solution, making sure all areas are covered. Rinse with clean water, and then wipe with a towel to remove excess water.
Porcelain tiles: Baking soda to the rescue! Dampen a cloth with water and add a good amount of baking soda to it. Scrub your porcelain tiles with the cloth, and rinse with clean water; dry with a towel upon completion. Tougher stains may require a vinegar solution.
Natural sandstone tiles: Another handy kitchen helper! Add one gallon of warm water to a bucket, and drop in 1 Tbsp. of dish soap. Moisten a cloth or sponge in the solution and wipe your sandstone tiles clean. Then rinse the floor with clean water using a clean sponge; dry with a towel.
Marble tiles: One of the more impressive tiles out there, you want to be sure your marble floor tiles stay shiny and clean. To do so, collect a bucket of hot water and add one cup of dish soap. Using a sponge or cloth soaked in the solution, gently scrub the marble tiles so you don't leave behind any scratches.
Wood tiles: Vinegar is very versatile! To clean your wood tile flooring, prepare one gallon of warm or hot water in a bucket, and then add 2 Tbsp. of vinegar. Dampen a sponge or soft cloth with the solution and wipe gently on your wood tiles. Rinse with clean water and wipe with a towel to dry.
Laminate Flooring: Attractive and easy to clean, laminate flooring is similar to hardwood flooring in that there are many ways to maintain its beauty.
Break out the broom (again): A broom is a timeless, simple way to clean your laminate flooring. Simply sweep dirt and debris away a few times a week.
Mop it (again): All you need is water and cleaning solution (not too much solution; it could discolor your floor) to mop away dirt and dust. An ideal—and gentle—solution is to mix a cup of vinegar with a gallon of water. You get the clean without the soapy residue of chemical cleaners. Just don't leave water on the flooring as it may make your floor expand—and you don't want that. Simply wipe away excess liquid with a towel or dry it with a fan.
Vacuum (again): Wet dry vacuums and canister vacuums are both ideal for cleaning laminate floors. Each is lightweight and effective—just be sure your canister vacuum doesn't have a beater bar as it could damage the laminate floor. And, as with mopping, if you're using a wet dry vac, don't leave your floors wet. Wet dry vacuums do a great job cleaning laminate flooring as they efficiently take care of dust, hair, dirt, and stains. Make sure your vacuum is lightweight since a heavy vacuum might cause scratches.
Take care: Again, a rug in a high-traffic area is a good idea to prevent damage. And never polish, sand, or wax a laminate floor.
Natural Flooring: Most high-quality natural floor coverings, like cork, bamboo, linoleum, and other sustainable hardwoods, are fairly easy to maintain, thanks to a latex backing that prevents dust and debris from falling through. Here are a couple of ways to keep your natural flooring looking its best.
Yes, vacuum (again): A canister vacuum cleaner without brushes is a great choice since canister vacuums help to avoid damaging the fibers.
Cleaning products: Stain inhibitors are often sold with high-quality natural flooring, and this protects it from dirt while prolonging life. Stain inhibitors should be applied to spills immediately, before the stain has a chance to absorb into the flooring. Simply mop it up with a clean cloth or a paper towel. Avoid using carpet mousse or shampoo—these can cause natural floorings to shrink.
Go pro: Think about hiring a professional cleaning company if your flooring needs a truly thorough clean; just make sure they use a dry cleaning system, not wet.