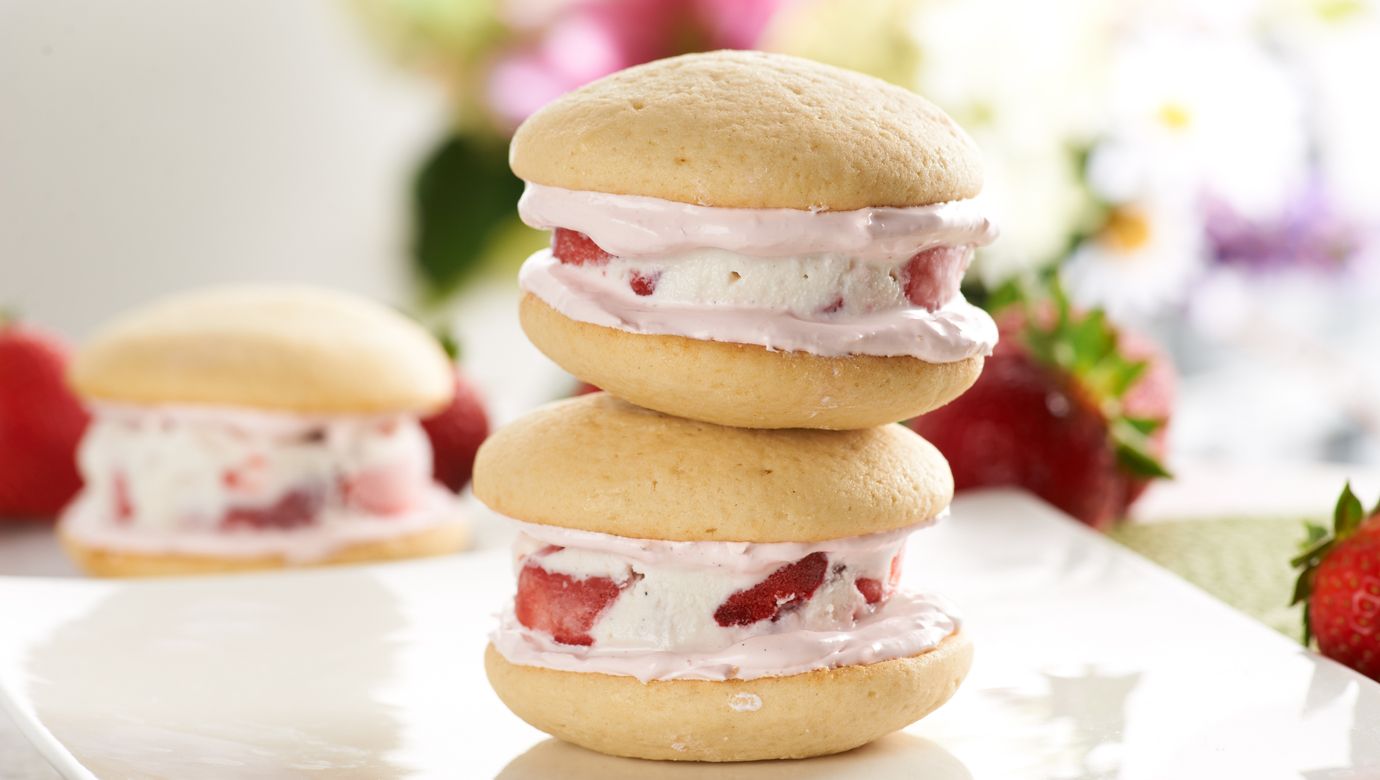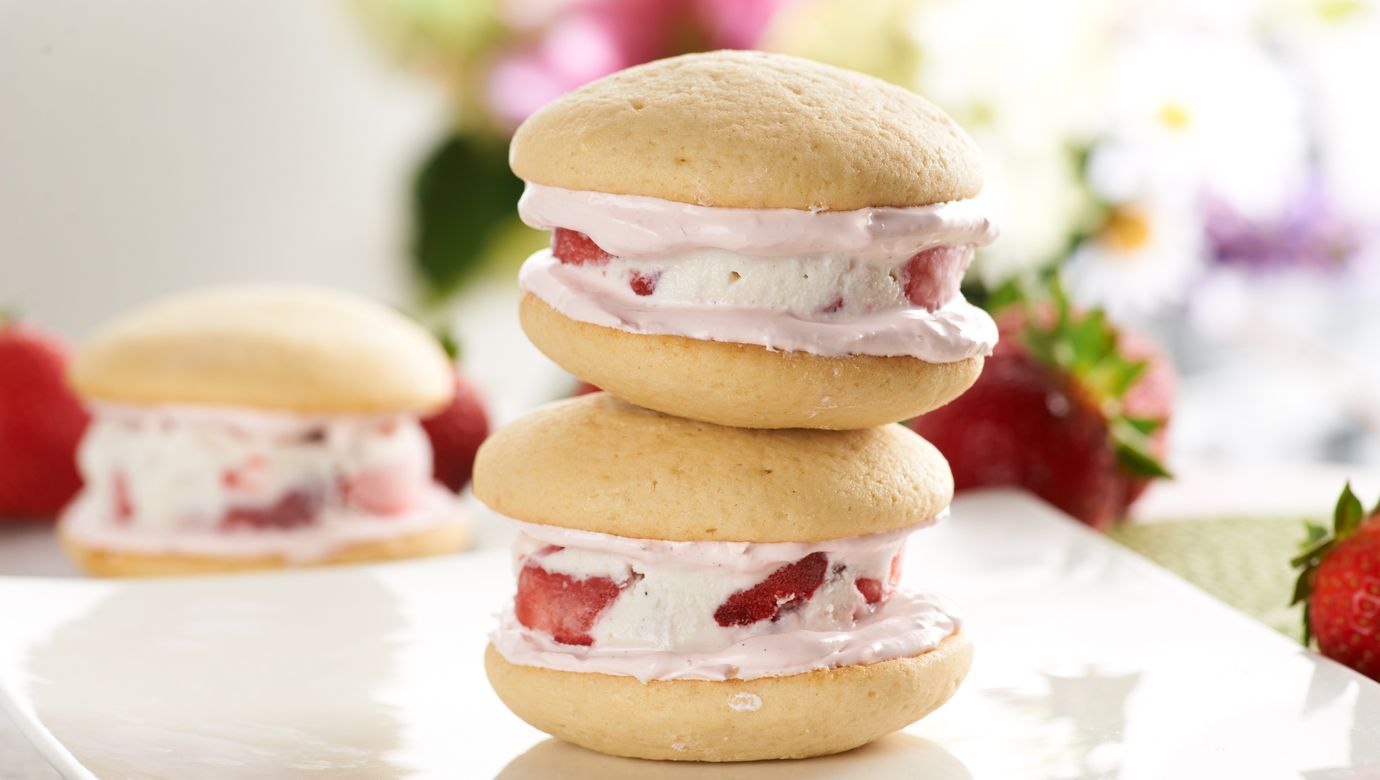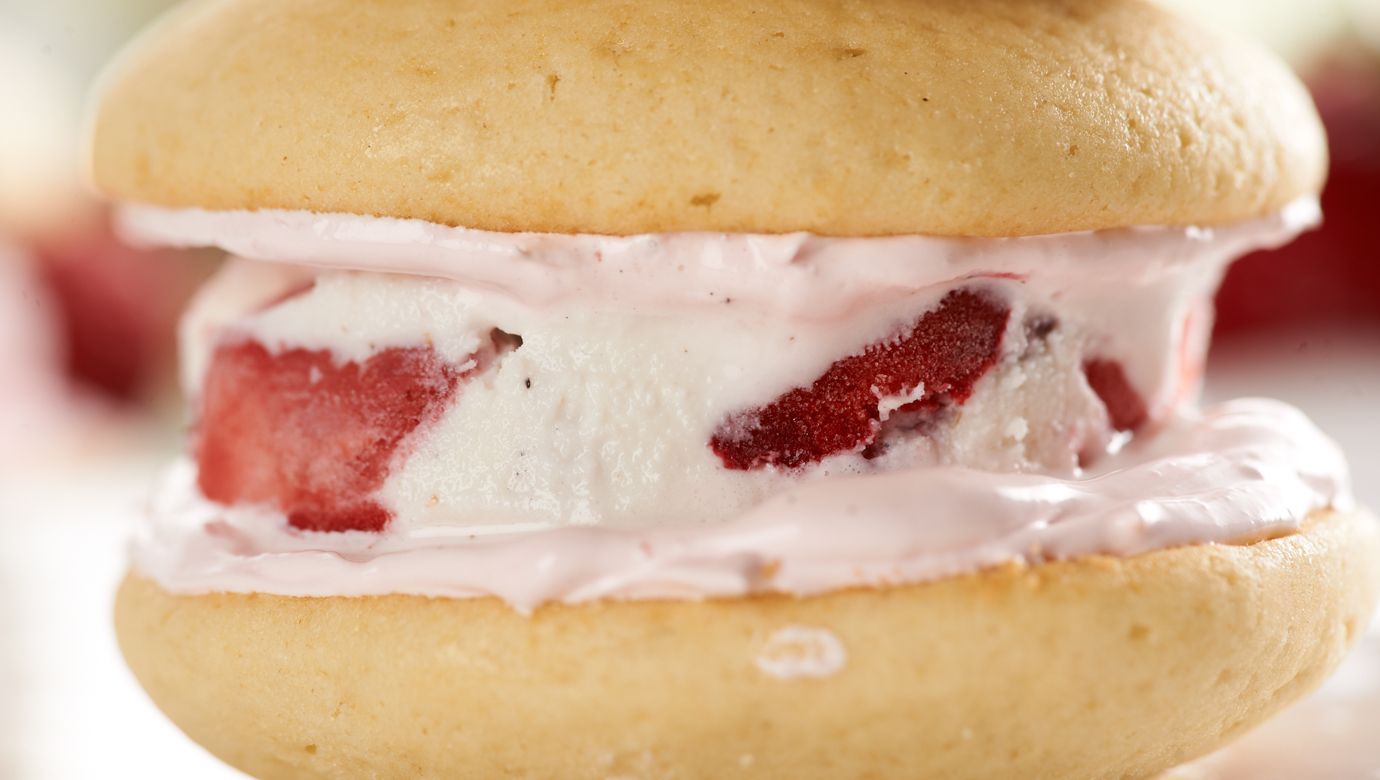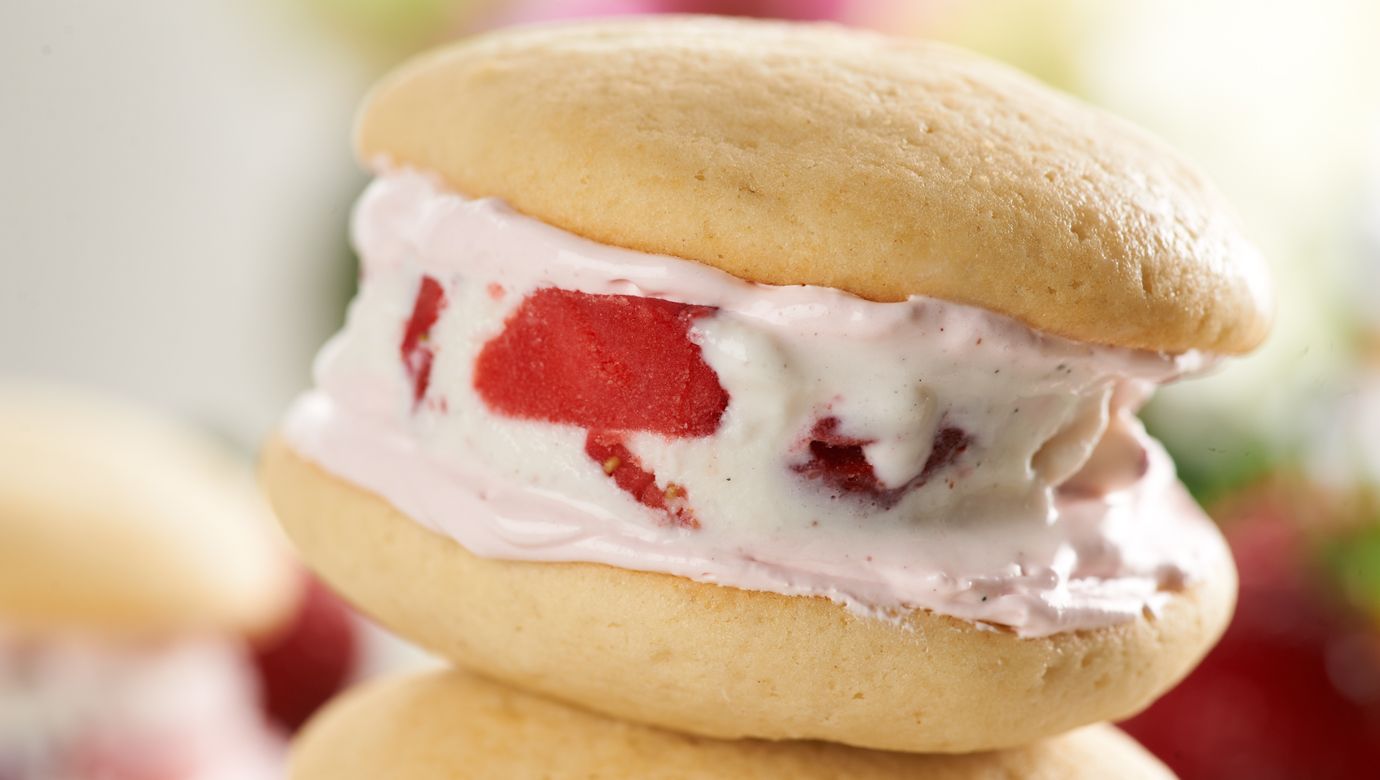 Strawberry Shortcake Ice Cream Sandwiches
David Venable
I love a summer strawberry shortcake, but I also love a good old fashioned ice cream sandwich. Enter this recipe. Ready to get messy?
Ice Cream
1 qt vanilla ice cream
1 (16-oz) bag sliced frozen strawberries
To prepare the ice cream
First line a sheet pan with parchment paper. Remove the ice cream from the freezer and let it sit at room temperature for about 5 minutes. Scoop the ice cream into a bowl of a stand mixer and whip until soft, but not melted. Fold the frozen strawberry slices into the mixture by hand. Pour the mixture onto the prepared baking sheet and spread to a 1/2" thickness. Cover the ice cream with another piece of parchment paper, and then place the sheet pan in the freezer.
Topping
3 oz marshmallow fluff
6 oz whipped topping
3 Tbsp strawberry syrup
To prepare the cookies
Preheat the oven to 350°F. Line three cookie sheets with parchment paper. Set aside. Combine the flour, baking soda, and salt in a medium-size bowl . Set aside. Then combine the buttermilk, lemon juice, and vanilla into a small bowl. Set aside.
Fit a stand mixer with a paddle attachment, and (on medium speed) combine the butter and sugar until it's pale and fluffy. Add the eggs and mix until well-blended. Add the flour and buttermilk mixtures alternately, on low speed. Make sure to begin and end with the flour mixture. Mix until well-blended.
Spoon 2 Tbsp of batter (about 2" apart) onto the prepared cookie sheets. Bake for 12–14 minutes. Place the cookies on a cooling rack so they can cool completely.
Cookies
2-1/3 cups + 1 Tbsp all-purpose flour
1 tsp baking soda
3/4 tsp salt
2/3 cup buttermilk
3/4 tsp lemon juice
1-1/2 tsp vanilla extract
6 oz (1-1/2 sticks) unsalted butter, softened
1 cup + 2 Tbsp sugar
2 large eggs
To prepare the topping
Fit a stand mixer with a whisk attachment, and combine the whipped topping, marshmallow fluff, and strawberry syrup. On medium speed, whip for 2–3 minutes until light and fluffy. Refrigerate the marshmallow topping until needed.
Cook's Notes
Want the ready-in-five-minutes version of this recipe? Buy premade cookies and fill with ice cream. Think peanut butter cookies and chocolate ice cream. Or, chocolate chip and mint ice cream.