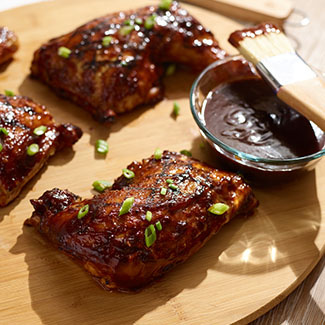 Classic BBQ Chicken
David Venable
This recipe uses a homemade, Kansas City-style BBQ sauce. You can double the sauce recipe to use later, since it will keep for a few weeks. For a supermarket shortcut, you can always use your favorite store-bought BBQ sauce!
Prep Time: 30 Minutes
Serves: 6
Marinated Chicken:
1/2 cup yogurt
1/2 cup buttermilk
1-1/2 tsp salt
3/4 tsp black pepper
1 Tbsp BBQ spice rub
6 chicken leg quarters
Preparation
To marinate the chicken, mix together the yogurt, buttermilk, salt, pepper, and BBQ spice mix in a bowl. Add the chicken and toss to coat well. Cover the bowl with plastic wrap and allow the chicken to marinate overnight. (If you're in a hurry, you can reduce the marinating time to a few hours).
To make the BBQ sauce, add the oil and onions to a sauce pot set over medium heat and cook until translucent. Add the garlic and cook for another minute. Add all the remaining BBQ sauce ingredients and stir well. Keep stirring occasionally to keep the sugar from burning. Once the sauce comes to a good simmer, lower the heat and cook for another couple of minutes. Remove from the heat and allow to cool before transferring to another container to refrigerate.
To cook the chicken, preheat your grill on high for at least 10 minutes. Reduce the heat to medium before beginning to cook.
Remove the chicken from the marinade, shaking off some of the excess—don't worry about getting it all off. Next, place the chicken leg quarters on the grill, skin side down. Grill for 5–10 minutes. Rotate the chicken to achieve nice, crosshatched grill marks and cook for another 10 minutes. Then, flip the chicken and cook for another 15–20 minutes on the other side, for a total of 30–40 minutes or until the temperature registers 165°F and the juices run clear.
During the last 20 minutes of cooking, periodically brush/baste the chicken with the prepared BBQ sauce about every 5 minutes. The final time you add sauce, you may want to slather it on thickly. Serve with extra BBQ sauce for dipping.
BBQ Sauce:
1–2 Tbsp cooking oil
1/2 onion, finely diced
2 cloves garlic, minced
1 Tbsp chili powder
1/2 tsp chipotle powder
1/2 tsp black pepper
1 tsp salt
1 cup ketchup
1/4 cup yellow mustard
1/4 cup cider vinegar
2 Tbsp Worcestershire sauce
1 Tbsp lemon juice
2 Tbsp molasses
1/2 cup brown sugar
1/2 tsp hot sauce, such as sriracha
Cook's Notes
Pour a small amount of the BBQ sauce into a separate container when basting the chicken. This way you don't have to worry about contaminating the entire container of sauce with raw chicken.