me Smooth by Iluminage Elos At-Home Hair Removal System
In Stock
Sold Out
We're sorry. This item is not available at this time.
Pre Order Possible .
Low Stock

Breakthrough, FDA-cleared technology for hair removal on all skin tones!
Description
What is it: An at-home hair removal system that uses patented elos technology, a proprietary combination of Intense Pulse Light and Radio Frequency energies to help you achieve silky, smooth skin. Easy to use and just minutes a treatment, it's FDA cleared and clinically tested for use on all skin tones--and helps you achieve results in as little as one month!
Treat areas in just minutes with no nicks or cuts. Approximate treatment times: legs (both), 20 minutes; underarms (both), two minutes; bikini area, four minutes; forearms, six minutes; chest, six minutes. Times may vary depending upon the individual. It is possible to treat all five areas in as little as 30 minutes.
Can also eliminate unwanted hair below the cheekbone line. Average treatment time is two minutes.
Who is it for: All skin tones. For use on dark hair only, below the cheekbone line.
Why is it different: me Smooth Elos At-Home Hair Removal System uses elos technology to effectively remove unwanted hair for all skin tones.
How do I use it: Shave or epilate the treatment area (razor or epilator not included). Turn on the system and select the Low energy level setting. If there is little or no discomfort or reaction, raise the energy level to Medium or High. Remove the applicator from the base. Press the elos activation button located on the applicator. The button will turn blue, and you will hear the fan inside the applicator. Gently place the applicator on your skin, so that the two RF chrome contact bars are in complete contact with the skin. The me will emit pulses. After each flash, glide the applicator slowly to the next neighboring spot over the skin by moving it in one continuous, slow motion. Avoid overlap between adjacent pulses. For best results, perform once a week for the first seven uses. Additional monthly treatments, after the first seven treatments, will help your hair removal results last longer.
From me.
QVC will accept returns up to 90 days from the date of purchase.
Includes me Smooth Elos At-Home Hair Removal System, two elos cartridges, protective cap for elos cartridge, user guide, power cord, cleaning brush, and travel bag
Single cartridge lasts for approximately 90 minutes of treatment
Measures 8"L x 4-3/4"W x 3"H
ETL listed; 1-year Limited Manufacturer's Warranty on device; 3-month Limited Manufacturer's Warranty on cartridges
Made in China/Israel
Important Details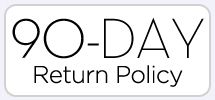 Reviews & Community QA
me Smooth by Iluminage Elos At-Home Hair Removal System
216
216
Disappointed
I truly wanted this to work. I followed directions to the "t" for 8 weeks. Unfortunately I saw no change in hair growth. Had to return.
05-05-14
Surprisingly good
I have had electrolysis (super painful) and I have had laser hair removal (expensive and inconvenient) ....so I was skeptical ....and guess what?? this little thing works! I was not expecting much...there is no pain even on the highest setting, it's small.... and I just thought really?? I have had it since January....and it works great! thanks for a great home system that is convenient and super easy to use.
04-26-14
Disappointed
I used the product, as directed, for 9 weeks. There was absolutely no change in hair regrowth.
04-15-14
Does not work
I have had laser hair removal by a company and had great results. Since it is expensive I decided to try Elos system. I have tried it for almost 90 days and have not had any change in growth of my hair. Therefore I am returning it for a refund. I will not try any more at home hair removal systems. I have tried two and both have failed. Good idea QVC but bad products.
04-08-14
Doesn't work on fine hair
I'm a natural blonde with fine hair; this hair removal system did not work on me.
04-07-14
3 months of use
I waited to write this until I had 3 months of use completed. Overall, this works. It takes time and is much better than other systems I have tried. I used it for 5 weeks, waited a week, another 2, skipped, etc. The hair on my legs, bikini area and armpits is approx 70% less than when I started. Am I baby smooth? No. But I also didn't expect to be due to my many years of trying everything under the sun. I will continue to use over next few months and am hopeful for a much less stubbly summer!
04-07-14
2 1/2 MONTHS LATER HAIR STILL GROWING BACK.
I have waited until "ALMOST" the 3 month mark to be able to return to write my review as I wanted to really give THE "ME" a fair chance and I REALLY wanted this to work........ it did NOT. I never missed a week.. I did it faithfully and did it exactly as instructions said to do and my hair grew back just as it normally world in every single area I treated. I thought one week with very hopeful eyes that the hair didn't grow back as fast but I was wrong.... I was just hoping I was seeing that....It just did nothing at all for me... Nothing. I have medium brown hair or did have before I started coloring my hair.. :-) I hope it works for others but it did nothing for me. Just returned in time to get my money back. VERY DISAPPOINTED!!
03-30-14
Beware - the hair will return!
This should not be called a hair removal system, more like a hair REDUCTION system, and even the reduction is only temporary! I used the ME Elos faithfully for 7 weeks and did see a reduction in how fast my hair grew back. I was able to go from having stubble by the end of the day to stubble appearing in about 4 days. However, the hair gradually grew back in faster and faster and now it's back to how it was before I even used this system. So, I did it all again, using it for another full 7 weeks and the same thing happened. Very time consuming and frustrating! I'm looking for permanent hair removal, not hair reduction where I have to use this system again every 4 weeks to keep the hair at bay! So, now I've wasted my money on this thing and it's too late to return to QVC. Maybe I can sell it on ebay! Back to the drawing board ME Elos!
03-19-14
Followed Directions Explicitly - NO Results!
I was skeptical about trying this item bc of my knowledge of laser hair removal, but thought it'd be worth a try because if, by chance, it DID work - what an awesome and worthy investment it would be! Well, my skepticism proved correct. There are explicit directions to use this product and I followed them EXACTLY in order to obtain the best result. I used it every week, as instructed, and went over the area 2-3 times each, as instructed. NO REDUCTION IN HAIR in ANY of the areas I used it on (face, underarms, inner thighs). This product is just not going to work on the vast majority of people, at all. For those on whom it does work, it must be due to a VERY specific hair texture and color - where it only works in VERY specific incidences. As far as using it, it is VERY TIME CONSUMING. The directions where it states how long each treatment area should take is an absolute joke. I would multiply any time estimation they quote by about 3. In other words, if they state one leg should take 10 minutes, I would expect it to take at least THIRTY minutes, and I'm not exaggerating. On the highest setting, this product is EXTREMELY slow between laser flashes. It does not hurt whatsoever on the highest setting, there is not even slight discomfort...that's about the only positive thing I can say about it. It was a HUGE waste of money and TIME. Luckily, I can get my money back. If you want true hair reduction/removal - invest instead in professional laser removal, as it truly DOES work, trust me. I'm so disappointed as I was really hoping to invest in an at-home laser system that actually worked. Believe me, I'd spend even more on a system if it actually showed results...because it would then be worth every expensive penny.
03-12-14
Working for me - Thrilled!!
I am really surprised there are so many negative reviews on this product. I did a lot of research before buying a hair removal system and settled on this one because of the reviews I read elsewhere and the apparent ease of use. The only reason I haven't given it 5 stars is because I'm not all the way through my treatments - I can tell you, however, that after 5 weeks of use I'm seeing GREAT results. I have to shave every other day normally and in the treated areas I started with (face, bikini, and underarms) I haven't had to do anything in TWO WEEKS. I'm sorry but for me, those are already great results and I'm still on the first cartridge. It is also SO EASY to use has a large window for the treatment area (I can't imagine the tiny dot of the TRIA and how long that must take). This is fast and easy and doesn't even hurt - sometimes it can be a bit warm but nothing you shouldn't be able to withstand. Much better than having razor bumps, ingrown hairs, or waxing. I have a medium olive complexion and dark hair if it matters. I would recommend this without question.
03-11-14
Still Skeptical
After reading the other reviews, I felt sure that the negative ones just didn't follow the instructions. Well, I am OCD about doing something just as it is supposed to be done. I just finished my 5th treatment of underarms, forearms, both entire legs & bikini area. Before each weekly treatment, I shower, epilate, then use "me Smooth". I have seen NO REDUCTION OF HAIR. The device is easy to use and pain-free, but EXTREMELY time consuming, which I am very willing to do if it will eliminate the hair. However, I feel the instructions are VERY MISLEADING. It gives approximate treatment times and also states that you should cover each area 2 - 3 times at each treatment. Well, if you do that, THERE IS NO WAY you can treat the areas in the times specified PLUS it would certainly take more than the 2 cartridges provided. It states an entire leg can be done in 10 minutes. It takes me 35 minutes for 1 leg and that's only going over each area 1 time. I am 5'6" and a size 6, which is not a large person! I would LOVE to see someone do an entire leg in 10 minutes!!!!! What are they talking about, a chicken leg (LOL)? Here's a thought, most presentations on the Q are about 10 minutes. The "me Smooth" rep should do her entire leg during this time, covering it 2 – 3 times (that would be a complete joke). Another thing is, my 2nd cartridge was at 50% at the beginning of my 5th treatment. I'm wondering if it will even do my 6th one and the final treatment a month later. If it will, I will stick this out. But, if I've seen no change so far, what difference will 1 more treatment make? True to my review title, I'm still skeptical and will definitely return if all hair is not gone 1 month after all treatments. I know the Q will refund me, but I cannot get back all the time I will have wasted using the "me Smooth".
03-10-14
Big disappointment
I followed the directions to remove hair first. Then I used it on highest setting. I still have as much hair as I did when I started. I used it on my face, arms and underarms with no results. Waste of money and time. It's being returned.
03-09-14