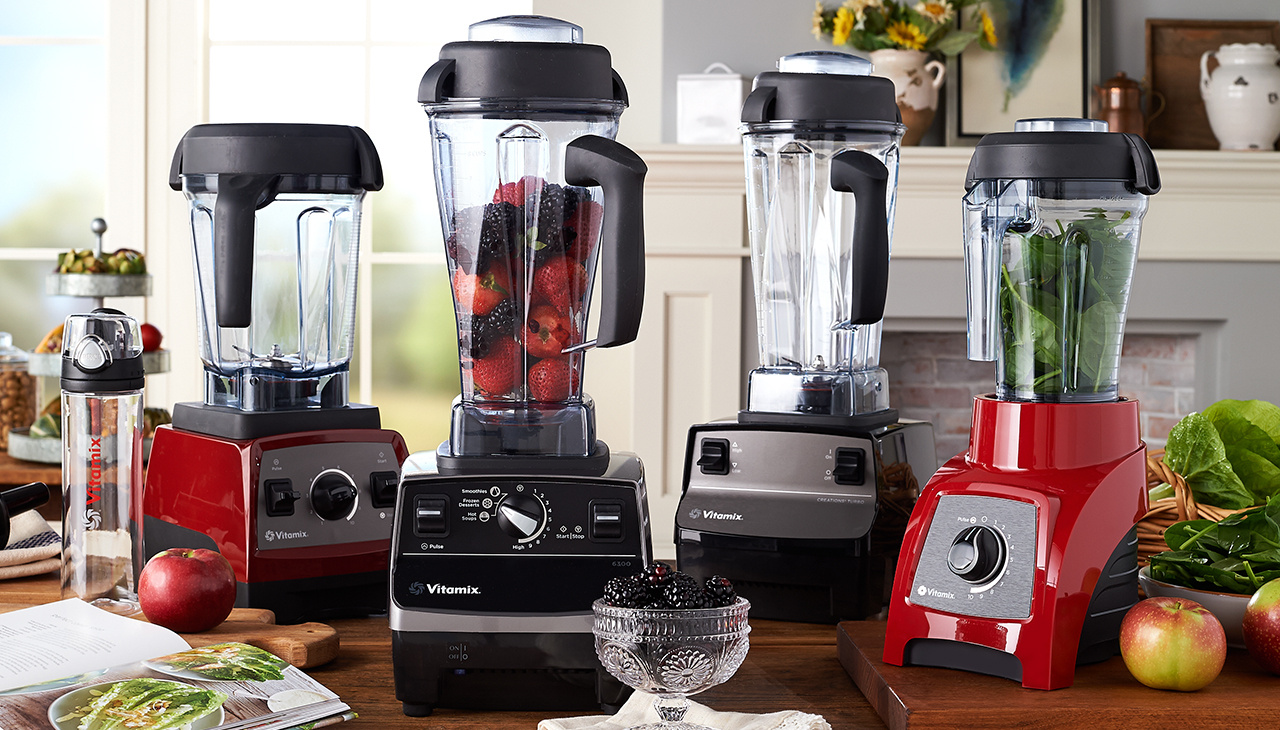 The History of Vitamix
For nearly a century, Vitamix has been inspiring the creation of new, flavorful dishes in home and restaurant kitchens throughout the world. The incredible blending technology of a Vitamix machine is just what you need to bring out the inherent flavor of natural, whole-food ingredients. These self-cleaning machines allow you to chop, blend, purée, and more—through every course of every meal—from smoothies to hot soups to frozen desserts.
Create restaurant-quality dishes from the privacy of your home, using the blender trusted by professional chefs. Vitamix takes pride in its products, building them by hand with high-quality materials. You're sure to see the difference in your very first blend.
Information provided by Vitamix.
Model Series Comparison
Vitamix offers a variety of blender models and Vitamix accessories to suit kitchens of all kinds. When selecting your machine, keep your cooking needs in mind. Will you be using your Vitamix blender to create family meals, or do you typically cook for one or two? Would you prefer a variable speed motor to better control the consistency of your blend? Do you want to display your blender on the countertop for easy access, or can you store it away? You'll also want to consider the Vitamix recipes you'll be making. Will you want a Vitamix dry blade container to create homemade flour and dough?
After asking yourself these types of questions, take a look at our Vitamix comparisons to learn more about each model and pick the one that's right for you.
C-Series: Classic Blenders
If you're searching for a classic Vitamix professional blender, the C-Series is an excellent place to start. QVC offers a wide array of models in this series: Vitamix Creations II, Vitamix Creations GC, Vitamix Creations Turbo, Vitamix 5200, Vitamix 6000, Vitamix TurboBlend Two Speed, and Vitamix Professional Series 500. Each model boasts a 2 HP electric motor (aside from the Creations GC, which has a 2+ peak HP motor) but can vary in container types, settings, controls, Vitamix warranty length, and included Vitamix accessories, such as a Vitamix cookbook.
The included Vitamix container varies from model to model in the C-Series. Each comes with either a Vitamix 48 oz. container or a Vitamix 64 oz. container. But some models may also include an additional Vitamix 32 oz. container for smaller tasks or an additional Vitamix dry container for preparing dough or flour. When considering container types and sizes, it's helpful to think about how many people you'll typically be preparing food for and whether you want to fit the Vitamix blender beneath your upper cabinets. Our Vitamix Comparison Grid below presents the dimensions of each model in more detail.
Each high speed blender in the C-Series can also differ in settings and controls. If you're a multitasker who wants the ability to walk away from your Vitamix blender while it works—or you just want to take the guesswork out of prep time—opt for models with convenient pre-programmed or timed settings, such as the 6000 or Professional Series 500. If you want more control over blend consistency, choose one of the many C-Series models with a variable speed motor that ranges from 1 to 10, like the Creations GC or TurboBlend VS. Also note that the 6000 and the TurboBlend Two Speed, also known as the Vitamix 4500, do not have variable speed control.
G-Series: Next-Generation Blenders
Is power your priority? Do you want to keep your Vitamix blender on the countertop? Consider the G-Series models offered at QVC: the Vitamix 7500 and the Vitamix Creations Elite. All G-Series blenders boast a 2.2-peak HP motor—a bit stronger than most motors in the C-Series—and variable speed control. Both of these models also feature pulse control, like the Vitamix 6300 and Vitamix 500. What sets the G-series apart from the C-Series? The next-generation models feature enhanced airflow management, which helps the motor sound quieter and helps enhance motor cooling.
Like the C-Series, models within the G-Series may vary according to container type, warranty length, settings, controls, and Vitamix accessories. Each variable speed blender in the G-Series features BPA free containers. Like the Vitamix Pro 750 and Vitamix Pro 300, the 7500 boasts the newer, lower-profile Vitamix 64 oz. container, with longer 4" blades and a wider, shorter design that's more likely to fit beneath 18" upper cabinets. The 7500 also comes with a longer, seven-year Vitamix warranty. The Creations Elite includes a Vitamix 48 oz. container that also fits beneath most 18" upper cabinets and a five-year warranty.
S-Series: Personal Blenders
If you want the ability to create both moderately sized batches and just-for-you portions, opt for the S-Series. This line of personal blenders currently includes the Vitamix S30. This model comes with a 20 oz. container and a 40 oz. container—both of which are smaller than the Vitamix container offered with C-Series and G-Series models. The 20 oz. container doubles as an on-the-go cup for individually sized drinks and smoothies, while the 40 oz. container handles all your typical Vitamix tasks, but yields slightly smaller servings.
A great fit for smaller households or space-challenged kitchens, this Vitamix blender can fit under 18" cabinets and takes up less countertop space than any other Vitamix juicer. While this model features a 790-watt motor, which is not as powerful as those of the C-Series or G-Series models, it can still pulverize food like a pro. It's also backed by a five-year Vitamix warranty.
Vitamix Recipes
What can you make with a Vitamix professional blender and Vitamix accessories? An astounding variety of fresh, delicious courses, from beverages and appetizers to entrées and desserts. To understand the versatility of Vitamix machines, check out these recipes for sweet potato soup, vanilla ice cream, and more.
Vitamix Warranty
Once you receive your blender and Vitamix accessories, you can rest assured with the Vitamix warranty. Some models carry a five-year warranty, while others feature a longer, seven-year warranty. Whichever model you choose, Vitamix will repair or replace your machine if it encounters problems during its warranty period. They'll also take care of shipping fees for your machine—both ways.
Frequently Asked Questions
Still curious after reading our Vitamix comparison? Read answers to Frequently Asked Questions to learn more about these trusted machines.