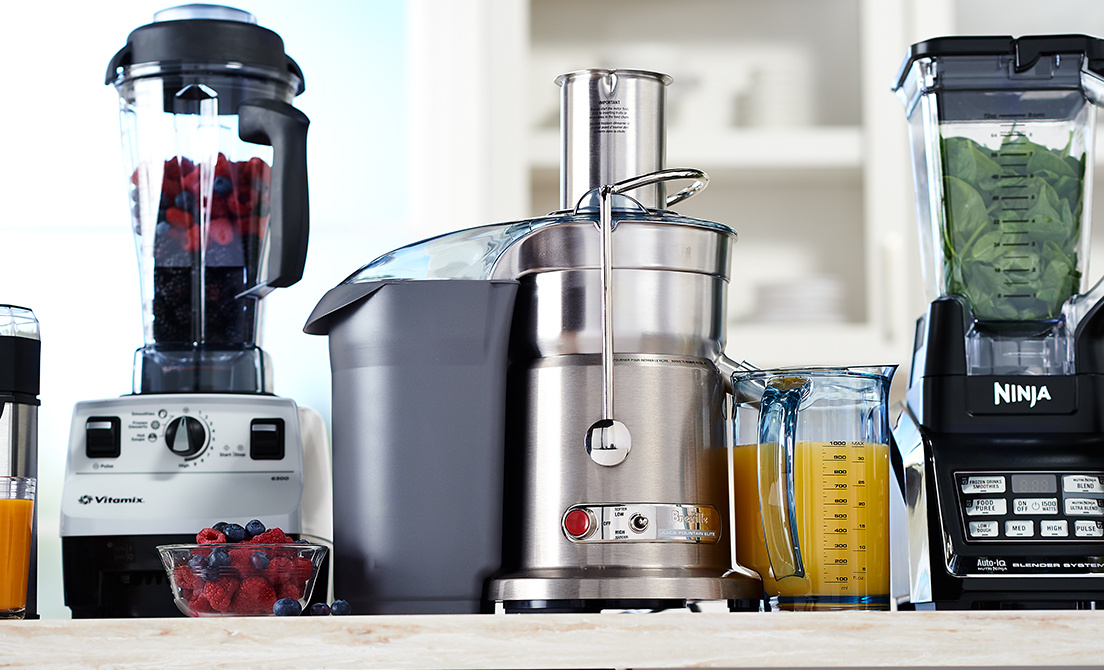 Blenders & Juicers Guide
Get juiced! Are you considering jumping into the blending and juicing craze? Then you should take the time to learn the benefits of juicing and blending—this way you can make more informed decisions when making a purchase. This handy guide will answer all your pressing blender and juicer questions. And, it's got some great recipes, to boot!
Blenders
Blend right in! When shopping for a blender, there are lots of things to consider—such as wattage, settings, and your own blending needs. With so many models to choose from, we're here to help you find the right blender, whether you're looking to make a round of drinks or create your own coffee grounds.
Things to Keep in Mind:
Blender Attributes
Motor: The more powerful the motor, the more quickly and easily the blender will crush ice or pulverize vegetables.
Capacity: If you start the day with a smoothie, a mini blender that makes single servings is ideal. The containers of most larger blenders can support between 32 and 72 ounces, but 40 ounces is the average size for normal use.
Controls: Settings and speeds vary depending on the blender—you'll usually see between three and 16. Your own needs should dictate what settings you select—more settings if you're looking to go beyond smoothies, less if you're sticking to the basics. Regardless of your needs, ice crushing and pulse settings are two of the most important controls to keep an eye out for.
Extra Features: Want to go beyond blending? Some models include attachments such as a whisk, mixing bowl, or food processor that can help with baking and meal prep, too.
How to Care for Your Blender:
Maintenance & Care Tips
Cleaning the base of a countertop blender is just as important as cleaning the container. But, you shouldn't ever wash it in water. Instead, clean the base used a warm, damp cloth. This way, it gets clean and keeps working as it should.
Most parts for your blender—including blades, containers, and lids—are dishwasher-safe. That being said, it's always best to check for specific cleaning instructions from the manufacturer first.
Most blenders come with some sort of warranty. To find out what exactly your warranty covers, take a look in the manual.
Which Wattage is Best?
If you're looking for a blender that can blend and chop most foods, then one with a 300-watt motor is a solid option for you.
Do you enjoy starting your day off with a smoothie? Then choosing a blender in the 500- to 600-watt range is a great choice.
Chop 'em down. If you are in the market for a blender that can chop, grind, or blend your foods into miniscule granules, then you should go with a model with as much power as possible. In that case, a highly powered blender with 700 watts is ideal.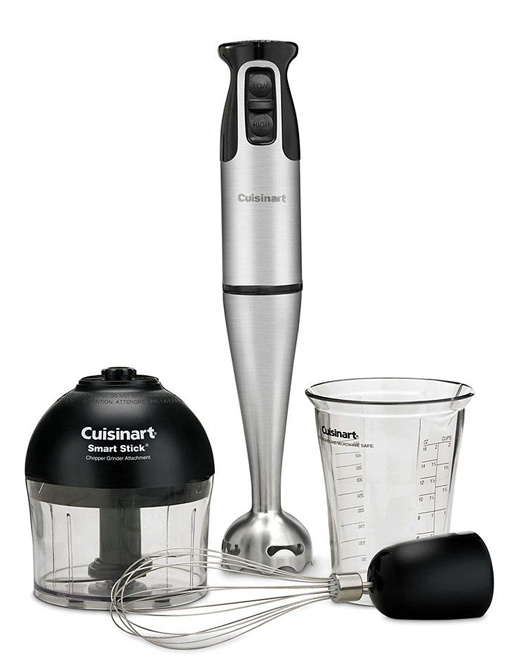 Immersion Blenders

Immerse yourself into blending. You may also know an immersion blender by its other name—a stick blender. If you want blending and stirring power right in the palm of your hands—you've got it with this type.
Prep work made easy. An immersion hand blender features a long design that fits directly inside pots and casseroles. You won't need to worry about moving ingredients from blender to pot to purée them.

Easy to store, easy to grab. Immersion blenders have a compact design, making them a breeze to store almost anywhere, from countertop to cabinet.

Cut the cord or plug it in. You can find both cordless and electric immersion blender models—so finding one that fits the needs of you and your kitchen space is easy.

Get attached. The vast majority of immersion blenders come with an array of attachments—making it easy to switch things up from recipe to recipe and dish to dish.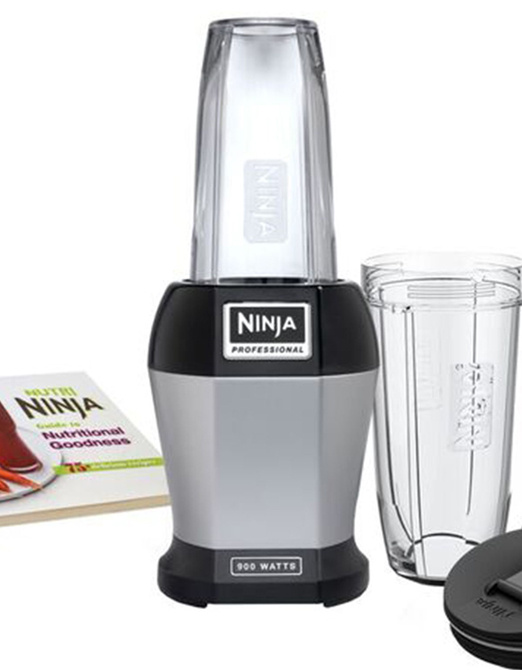 Single-Serve Blenders 
Blender for one? A single-serve blender is a small blender. Its small size makes it easy to store—from your countertop to a cabinet or pantry. Bottom line, it won't take up a lot of room. They're the perfect partner for quick prep work for small dishes and small serving sizes.
Do you live in an apartment or a dorm room? Then these small blenders are an ideal choice for you.

All the perks, half the size. While single-serve blenders are small, you can still get a lot of the same benefits as you would get from a larger blender—just in a smaller design.

Get personal. Creating personal-size creations is as quick as can be—especially when you utilize the variety of attachments and accessories available for single-serve blenders.

Smooth it out. If you are a lover of smoothies, then these blenders are right up your alley. They make a great smoothie-making companion for you—and your taste buds.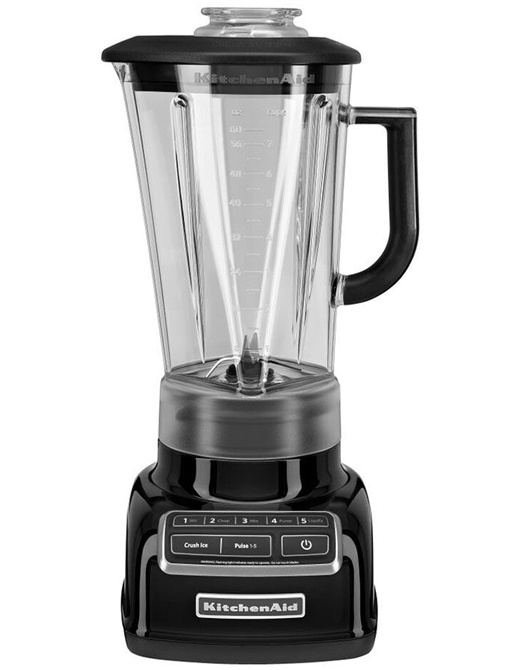 Full-Size Blenders

Full-size blenders are typically what come to mind when you picture a blender. It's a countertop staple—and it comes in all sorts of shapes and sizes—so you can do more in your kitchen.
With different designs come different possibilities. You should find the full-size blender that works for your needs. You should pay attention to speeds, type of motor, construction, and what settings each design offers.

Containers for full-size blenders come in a variety of shapes and sizes—and are made from different materials. You should take into account what maximum capacity you desire, as well as what durability is best for you and your needs.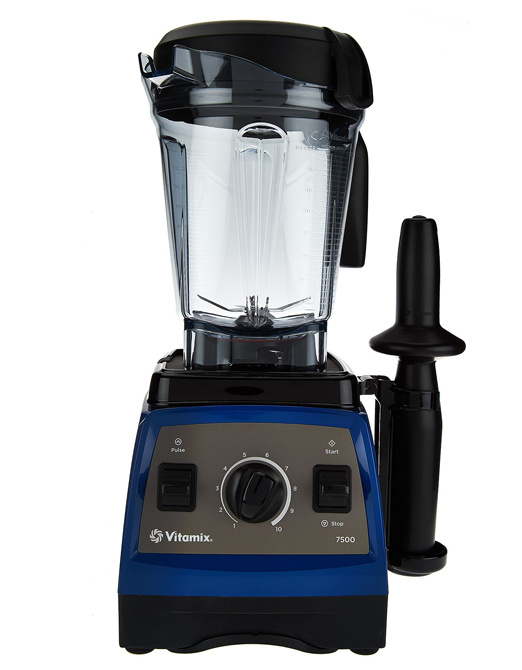 Specialty Blenders 

Something a little special. Specialty blenders can offer you many things that a standard blender can't. Things like: more power, more professional performance, and endless possibilities.
A specialty blender is more or less a professional blender. When you compare it to a standard full-size, you can do much, much more—and you can do it all in one place. Chop, blend, purée, or even make soup. Have something you need to grind? It can handle that job, as well. All-in-one machines let you get more from your blender than you could imagine.

Built to last. Strong, solid, and durable—a specialty blender delivers long-lasting professional precision.

Easy cleaning. Cleaning up after using a blender can be a hassle—but that isn't the case for many specialty blenders. Many models have self-cleaning technology—so cleaning up once you're finished using it isn't a chore.

A smarter way to blend. Certain specialty blenders are equipped with smart advancements that make blending even easier.
Juicers

Ju-ju-juicy! Juicing is super-popular right now. But, just buying any old juicer won't move you in the right direction. Learn about juicing, what types of juicers are available, and which one can deliver the best beverage to your glass.
Choosing the Right Juicer
Prior to purchasing a juicer, there are a few things you should consider:
How easy is it to operate and is it easy to clean?

How loud is it?

Approximately how much juice can be made at once time?

Does it have variable speeds for different fruits and vegetables?

Does this specific juicer make the specific types of juices that you want to make?
How to Care for Your Juicer
If you want to get the most out of your juicer, you need to know the best tips and tricks to ensure longevity.
How Much Do I Have to Clean My Juicer?
No one wants to leave a sticky mess behind after they use their juicer—so, you should be sure to clean your juicer after every use. Some juicers will take longer to clean than others. It can be tempting to avoid paying for some of these features, but let's be honest: if your juicer is really tough to clean, your chances of using it are going to decrease.
Facts are facts: the less parts to your juicer, the less parts to clean. Dishwasher-safe, removable parts will clean more easily. If the internal cavities have rounded corners, getting that stubborn pulp and juice removed is easier. Some juicers have an external pulp container—often with an easy-empty bag, which makes cleaning extra-easy. Those models that don't have external pulp containers are going to be more difficult to clean.
Certain self-cleaning masticating juicers have scrubbers that are built-in—and keep pulp from clogging up the screen while the juicing cycle is going. While you'll still probably have to clean the juicer once you're finished juicing, it won't take nearly as much effort—especially to clean the screen.
Multiple Speeds
Save yourself some time and frustration by learning what different speeds do for different fruits and veggies. Softer fruits—such as grapes—can be juiced more easily using a slow speed. While root vegetables—such as carrots—work better utilizing a higher speed.
What Kinds of Ingredients Do I Want to Juice?
A centrifugal juicer is your best bet if you want to juice only fruits and vegetables. But, if you're looking to juice wheat grass—or to extract more juice out leafy green veggies like spinach, kale, or herbs—you should go with a masticating juicer.
Types of Juicers
Sometimes slow and steady wins the race—while other times putting the pedal to the metal gets the job done. Each type of juicer comes with its own set of benefits. Decide which kind works best for you and your juicing needs.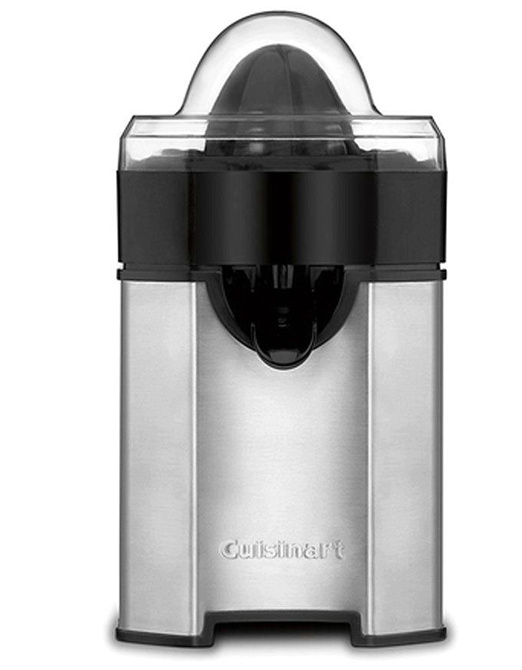 Citrus Juicer

A real time-saver. Citrus juicers are able to juice a large amount of fruit easily. How do you use an electric citrus juicer? Simple—hold the fruit against the juicing cone and the motor does the rest!
A citrus juicer is perfect for—you guessed it—citrus fruits, such as oranges, lemons, limes, and grapefruits.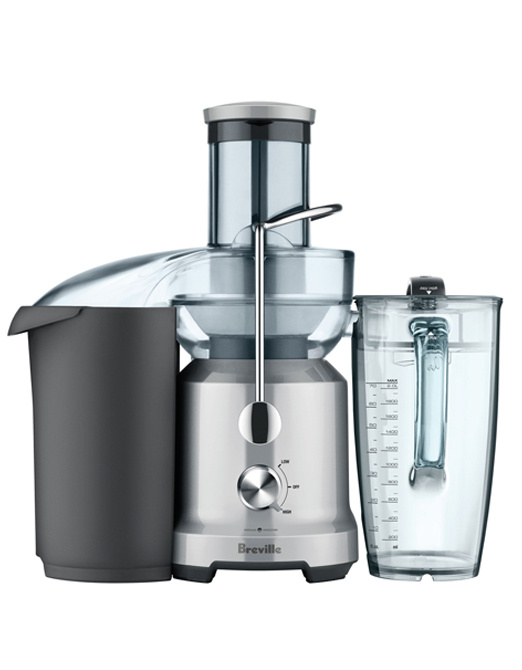 Non-Ejection Centrifugal Juicer

Fresh juice done quickly. A flat-cutting blade teams with a fast-spinning strainer to allow centrifugal juicers to deliver more juice in even less time. You will need to manually clean as you juice, however.
What can I juice with it? A non-ejection centrifugal juicer is made to use with most fruits and vegetables, but you cannot use it for wheatgrass.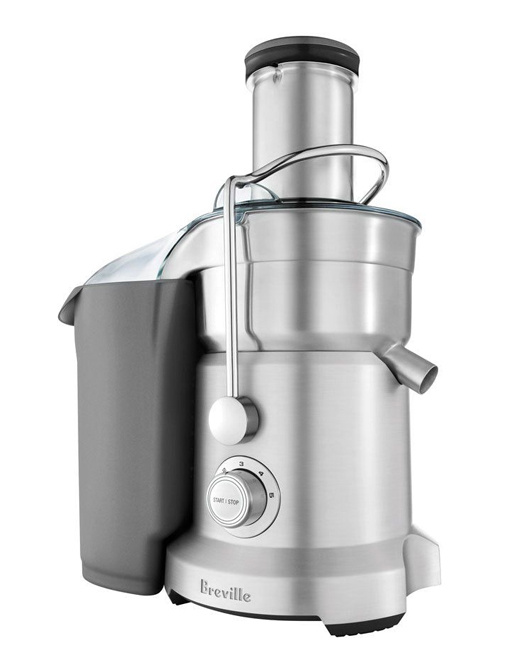 Automatic Ejection Centrifugal Juicer

Clean up in a flash. Automatic ejection centrifugal juicers have a bin at the back that will catch fruit and vegetable refuse—for quick and easy disposal.
What can I juice with it? An automatic ejection centrifugal juicer is made to use with most fruits and vegetables, but you cannot use it for wheatgrass.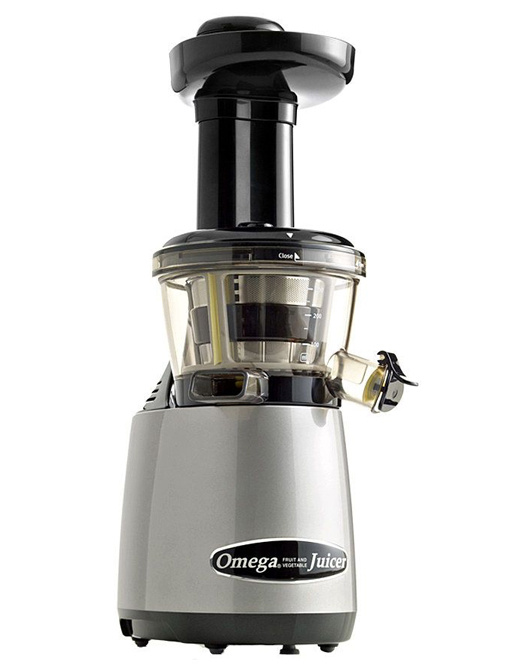 Masticating Slow Juicer

Slow and steady. A masticating juicer allows you to get more juice—and more nutritional value—out of your fruits and veggies. Masticating juicers works in a similar way to a grinder—it presses the fruits and vegetables to squeeze out juice.
This slow juicer is perfect for just about anything—from wheatgrass and leafy greens to fruits and veggies. Do you make your own baby food? This juicer is a great choice for that, as well.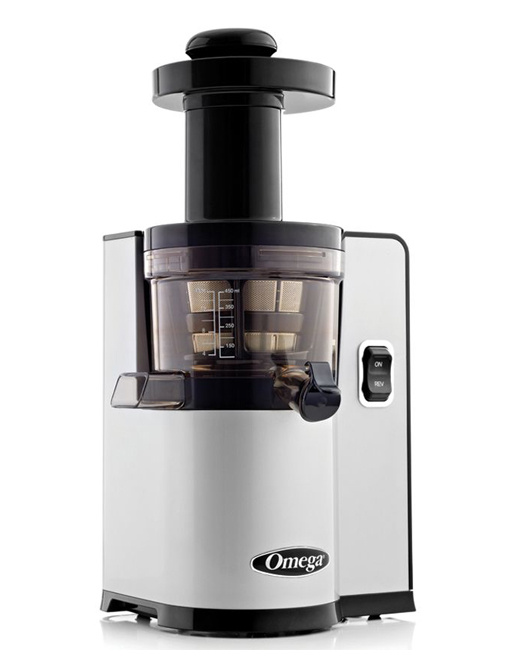 Single Auger Slow Juicer

A single auger slow juicer works to preserve nutritional value in your fruits and veggies. How does it do it? It works slower and using less heat. Its teeth-like blades chew fruits and vegetable to produce juice with less foam and pulp.
Juice them all! This type of juicer is great to use for all of your favorite fruits and veggies. Do you make your own baby food or nut butters? This juicer is a great choice for those, as well.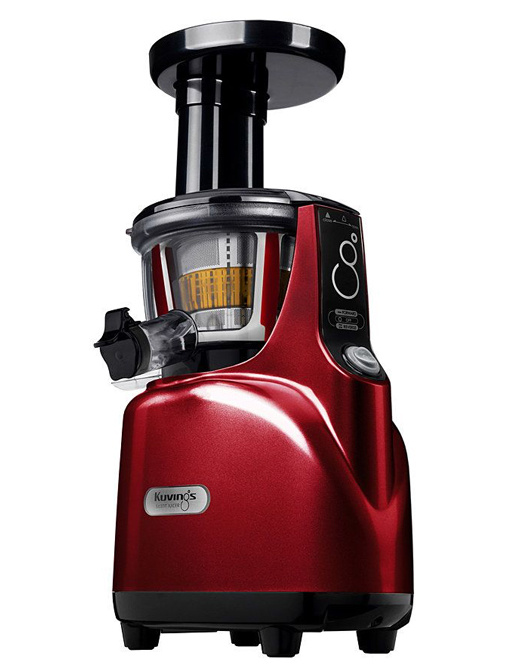 Twin-Gear Slow Juicer

Do you have a large family? Then a twin-gear juicer is a great choice for you! This slow juicer has two meshing gears pressing produce between them—which will create a high yield of juice. Plus, the juice will have a high nutritional value, as well.
All for one! A twin-gear slow juicer can juice all kinds of fruits, veggies, leafy greens, and wheatgrass. If you're into making your own pasta, nut butters, and the like, then this juicer is the perfect choice.