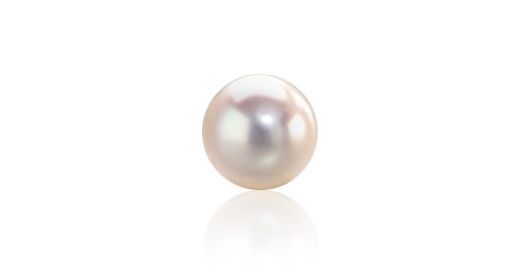 Stone Information & Mining
Perhaps the best-loved gems of all time, pearls—both natural and modern cultured pearls—occur in a wide variety of colors. The most familiar colors are white and cream (a light yellowish brown). Black, gray, and silver are also fairly common, but the palette of pearl colors extends to every hue. The main color, or bodycolor, is often modified by additional colors called overtones, which are typically pink (sometimes called rosé), green, purple, or blue. Some pearls also show the iridescent phenomenon known as orient. Pearl—natural or cultured—is a US birthstone for June, together with alexandrite and moonstone.
Natural pearls form in the bodies, or mantle tissue, of certain mollusks, usually around a microscopic irritant, and always without human help of any kind.
The growth of cultured pearls requires human intervention and care. Today, most of the mollusks used in the culturing process are raised specifically for that purpose, although some wild mollusks are still collected and used.
There are four major types of cultured whole pearls:
Akoya—This type is most familiar to many jewelry customers. Japan and China both produce saltwater akoya cultured pearls.

South Sea—Australia, Indonesia, and the Philippines are leading sources of these saltwater cultured pearls.

Tahitian—Cultivated primarily around the islands of French Polynesia (the most familiar of these is Tahiti), these saltwater cultured pearls usually range from white to black.

Freshwater—These are usually cultured in freshwater lakes and ponds. They're produced in a wide range of sizes, shapes, and colors. China and the US are the leading sources.
Legend & Lore
People have coveted natural pearls as symbols of wealth and status for thousands of years. A Chinese historian recorded the oldest written mention of natural pearls in 2206 BC. As the centuries progressed toward modern times, desire for natural pearls remained strong. Members of royal families as well as wealthy citizens in Asia, Europe, and elsewhere treasured natural pearls and passed them from generation to generation.
From those ancient times until the discovery of the New World in 1492, some of the outstanding sources of natural pearls were the Persian Gulf, the waters of Ceylon (now Sri Lanka), Chinese rivers and lakes, and the rivers of Europe.
The first steps toward pearl culturing occurred hundreds of years ago in China, and Japanese pioneers successfully produced whole cultured pearls around the beginning of the twentieth century. These became commercially important in the 1920s (about the same time natural pearl production began to decline). From the 1930s through the 1980s, pearl culturing diversified and spread to various countries around the world.
The spherical shape of some pearls led many cultures to associate this gem with the moon. In ancient China, pearls were believed to guarantee protection from fire and fire-breathing dragons. In Europe, they symbolized modesty, chastity, and purity.
Color
Natural and cultured pearls occur in a broad range of hues. There are warm hues like yellow, orange, and pink, and cool hues like blue, green, and violet. Pearls have a wide range of tone from light to dark. Pearl colors tend to be muted, with a soft, subtle quality. Pearl color can have three components. Bodycolor is the pearl's dominant overall color. Overtone is one or more translucent colors that lie over a pearl's bodycolor. And orient is a shimmer of iridescent rainbow colors on or just below a pearl's surface. All pearls display bodycolor, but only some show overtone, orient, or both.
Cleaning
Pearls should never be cleaned in an ultrasonic or steam cleaner. It's safe to use warm, soapy water for occasional, thorough cleaning. If the pearls are strung, be sure the string is completely dry before wearing. For routine care, it's best to wipe cultured pearls with a very soft, clean cloth after each wearing.
This information was excerpted from GIA's Gem Encyclopedia with permission from GIA.