QVC buyers are always on the prowl for the next big thing in beauty. Jessica found it in New York City. "I discovered Weekends & Chocolate at the Indie Beauty Show. The scents are amazing and the products leave your skin feeling so soft and hydrated during these brutal winter months. I was so excited when I met Kimberly."
Kimberly Barnes-Mitchell is the force behind Weekends & Chocolate bath and body products. She's a go-getter who wakes at 5am to workout, usually spin or yoga class. She manages a household that includes her husband and two teenagers. In her down time, she likes to hang out with her Malti-Poo Lucy and plan family vacations, or indulge her inner foodie. 
InsideQ: You're a busy woman! Tell us about Weekends & Chocolate.
Kimberly Mitchell-Barnes: Weekends & Chocolate is a new and modern line designed to give you an in-home spa experience.
InsideQ: Where did the name come from?
Kimberly: The name was created over lunch with a girlfriend. She simply asked me "What are your two favorite things?" Without hesitation I blurted out, "Weekends & Chocolate!"
InsideQ: Why did you create this line? How is it different from your first line, Fizz & Bubble?
Kimberly: Fizz & Bubble has been very successful for us. It's colorful and fun! Weekends & Chocolate is what we've learned from over 10 years of business, and then we took it to a whole new level of luxury and sophistication. We have seven all-new fragrances that are the result of years of exploration and experimentation. This line is very personal for me, and a genuine product of creative expression. The fragrances are more complex, more sophisticated, and truly redefines luxury and relaxation.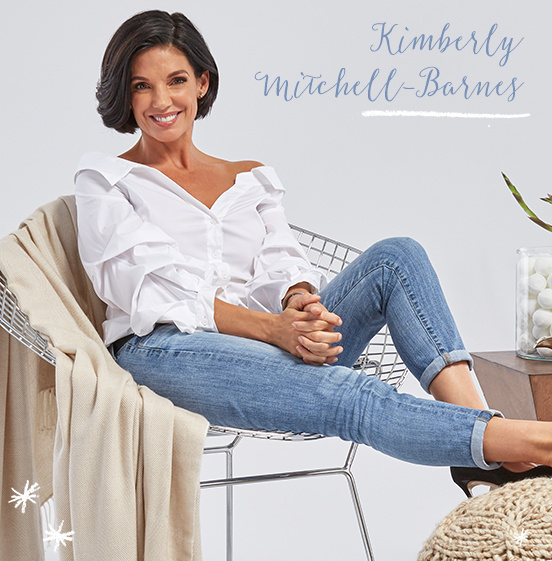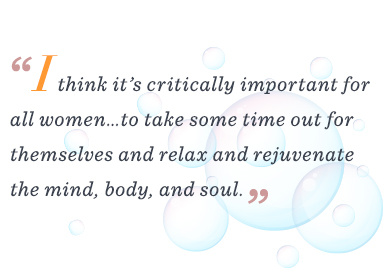 InsideQ: What kinds of products will you bring to QVC?
Kimberly: We're bringing the best sellers and my personal favorites for both lines. We've already introduced the QVC shopper to our Fizz & Bubble Truffles which were a huge hit in our December debut. We sold out quickly and had an even larger waitlist. It was super exciting not just for me, but our team back in Oregon that was cheering us on!
InsideQ: What's the one product in your collection QVC shoppers must buy?
Kimberly: This is a tough one. The truffles are a huge hit everywhere, for both of our Fizz & Bubble and Weekends & Chocolate lines. It's a great way to try all of the fragrances. All of our truffle gift sets include nine different truffles, each with a unique design and fragrance. The body polish is a wonderful addition. It exfoliates and leaves your skin soft and moisturized with a glow.
InsideQ: Relaxing is important for women. How do your products help?
Kimberly: We talk about this a lot, and it's central to why I created these lines in the first place—and that is to give women a simple, luxurious, and affordable spa experience in their home. With kids, a job, and life in general, I for one don't have time to constantly make a special trip to a spa just to have some 'me time' and relax. I think it's critically important for all women, regardless of their job, age, or budget, to take some time out for themselves and relax and rejuvenate the mind, body, and soul. And that's truly what our products are designed to do.
InsideQ: Thanks for your time, Kimberly. We'll look forward to watching you on QVC!