Today's Tennis Bracelet
Judith Ripka, designer and longtime QVC customer favorite, pulls inspiration from a variety of sources. An elegant example of Judith's keen eye for design is her December 22 Today's Special Value® Sterling Silver or 14K Gold-Clad Sterling Silver Bezel-Set Diamonique® Tennis Bracelet, a soft-link bracelet influenced by her love of architecture. We spoke to Judith about this beautiful piece, from its inception to its execution.

Judith Is Game to Talk about This Tennis Bracelet
InsideQ: Can you tell us what inspired you to create this bracelet?
Judith: My husband, Ron, and I were walking through Green Park in London and came across the beautiful Canada Gate. This wrought-iron gate features connected gold-gilded linked-ring details. When I saw it, I was so inspired I immediately started to sketch. I went to sleep with it in my mind and created this spectacular design. I embellished the bezels by adding some beautiful, delicate bead accents because I like to pay attention to every detail on my designs—right down to the clasp. I love that this bracelet has the look and feel of genuine gold and diamonds, even though it's 14K gold-clad sterling silver or sterling silver with Diamonique. I always strive to create pieces that translate modern trends into designs with enduring wearability, and that is exactly what you get with this magnificent tennis bracelet.
InsideQ: Did you intend this piece to be worn every day or for special occasions?

Judith: Absolutely! It's for every day and every occasion. It is a very refined and elegant, yet extremely wearable, tennis bracelet. I designed it to have a low profile, so it gently rolls around your wrist. It's perfect to wear on its own or you can pair it with one of my watches or cuffs. As I always say, "This bracelet should be kept front and center of your jewelry box because you will want to put it on every day."
InsideQ: Tell us about the use of Diamonique simulated diamonds.

Judith: I love the magnificent brilliance and the unparalleled sparkle of the Diamonique simulated diamonds on this bracelet! Each simulated stone is cut with perfect symmetry for the utmost brilliance and internally flawless clarity. Each Diamonique simulated stone is completely colorless—just like a perfect diamond. I want my customers to always have the best quality with each of my creations, and this bracelet is no exception.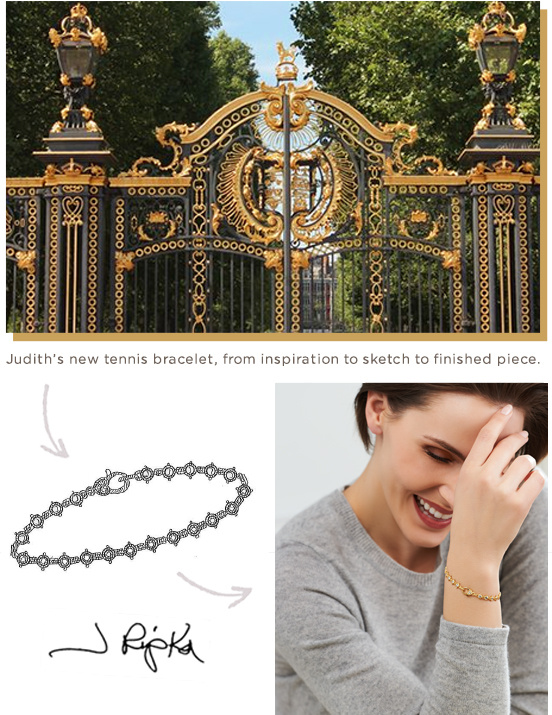 "I want my customers to always have the best quality with each of my creations, and this bracelet is no exception."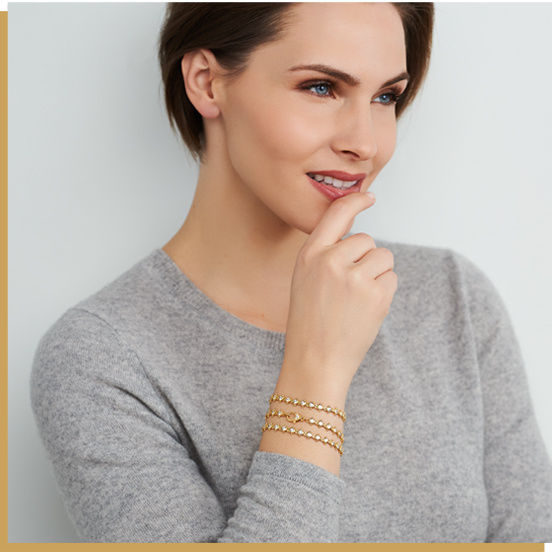 InsideQ: Is this bracelet intended as a gift or as a way to treat yourself?
Judith: I always say, "Buy one for yourself and gift one." The price is so good that buying more than one really makes a lot of sense. I like to layer my jewelry and mix my metals, so I wear a sterling silver one with a 14K gold-clad sterling silver one. This is a piece that will never go out of style. If you gift this bracelet or buy one for yourself, it will remain in your family and be enjoyed by the wearer for years to come.
InsideQ: This bracelet has a heart-shaped lobster claw clasp.

Judith: I've has always been known as the "queen of hearts" because everyone should feel love. Women should love themselves, their children, and their friends, so I often incorporate hearts in my pieces to be an every-day reminder. It is meant to signify love in all its forms.
InsideQ: This looks like a bracelet that can be worn at any age. Was that the intent?

Judith: Yes. As the brand moves forward, I strive to interpret my classic designs in new, fresh ways for the new generation. Although my designs are rooted in timeless tradition, everything I create is a modern twist on the classics. This bracelet will be treasured by women of all ages. It is the definition of multigenerational.
*The Today's Special Value offer ends at 11:59pm PT on December 22, 2017.