A Delicious Deal
The season of outdoor entertaining is fast approaching, and your friends at InsideQ have a smokin' idea for feeding your family and friends: The Today's Special Value® Traeger Heartland Grill & Smoker.
Whether you're cooking a burger for 10 minutes or a pork shoulder for 10 hours, it'll be done to perfection. Just close the lid and walk away and you won't come back to charred food. This means no constant flipping or checking the temperature every few minutes. The Traeger wood-fired grill and smoker aims to be as user-friendly as possible. 
The Benefits
Comes equipped with two 20-lb bags of natural compressed hardwood pellets for a smoky flavor.
Digital thermostat goes from 160°F to 450°F for slow-roasting to high-temperature grilling.
The auger automatically loads more wood pellets into the grill as needed to maintain the desired temperature.
The electric convection feature circulates the hot air in the grill, effectively eliminating the need to manually flip your meat.
Includes a 103-page cookbook with recipes for meat, poultry, seafood, vegetables, and desserts.

"I don't care what your skill level is for cooking. You'll have amazing results. It's really that simple," says Greg Shockley, Traeger on-air specialist. "Everything I put on it, the meat falls right off the bone and the flavor is awesome!"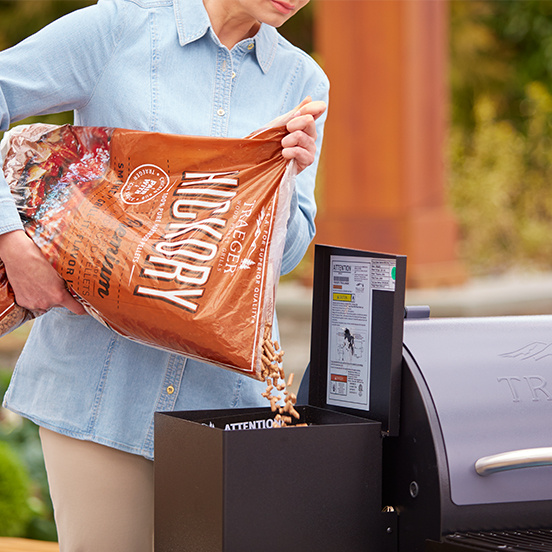 Peach and Raspberry Crisp (serves 6-8)

Recommended pellets: apple, cherry
Ingredients
6 cups diced peaches (about 5-6 peaches)
Juice of 1 lemon
2 cups raspberries, washed
1/2 cup granulated sugar (or more to taste)
3/4 cup flour (divided use)
3/4 teaspoon ground cinnamon
3 ounces shortbread or sugar cookies, broken into pieces
1/2 cup firmly packed brown sugar
8 tablespoons cold butter, cut into 1-inch pieces
1/8 teaspoon salt
Ice cream for serving (optional)
Directions
Grease a 9- or 10-inch pie plate with cooking spray or solid shortening. In a large mixing bowl, combine the peaches and the lemon juice. Add the raspberries, the granulated sugar, 1/4 cup of the flour, and the cinnamon. Stir to combine. Pour into the prepared pie plate.
In the bowl of a food processor, combine the cookies, brown sugar, butter, salt, and the remaining 1/2 cup of flour. Pulse until the cookies are crumbly and the butter has been broken down into pea-sized bits. Spoon the topping evenly over the fruit in the pie plate.
When ready to cook, start the Traeger grill on Smoke with the lid open until the fire is established (4 to 5 minutes). Set the temperature to 350 degrees F and preheat, lid closed, for 10 to 15 minutes.
Bake the crisp until the filling is bubbling around the edges of the pie plate and the topping is nicely browned, about 45 minutes. Serve warm with ice cream, if desired.
*The Today's Special Value offer ends at 11:59pm PT on April 15, 2018.