Founded by supermodel, actress, and Goodwill Ambassador for UNESCO Patricia Velasquez, TAYA Beauty is a brand that celebrates beauty. TAYA's rainforest-inspired hair-care products are influenced by Amazonian traditions and ingredients from the Amazon. TAYA's unique formulas work to improve the look of your hair, helping to leave it feeling nourished and renewed. InsideQ spoke with Patricia about TAYA's story.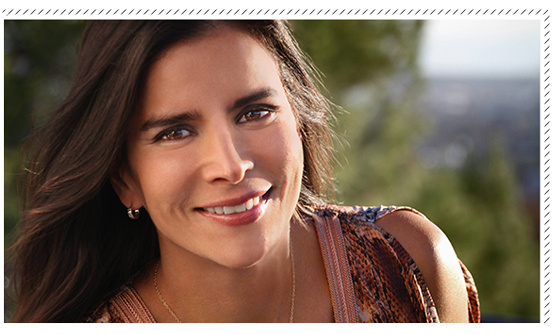 A TAYA Tell-All
InsideQ: Hi, Patricia. Can you tell us about your background?
Patricia: I was born in Venezuela in an indigenous community called Wayuu. It is the only matriarchal indigenous community in South America. Women have all the responsibility—and the power. I worked as a model for many years before I was an actress and moved to Europe to work, but had to use the products that were out there, and my hair didn't react well. I lost a big campaign because the harsh chemicals of these products destroyed my hair. I ended up having to go back to Venezuela, extremely disappointed.
When I returned home, my mother applied these secret family recipes using ingredients that we've been passing down through generations. It was then that I realized I had never really appreciated the materials we have used for hundreds of years in the Wayuu community.  
InsideQ: Can you tell us more about your personal approach to beauty?
Patricia: When I returned to Venezuela, I started appreciating not only all my traditions, but my natural beauty. I also believe that real, pure beauty is happiness. And happiness is when you feel peaceful and have a sense of well-being. That is reflected on the outside, and that is beauty for me. This is how TAYA Beauty was born. I have this desire to share and give back, true to my Wayuu roots. Taya means "I am" in the Wayuu dialect.
InsideQ: What do you hope our customers will get from TAYA hair care?
Patricia: At the core, what I want for our customers is to feel an improvement in their hair and feel empowered. We want you to feel good when you apply these products. When your self-esteem goes up, everything goes up!
 InsideQ: What do you enjoy about being at QVC?
Patricia: I love being at QVC because of the relationships I get to form with customers. When customers call or I hear their feedback about TAYA, it makes me feel it's worth all this work. It makes me feel that we are doing something good.
InsideQ: Thank you, Patricia!