How to Handle Electronics Gifts Like a Pro
After months of careful preparation (or, if you're anything like us, a couple weeks of wild scrambling), the time has almost come! You're ready to put the kids to bed, leave out the milk and cookies, and wrap up the gifts and place them under the tree. We're guessing at least a few of those presents are modern marvels of technology, but there's no reason to be intimidated. Here are a few tips from QVC's own nerdy elves that will help you get tuned in and turned on without any Christmas Day fuss.
---
Before You Wrap
Set up new gaming systems. Brand-new gaming consoles like the Xbox One and PlayStation 4 (and to a lesser extent, the Nintendo Switch) require hours of setup and updating before they can be freely used. No one wants to spend the holiday watching a download timer tick down or trying to figure out how to set up parental controls.
Here's what you do: carefully unbox your new system, hook it up, and connect it to your home internet network. If your TV is close enough to your router, we recommend using a hard-wired ethernet connection for faster downloads, but Wi-Fi will get the job done if that's not an option. Follow the on-screen prompts and let the system run through its updates. If it came with any digital codes for downloadable games or online service trials, you can get those on the hard drive as well.

This is especially important if you're gifting a new console to younger gamers. You're going to want to make a main account for yourself and set up whatever parental controls you see fit. Also, by the time the kids are ready to play, you'll already know how to use the system and impress them with your tech-savviness!

When you're done, you can pack it all up again and wrap it.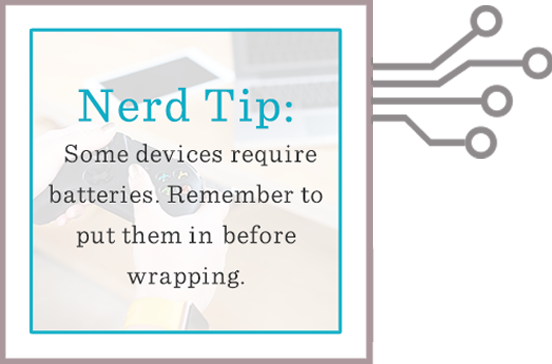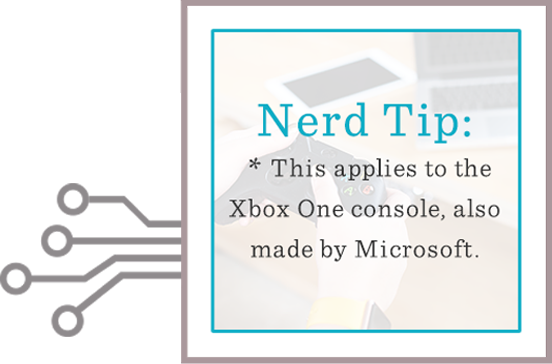 Have your passwords ready. Pretty much any Smart device is going to require a Wi-Fi password, so make sure that's on hand. If you're setting up a new iPhone, iPad, or Mac, you're going to want to have your Apple log-in information ready as well. For Windows computers, a Microsoft email address needs to be attached to your account*, so have your Outlook or Hotmail data available (or quickly create a free Hotmail account if you don't have one).
Make sure you have enough outlets. With even more electronics to connect, you're probably going to want to have a few power strips waiting in the wings. Or, you can pick up an internet-enabled surge protector like the Digital Gadgets Smart Wi-Fi Power Strip Alexa Enabled. It has both AC and USB ports to charge a variety of devices, and each port can be individually controlled from an app, turning regular household items into Smart Home accessories. Isn't technology grand?
After the Excitement
When the scent of coffee starts to dissipate and the shredded wrapping paper settles, a room full of warm smiles will kick your Christmas off to a successful start. To the surprise of your family members, all of their new on-trend gadgets are set up and ready to use thanks to your planning and impressive product expertise. And guess what's next? Oh yeah, it's your turn. Your family did some research of their own, and hooked you up with a nice haul from your QVC wish list.
Maybe you got wireless indoor/outdoor security cams; or a cool set of wireless headphones to use with that iPhone 7 that, for some wild reason, doesn't include a headphone jack. And look at that—a 65" smart HDTV! Put on another pot of coffee, there's still work to do.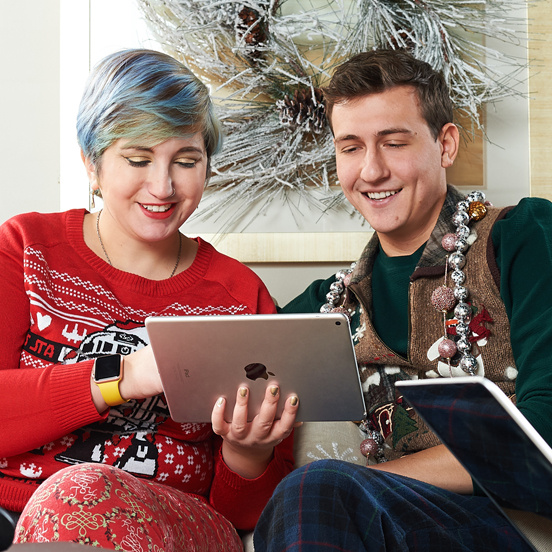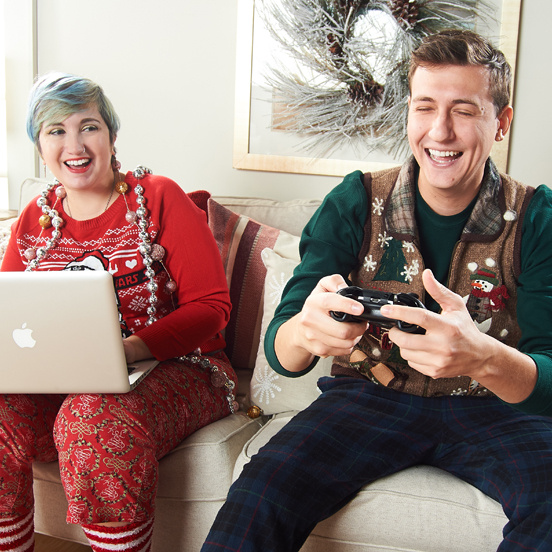 Clear some space for companion apps. If your smartphone is constantly flashing the "low storage" message, get rid of some apps you're not using—or clear out the epically long family text message chains—to make room for companion apps that will allow you to remotely control things like thermostats, security cameras, lights, TVs, speakers, and more.
Now you're ready to download from your smartphone's app store and you'll be provided with instructions on how to connect and control your new toys! Take some time to play around with these apps to make sure you're getting the most out of your cool new gadgets. 

Don't Forget to Check Your Stocking!
A lot of our bigger electronics items come bundled with digital software, app packs, and trial subscriptions. Whether they download onto a computer, tablet, or Smart TV, these subscriptions typically offer trials of useful applications to be used with your new device. Make sure you have all your slips (some may ship separately) and download as needed to get the most value out of your gifts.