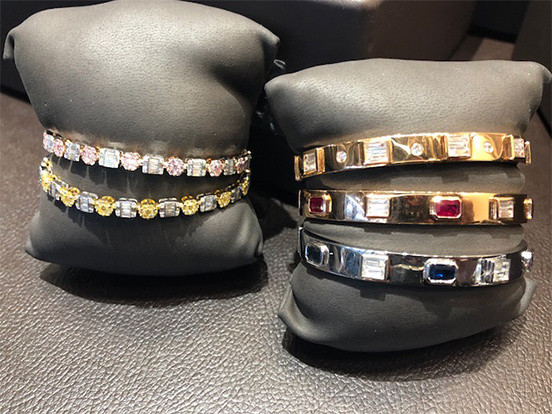 The Story Behind the Jewelry You Love
The jewelry buyers at QVC truly enjoy their job. Not only do they get to hand-pick the jewelry that appears on our shows and website, they get to travel the world to do it. Their latest stop was in Vicenza, Italy, to feast on Italian food and attend VicenzaOro, known as the world's leading jewelry and gold trade show. Andrea, director of buying jewelry at QVC, emailed InsideQ from her plane ride home to talk about her time in Italy.
A Buyer's Tale
InsideQ: Did you see any new, emerging jewelry trends at the show?
Andrea: Earrings! While they're always in the market, the prominence of long, chandelier-style earrings was really exciting to see. We brought one back as a "fresh-from-the-fair" item for Gold Day and it was a top-selling item.
InsideQ: What do you look for when buying for QVC customers?
Andrea: We're always looking for great product. What stands out is innovation and new technology, wearability, and value. We want a breadth of assortment, from the wow factor to relatable, everyday looks. Color is key; our customers love it, so we look for ways to bring impactful color into their lives. We're also looking for ways to up the entertainment value and take some of the serious side away from jewelry. Adding novelty pieces (more fun and whimsy at easy prices), more guests, and increasing fashion/trend items help educate our customer on what is going on in the industry.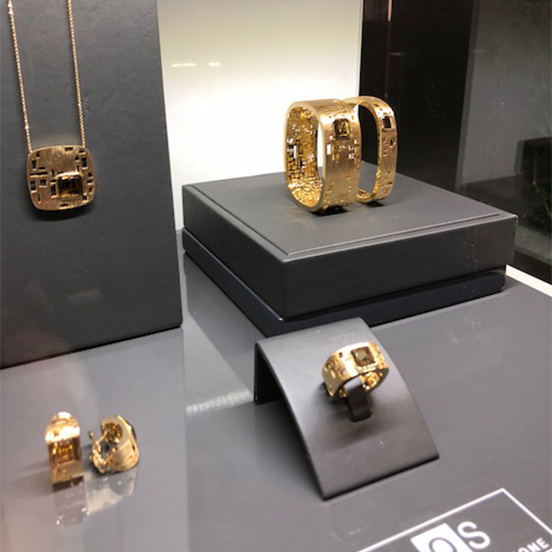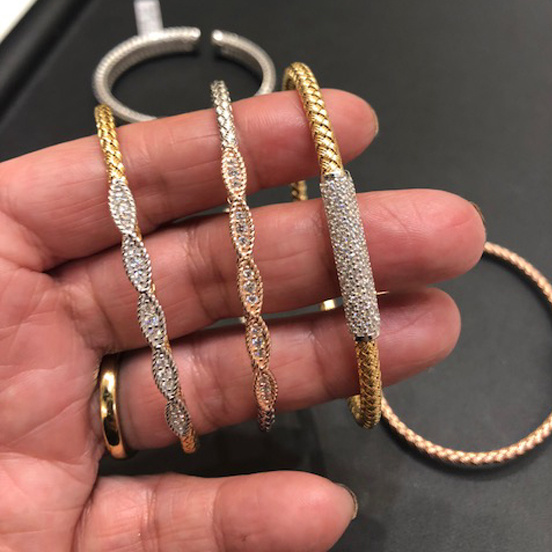 InsideQ: Tell us about Italian street style. Any cool style inspirations?
Andrea: Women in Italy have a sophistication that comes from casually wearing fine jewelry in their day-to-day lives. It's aspirational for our customers, so they love it when we demonstrate how to do that. Layering is also important—Italian women have no problem naturally dressing themselves up. We did see a lot of feminine details, as well.
InsideQ: What makes Italy such a destination for jewelry?
Andrea: Italian craftsmanship has not been replicated anywhere. People try to do it, even purchasing the same machinery, but the results just aren't there. The beauty of their work with gold is outstanding. There's a focus on the jewelry industry that is world renowned, bringing in buyers and merchants from everywhere to their trade shows. We were fortunate enough to see several factories, from the very small, long family lineage of jewelry craftsmen to larger factories where the processes just to get the materials ready to use are fascinating.
InsideQ: What was your favorite part of attending this jewelry show?
Andrea: Pizza, pasta, and product! We enjoyed the amazing assortment and are excited to turn inspiration into an assortment our customer will love. Also, it's great to see that items we already have ready to go continue to be highlighted in the shows, reinforcing that we have great items in the pipeline for our ladies!  
InsideQ: Sounds like you had a wonderful trip. Thanks, Andrea.