Fitness Trackers vs. Smartwatches
We're just under a month into 2018—how are your resolutions holding up? Setting goals to improve your wellbeing is a beautiful thing, but sticking to them is another issue entirely. Let's be honest; this is the time when motivation starts to fade and we fall back into our old habits. Don't fret, folks, the Nerds know how to assist you in reaching your goals, whether you're striving for physical fitness, life organization, or something else entirely.
That's where fitness trackers and smartwatches come in. But how do you know which one is best for you? It's true that they share some similar features, like notifications and companion apps. But where trackers are focused on health initiatives, smartwatches give a more high-level view of your entire digital life. To power these functions, smartwatches require advanced operating systems, faster processors, and bigger screens. As a result, you'll have access to more of the apps you usually only find on your phone, so you can keep track of your schedule, to-do list, finances, and plenty of others to help you stick to those non-fitness resolutions.
Fitness Trackers
Who among us hasn't pledged to get healthier at the start of the New Year? Unfortunately, fitness achievements don't come easily—pizza is delicious and the couch is mighty comfortable. A brand-new fitness-tracking wristband for 2018 could be just what you need to get the blood pumping—literally and figuratively. As their name suggests, fitness trackers are focused on, well, tracking fitness: as in 100%. Sure, that sentiment is what limits the features of fitness trackers, but it also solidifies their purpose as a smart accessory meant to help you look and feel better through exercise, activity, and healthier choices.
Let's start with the popular standard of fitness trackers: Fitbit. Every Fitbit model, including the Fitbit Alta HR Activity Tracker with Additional Band, has sensors to track tons of statistics, from steps to sleep patterns, with even more benefits coming from the Fitbit companion app. It goes way beyond distance traveled and average heart rate—it includes a calendar to plan your exercises, food and hydration logs, and a social feature that lets you add friends and compete!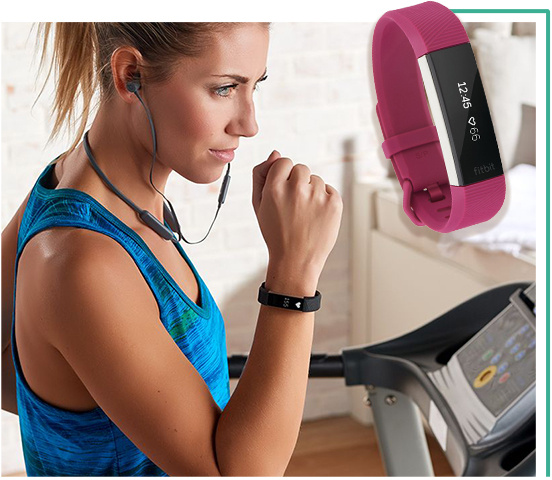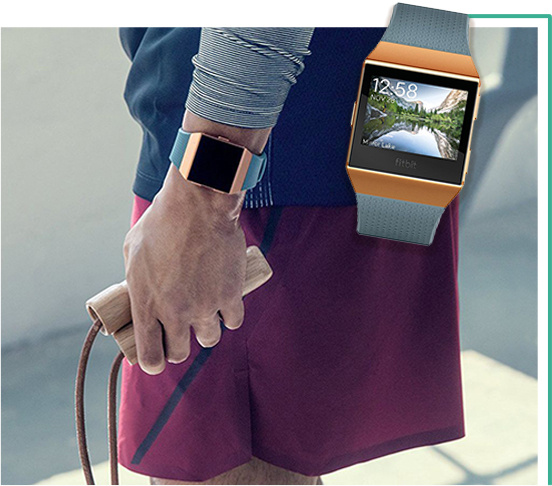 Smartwatches
Fitbit's recent entry into the smartwatch market, the Ionic, is a great way to move beyond simple fitness bands if you're already used to the app and interface. It's compatible with just about any current smartphone, so no need for brand loyalty there, and has many of the same features as trackers do, only with a bigger display. If you love the idea of smartwatches but still want really in-depth stats to let you know how you're doing with your fitness goals, the Ionic provides the best of both worlds.
One of the most recognizable names in smartwatches is the Apple Watch, which connects effortlessly to Apple's system. When someone texts you, you won't just get it on your iPhone—you'll see and feel it on your wrist as well! 
Which Is Right for You?
Ultimately, deciding which wearable device is right comes down to what your primary focus is—and how much money you want to spend. If you're only looking for fitness stats, there's no need to shell out extra for a full-featured smartwatch. But if you're the type who likes to stay connected at all times—or you just want an easier way to keep track of your notifications without constantly staring at a phone screen—the smartwatch is worth the investment.