David's Top 3 Holiday Gift Picks
Host David Venable knows a lot about the products at QVC, and from hundreds of thousands of items he chose his three top gift favorites: the KitchenAid 5-Speed Ultra Power Hand Mixer with Wire Pro Whisk (K46716), Amazon Echo Dot 2nd Generation Voice Control Assistant with Amazon Music (E231058), and Lock & Lock Set of 5 Bowls with Holiday Gift Bags (K45728). 

If you're wondering why David chose these three products, he explained his picks. "I love anything Lock & Lock! These bowls and gifts bags allow you to fill the container with homemade treats that can be bagged and given as personal holiday gifts. The Amazon Echo and Dot products are like giving the gift of a personal assistant! Who wouldn't love that? The KitchenAid hand mixer is a sure-fire winner for the foodie on your gift list. Give this one early so they can use it for holiday baking and cooking."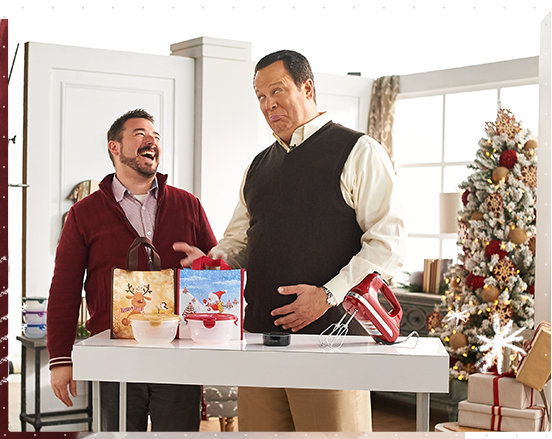 Making the Video
A few weeks ago, David shot the video about his picks. All three items were artfully arranged on a gleaming white table in the center of the set. QVC stylist Jeff G. created a warm and welcoming holiday ambiance with a wall-hanging of a deer in deep, rich brown tones and a Christmas tree decked out in gold, white, and red. It took him more than two hours to create this scene.
When David walked in, his standard hearty hello soon gave way to praise for Jeff. David loved his design. "Our stylists do an incredible job of decorating the set." Then the topic changed to chit chat about local grocery stores and where to buy the best produce. What else can you expect from a foodie?

Soon it was down to business. Once the red light was flashing, David spoke off the cuff about his picks. "Our video shoots are always so much fun. We laugh at my 'mess-ups' and when I get tongue tied. Our producers and camera operators always make the process fun. Of course, they also make the end result fantastic!"