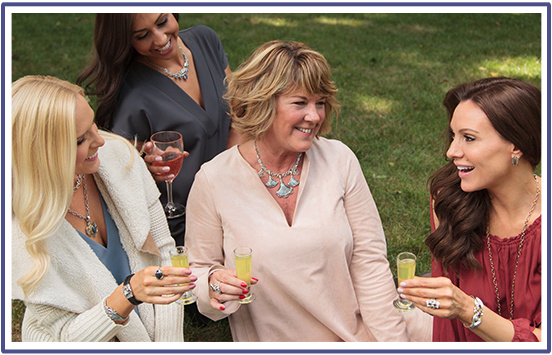 It's a gray and rainy day when we meet, but Carolyn Pollack sports a sunny smile. She's impeccably dressed in a beige pantsuit. Her peach V-neck blouse is the perfect showcase for two Carolyn Pollack necklaces. She wears two Carolyn Pollack bracelets on her right wrist, Carolyn Pollack earrings, and a Carolyn Pollack ring on her right ring finger. (Shop below!) Her wedding rings stand alone on her left hand.
Today, her latest experiment with rose-gold is in plain sight. One of the necklaces she's wearing is rose-gold plated, but paired with a sterling-silver enhancer. It's a big test, because when she visits QVC Studio Park she has to be mindful of her jewelry. "Oh, my gosh! I have to be careful about the weight of my luggage!" 
Good Genes
Some of Carolyn's inspiration is in her DNA. Her mother, Linnea, is a seamstress and whenever young Carolyn wanted an outfit, she'd design it and her mother would sew it. One of her most memorable pieces dates back to kindergarten—a plaid cape with a button that was lost—and then found—on the playground. Her Grandma Dooley instilled a love of family—and jewelry. Carolyn remembers playing with her grandmother's charm bracelets during church. "She was such a lady. She had sparkling eyes and a kind spirit."
Designed & Crafted in the USA
Carolyn was raised in Minnesota and worked in California after college, but Carolyn Pollack headquarters are in New Mexico. The moment she saw the area, she fell in love with it. "I had to live there. Everywhere I turned there was natural beauty." Her company—a joint venture with her husband, Bill—employees 150 people and 125 are considered artisans. "We do everything under our roof," Carolyn says. "Very few do this process in the United States."
Even more surprising, her employees typically have no experience in jewelry making when they're hired. They're taught the eight-step process from the beginning. "The wax has to be injected. Polishing needs to be done. So many skills are needed. Everybody takes such care and pours such passion into what they're doing," says Carolyn. Each year those employees make 250 designs a reality.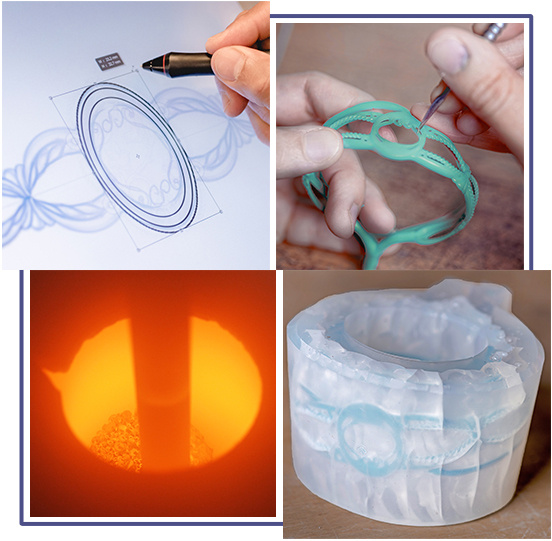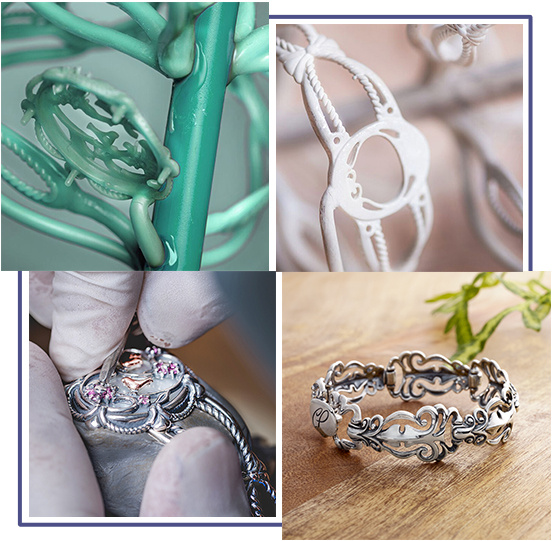 A Family of Customers
One of Carolyn's favorite accolades at QVC is her Customer Choice Award. "We were up against big brands!" But Carolyn's fan base is a loyal bunch. "People have formed friendships over the jewelry. That's the highest compliment. They put a lot of thought into what jewelry they wear. It brings them joy." And even this jewelry lover admits her designs have to strike a chord with shoppers. "Nobody needs jewelry. They have to want it."