Spring arrives this week, and if you haven't already started planning and prepping your garden and outdoor living spaces, now is a great time. At InsideQ we love gardening and outdoor spaces as much as you do. That's why we're here to help you create your own little patch of paradise with décor, tools, and tips from gardening expert Barbara King.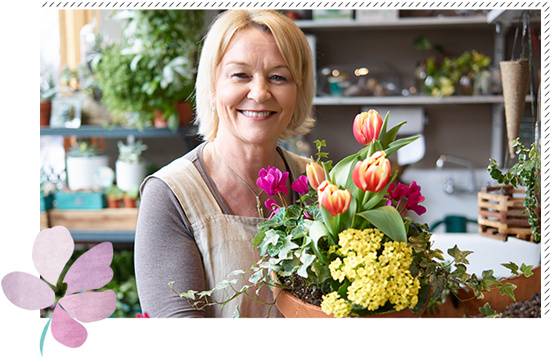 A Lifelong Love of Flowers
Barbara is a third-generation florist. Her grandfather had a wholesale flower shop in New York City; her father owned and operated Valley Forge Flowers boutique in Bridgeport, Pennsylvania; and now there's a fourth generation in the business—her two boys. "It's pretty wonderful when a family can work together, and absolutely awesome for a mom to be able to work with her children every day. When work is so connected with your life it doesn't really feel like work, it feels like living!"
Guided by her creative vision, Valley Forge Flowers is now home to 35,000 square feet overflowing with flowers; garden and home accessories; numerous design services; and cafés where customers can come to have a coffee and enjoy the nature-inspired décor.
So what does Barbara love about gardening at home? "We have a farm that's our getaway and vacation spot that's an hour from home. Having my vegetable garden, herb garden, and apple and pears trees, I feel like Susie Homemaker at the farm in our little log cabin. I can cook with all the stuff, make floral arrangements, and it's pretty gratifying and doesn't take a whole lot of work."
In the Garden
To help you achieve a beautiful garden, Barbara provided these answers to frequently asked questions.
What are this season's gardening trends?
Smaller garden spaces.
Succulents (they're really hot right now).
Water features and sculptures.
Outdoor living spaces.
Garden attire. Something you can wear while working in the garden that's sporty enough to go shopping in.
She-sheds. Make your shed your own little sanctuary (put curtains in the windows, add window boxes, and plant little gardens around the outside).  
What is an annual, biennial, and perennial?
Perennials will last for more than two years.
Annuals complete their life cycle within a year and die.
Biennials take two years to complete a life cycle. After a period of dormancy in the colder months, the plant will "bolt" and flower in the next spring or summer.
What is deadheading?
The removal of spent flowers either by pinching with fingers, using scissors, or pruners. This keeps your plants from going to seed, and it's also a time to meditate and "stop and smell the roses."
Gardening Guru
Barbara King takes you inside Valley Forge Flowers.