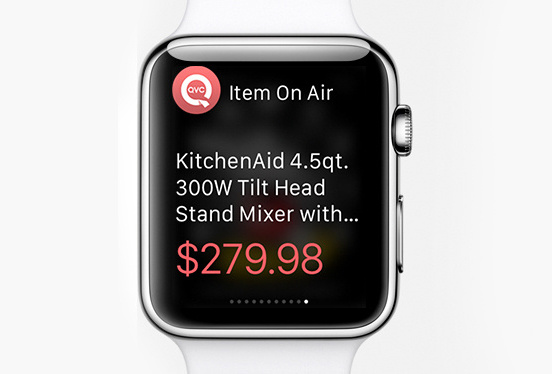 QVC for Apple Watch® App
Shop and get up-to-the-minute product information with a simple glance at your wrist! The QVC for Apple Watch app has been designed to integrate seamlessly with our existing QVC for iPhone® app—just download our most current app version and sync the experience to your Apple Watch.
Note: iTunes® must be installed to visit the App Store.

And you can easily access our QVC app directly from the Apple Watch home screen. Features include:
Push Alerts: Stay in the know on the latest QVC offers.
Glances: Allows you to scan our Item on Air on the fly.
To make a purchase, start the experience on your watch, then move to your iPhone to complete the transaction.*
*Requires the latest version of iOS 8.2, QVC for Apple Watch app, and QVC app for iPhone. You must be opted in to receive push alerts.