bareMinerals Fresh Forward 8-piece Collection
Recommendation Test Anchor, don't delete
Recommendation Test Anchor, don't delete
In Stock
Sold Out
We're sorry.This item is not available at this time.
Pre Order Possible.
Low Stock
Recommendation Test Anchor, don't delete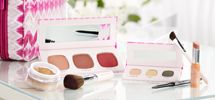 Reviews & Community QA
Rated

4.1

out of

5

 by

112

reviewers.
Rated

5

out of

5
 by
Chitt
Blends Beautifuly
I fell back in love with BareMinerals with this set. I forgot how subtle but full coverage the makeup was. Even if you have to apply a couple layers to get more coverage I don't feel like a mask is on my face. I was cautious about the three cheek colors but they are just what I need. Even the darkest contour shade is light and blends great. Thank you QVC for providing such a great set.
03-17-15
Rated

3

out of

5
 by
Best Wishes
LIke Several things
I generally like the bareMinerals collections. This was a very good bargain considering I was about out of a few items and it was less costly to order this item than purchase the individual items I needed. I think everything in the collection except for the lip balm. Just too pale in color. The eye liner goes on easily but wish it was just a pinch darker. All in all, I'm happy with the products in this collection.
03-17-15
Rated

3

out of

5
 by
NEshopper
Nothing Spectacular
I've never found a kit with everything I love, thus the reason for the return. My suggestion for a kit--a foundation, bisque, well rested, mineral veil, BB primer SPF 30 cream, two brushes, a bag, basically the essentials. I understand its hard to find colors that look good on all skin tones, so maybe you'll consider my suggestion in the future.
03-17-15
Rated

5

out of

5
 by
steph6485
The Best!
I have to write a review to say how nice of a kit and value this is! I'm sick of reading the negative reviews, it seems people have no idea what there ordering before they order it. If you watch a presentation before ordering I think you would know better what your getting. It's not called a "matte" kit so there's sure to be some shimmer in the products. And the cardboard palettes are really nice they have a magnetic closure and are nice and slim taking up much less room in my makeup drawer. The bag is huge and very pretty. To other reviewers complaining about it being plastic, of course it is. What were you expecting leather? I overall like all of the colors even though I normally go for more brown colors then gray. It's different for me, but I like it. It's was a great price for everything you got!
03-17-15
Rated

5

out of

5
 by
Jinglebell
Nice kit for spring
Very glad I purchased this kit for spring! The colors are definitely in the neutral/spring category so a little different for me (I tend toward darker eye colors and red lips) but I really wanted a fresh look for spring. I especially liked the bonus of a new soft focus face brush as my old one was looking a little ratty. Original foundation was great as always. The extra face shades provide a peachy/soft glow to the skin. Other reviewers were disappointed with the kit but I found it was a good deal as individually purchasing these items would certainly cost more elsewhere.
03-17-15
Rated

3

out of

5
 by
bevybear
DIDNT LIKE SENDING BACK
I was looking forward to the new color lip gloss but was disappointed in it, The color application was inconsistent not smooth like on the models and it had a very bitter after taste the eye shadows had too much glitter and were in cardboard containers and the case was plastic. I'm sending mine back
03-17-15
Rated

5

out of

5
 by
SGBaker87
This BAG sells it all!!
Really only got this for the bag!! The bag is what made me decide in purchasing this set it's very hard to find good makeup bags that will hold a lot of makeup plus brushes! ! The makeup is nice if your going for a softer look I love the blushes and brushes in this kit! :)
03-17-15
Rated

1

out of

5
 by
Sammie777
No Coverage
I was so disappointed to try the foundation and found it provided no coverage. It was also very dry and caked under my eyes. This definitely made me look tired and dull. It went right back.
03-17-15
Rated

5

out of

5
 by
LittleFlower
Beautiful colors
Glad I ordered this set on Auto. Face palette is gorgeous, all the colors blend really well. Very pretty and fresh! Eye palette is to die for! Just absolutely beautiful shades that I can't wait to play with! Lip balm is creamy and love the neutral shade. The makeup bag was a surprise, I wasn't expecting much but actually it's very nice and I will use it. One thing I noticed is that except for the foundation and the face palette, everything else don't look like full sized products. Nice set!
03-16-15
Rated

2

out of

5
 by
cicif
Oh, for the good ol' days
I love bareMinerals and have been using for over 10 years, but the quality and pricing is not there anymore. This kit looked like they were back to the "natural" look that I love, but there is still that horrendous glitter in the shadows. The blushes were okay. Containers were cheap cardboard. The bag is well designed but cheap plastic. Even QVC must see the problems because they don't have as many bM presentations.
03-16-15
Rated

3

out of

5
 by
mtcc
Not my Fav
This kit is not what I was hoping for. The lipstick is sheer and I would like to see the product on my face. The blushes are pretty but I'm not a fan of the gray eye shadow. I didn't care for the plastic makeup case either and yes the color of the bag is pretty. Sorry BE this is going to go back with great disappointment to me and my pocket book.
03-16-15
Rated

5

out of

5
 by
Ann1111
Best makeup!
I love the colors and the natural coverage that I get. I saw that this was coming up on the QVC show and went to my local cosmetic store to get color matched. I'm glad that I did, because I thought I was fairly light and matched perfectly to medium beige. What I like best is that the powder is so fine that it doesn't settle into my wrinkles and accentuate them. It is nice on my sensitive skin.
03-16-15
Rated

5

out of

5
 by
littlek
The Perfect Face Portfolio
LOVE everything about this TSV! I am a makeup junkie and I always find myself going back to Bare Minerals foundation. It's fast to apply, covers from light to full w/o looking heavy and I ALWAYS get compliments on my skin ( not makeup ) when I wear this! The foundation and makeup case alone are worth the price of this kit....The bonus is that the eye, cheek and lip are fabulous!!! P. S. I'm in my late 40's but would gift it to my 21 year old NEICE
03-16-15
Rated

2

out of

5
 by
dvita
Disappointed in colors
Again I purchased a makeup kit from QVC and again I am disappointed with the colors of the lipstick and eyeshadow. I thought the presentation made it sound like the lipstick/gloss was a pink and instead I consider beige/nude. What woman looks good in flesh toned lipstick? Also I don't understand why they offered a green eyeshadow. Stick to the neutrals when it comes to putting a kit together. And please no shimmer in the blush. I am keeping this only because I like the brushes and the bag other than that I think this was a miss. I do like bareMineral products but not these colors.
03-16-15
Rated

5

out of

5
 by
happymom of 3
Love BE
Great bag, nice soft look. Very happy with purchase.
03-15-15
Rated

1

out of

5
 by
CindyLouWho57
Wow.
Wow, but not in a good way for me. I've wanted to try bareMinerals products for years and with QVC's return policy, I knew it was now or never. I ordered the 'Fair' since I'm blond, light green eyes, very fair skin. I am 58 with really good skin, no blemishes, small pores, very fine lines #except for one that bothers me under my left eye#, and a few small, very light spots of sun damage . I have never worn foundation as no matter what brand I've tried over the years #and there have been very few#, it always felt as though my skin couldn't breathe, and as though I were wearing a mask #light foundation, BB cream, CC cream, tinted moisturizer#. Based on some reviews, I thought this may just be what I'm looking for to make it look even better! I tried the foundation twice - it definitely felt light and I couldn't feel it on my face, so that was a plus. But... it looked powdery #I applied with a very light hand, and according to application directions#, and I REALLY noticed that one line under my eye! I remembered one review that stated it made the wearer's pores look 'like craters' – that's how I felt, too. The colors didn't help at all, and the eyeshadows are too shimmery #highlighted the flaws in my eyelids, flaws I didn't realize I had!#; the lip balm was orange on me; I liked the color of the eyeliner, but it smudged on more than glided; and I couldn't care less about a make-up bag #I didn't even unwrap it#. Oh well, I tried it and back it goes. I'm glad it works for so many!
03-15-15
Rated

1

out of

5
 by
4blackmeows
NOT worth the $$
Ho-hum lipshade,2 MORE brushes, plastic case. The "compacts" containing the blushes & eye shadows aren't even REAL compacts, just cardboard! Sending back asap. As another disatisfied customer stated,"...spent $10 for nothing".
03-15-15
Rated

5

out of

5
 by
teacher2785
Gorgeous
I have acne scars and I absolutely love how the concealer covers up all of my flaws. I love the colors.
03-15-15
Rated

5

out of

5
 by
Oct2282
Love
love this! Would definitely recommend. The eye shadows and blush are very natural looking and great for Spring! Very glad I made this purchase. Arrived fast and was very pleased.
03-14-15
Rated

2

out of

5
 by
Doc1228
Not for me
Tried this as my first bareMinerals purchase. The powder went on smoothly enough, but the eyeshadows caked and made me look older. The eyeliner in the package was completely dried out. I probably won't make any more bareMinerals purchases.
03-14-15
Rated

5

out of

5
 by
Kittykats4
Just So Nice
Received this TSV yesterday. My first time trying the original foundation. I got the medium beige and love it. So soft and build able and satin finish. Love the eye shadows, esp the grey/olive color. The blush is amazing and y only need a little. The new lip formula is nice and made my lips feel soft. The bag is crazy great. I also got an email from QVC showing me how to use this kit and loved that also. You look pretty and natural with this makeup and did everything Jessica said it would. TY QVC and Bare Minerals!
03-14-15
Rated

5

out of

5
 by
Sal Gal
Great Makeup Colors
I have been using Bare Minerals products since they were first introduced on the Q. I love this product because it doesn't hurt my skin and it is easy to put on and easy to use. I just received this yesterday and tried it for the first time this morning. It is so great. Love the colors of this Fresh Forward product. I highly recommend it to anyone looking to make a change in their skin care routine and makeup routine. This is an excellent product. You will never use anything else.
03-14-15
Rated

5

out of

5
 by
bab49
Great Purchase
Everything in this kit is a keeper except the eyeliner and I am giving it to my granddaughter. I am 66 and for me I need a eyeliner that is gel since I don't like to tug on my eyes. I am glad it contained the Bare Minerals foundation instead of Mineral Veil. The blush and eyeshadow are great. I wish Bare Minerals would put more eyeshadow and blush kits together like this one. I like it in the flat container and it takes up less space. So glad I went on auto delivery. Thank you Bare Minerals.
03-14-15
Rated

5

out of

5
 by
vbowers
Great colors
I just tried it and love the colors I have hazel brown eyes and all the colors looks great with my skin tone and eye colors and a beautiful functional bag to go along with it I know it wasn't free but all of it together is great will defiantly be used .
03-14-15
Rated

5

out of

5
 by
jbcscot
Happy With This Collection
The colors in this set are so pretty and just right for Spring.I didn't think I would use all three blushes but they blend nicely and not a ton of sparkle which I don't like. The eye shadows are neutral with a bit of glimmer but not overpowering and the original foundation is the only one I use so I'm very glad I went with AD when this was the TSV. I really don't need the other cases that will come with future sets but I'll give those as gifts. I think the makeup alone is worth the price. Enjoy-you deserve it!
03-14-15
Rated

2

out of

5
 by
Eremus5
Nothing like it looks on TV
I was very excited to get this kit! It's been a long time since I had bare minerals foundation and I was so excited to start using it again. The foundation was actually great, and I loved the new packaging/dispenser. The face palette was ok, nothing spectacular. The eye palette looked nothing like it did on tv, one of the colors is completely green, not flattering. The eye pencil was ok, nothing great, I've definately used better. But the lip color was absolutely the worst! They described it as a link shade and it's nothing more than skin color, so unflattering. Now the entire lot is going back, and I'm out the $3 shipping plus the $7 return shipping- so basically I paid $10 for absolutely nothing. Very frustrating, not happy with this one QVC :(
03-14-15
Rated

4

out of

5
One of the best tsv
Fabulous makeup bag..... Blushes are flattering and wearable...lipstick is moisturizing- though quite sheer- not much color payoff....the eye shadows- continue to be too"sparkly"... Like some sheen but the sparkles I feel are a bit much- the two lighter shades are lovely....the foundation,well it always rocks
03-14-15
Rated

4

out of

5
 by
Campion
First Bare Minerals kit
This is a nice kit. I never tried the Bare Minerals foundation before and it goes on very well. I chose Medium Beige and it's a neutral beige--I could have gone with Medium as well. The blush is wonderful-not peach, not pink but in between and the contour and highlight are nice, though the highlight doesn't show up very much. The lipstick is a disappointment. It bunches up and looks a bit chalky on my lips. The eyeshadows are a nice trio of sage green, dark olive khaki and a pink base color. I happen to like the eye liner a lot. I find black too harsh, and this is a steel grey or charcoal color that looks a lot gentler. The fine point makes it easy to apply. The case is exceptional. It doesn't take up much room but has two compartments including a removable zip compartment and is perfect for travel.
03-14-15
Rated

5

out of

5
 by
JEMML
Great Products w/ a Great Bag
Well done, Bare Minerals! You knocked it out of the park with this TSV. I love every item and every color in this kit. Plan on taking the make up and the bag to a long-awaited trip to Paris this April. Perfect sizes and the bag will hold other toiletry items I am taking....plenty of room. One of my pet peeves is when kits such as this are offered with a bag/tote and the bag/tote is barely dollar store quality. It not only reflects badly on the product, but it's like "Why bother?" Not so with this offering. It's terrific. Thanks for offering quality products in a great kit at a good price. I appreciate it very much. Glad I ordered the auto--delivery! Can't wait to see what comes next!
03-13-15
Rated

3

out of

5
 by
allthatglitz
Too Much Glitter
Let me start by saying I apply makeup using a 10X magnification mirror so I see things in make up and on my skin the average makeup wearer may not. That being said, 2 of the eye shadows do not contain glitter and are very pretty shades--1 shade is filled with glitter. Same with the cheek palette--pretty colors but there's that glitter again. The eye liner is also glitterized and by the end of the day, you will find the flecks of glitter on the undereye area. The lip stain is a nice shade but am not a fan of stains as they always make my lips feel dry no matter how many moisturizing ingredients they contain. The foundation is great as always as are the brushes and case. Since so many beauty products contain glitter these days, it might be helpful to your mature audience, to indicate such online and in your on-air presentations.
03-13-15