bareMinerals Fresh Forward 8-piece Collection
Recommendation Test Anchor, don't delete
Recommendation Test Anchor, don't delete
In Stock
Sold Out
We're sorry.This item is not available at this time.
Pre Order Possible.
Low Stock
Recommendation Test Anchor, don't delete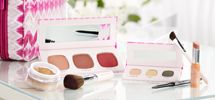 Reviews & Community QA
Rated

4.1

out of

5

 by

112

reviewers.
Rated

5

out of

5
 by
Ladybug53
Love This!
These shades are so perfect, I'll probably wear them year round. The foundation is always my favorite. And the other shades are a great compliment to it. Absolutely LOVE the Lipstick, very light and moisturizing.
03-23-15
Rated

5

out of

5
 by
monique911
Wonderful Products Nice Colors
Love BE, You get all u need for a good price - the only thing I wasn't thrilled with was the new lip pop of passion - it wasn't that it is not a good product - it is just the color wasn't right for me - eagerly awaiting the next shipment as I think the new color of the lip balm will work better for me. Just love Bare Minerals - good products at a good price here at the Q - and auto ship on some products is just a plus you can't get most places, and they are listening - the price of shipping has dropped WOOO HOOOO!!!! Love the darkest blush color - is right on the money and works great with my coloring. I also really like the darkest of the eye colors - goes great with my blue eyes!!! BE provides high quality products for a fair price - and even better these natural products are better for your skin than most other products out there!!!!
03-23-15
Rated

4

out of

5
 by
N Dakota
Good product
I have been trying this for about a week now. It feels really nice on the skin and all the tones blend in so well. My only "complaint" is that the lipstick doesn't do anything for me. I wish it was more of an earth tone with more color. It is very moist and feels good, just not the color for me. I will keep this because it is a good product for the price and I like it overall.
03-23-15
Rated

5

out of

5
 by
ginkat
Loving this Bare Minerals set!
Because I got to make the choice of the foundation color that I wanted, the contour and eye colors have matched my skin color perfectly! Highly recommended!
03-23-15
Rated

5

out of

5
 by
Blueydangl
Great Bare Minerals Package!!
Very impressed with my purchase!! The bag is amazing & all the colors that were included were perfect. Very highly recommended!!
03-23-15
Rated

5

out of

5
 by
Busynursenmom
Best Deal Ever!
Such an amazing deal for so much wonderful product! I love love love the shades of eye shadows! The blushes are beautiful and the brushes are so soft! I would highly recommend this kit! It is a killer deal!
03-23-15
Rated

5

out of

5
 by
RebeccaAlene
Great Kit
I've been a bare minerals girl for over 10 yrs. I love it. This kit is no exception. The colors are beautiful and the application is perfect. The eyeshadow brush takes a little getting used to. Love the bag. It's way bigger than it looks.
03-23-15
Rated

5

out of

5
 by
LucyGoosey
Great Value - LOVE bareMinerals!
Worth it! The full-size loose powder is amazing! And love the quality of the full-size brushes! Nice to experiment with the eye colors & cheek colors, too. And the make--up bag is super functional - love the protective area to store your brushes! The lip balm feels good...but the color is not so hot on me. Honestly, I can't imagine the lip balm color looking good on anyone other than the very, very fair-skinned ladies. But everything else was worth it - still a great value!
03-22-15
Rated

5

out of

5
 by
ltjill
Love the colors & quality
I'm glad I came back to BareMinerals - at 55 I feel this is a more natural look for my face. the colors are great and I really like how it makes my skin look and feel. I get tempted by liquid foundations and other powder foundations but none looks as natural and hold up to the heat and humidity here like bareMinerals. I think my pores look much better too as wearing this is lighter so they don't look as prominent and don't look clogged like they can with other foundations. I had been away from bareMinerals for several years now but glad I switched back. Prefer the compact color formulations over the loose - easier to use.
03-22-15
Rated

3

out of

5
 by
auburn girl
Just not my Favorite!
I love Bare Mineral kits because I get to try something new, and it is perfectly coordinated to blend and look great together. However, in my opinion, these color combinations washed me out. While I understand the "barely there" concept this kit did nothing form me. The darkest eyeshadow was unflattering even when applied lightly, the lipstick and blush were unnoticeable, and the eyeliner was too light. I have fair skin, red hair, so hopefully this will work out better for someone else. I did like the cosmetic bag, and I like the blend ability of the products. I will keep the kit and use the foundation more as a powder.
03-22-15
Rated

5

out of

5
 by
JovennaR
Love....
This collection is the best. I love the spring colors and I use every piece. The bag is a bonus. I have to say the lip is gorgeous, I love the light color and the way it makes my lips feel. I am in my 40's and just started wearing makeup, I have been learning through trial and error, this collection is a winner.
03-22-15
Rated

5

out of

5
 by
SLH
Bare Minerals
This product is awesome! In addition to the amazing actual Bare Minerals products, the carry case with the brush holder area is fabulous! I travel for business constantly and this bag to hold my makeup ensures all your make up is secure in one area! Love the new brushes to add to my collection! Get product, great price! This gift would be great for anyone who uses makeup! Bare minerals is a awesome product and the case is the perfect way to organize a great product.
03-22-15
Rated

5

out of

5
 by
Hannah212
Love this set
I absolutely loved the colors in this set. I have used bare minerals foundation for a while. This was a great buy for all that you got. The bag was super cute and very convenient.
03-22-15
Rated

4

out of

5
 by
3BABIES
great for teenagers
the colors are pretty and soft, perfect for my 14 old her face was so sweet and had a soft glow. wont break her face out, great for her age and skin and its easy for her to put it on. not great for my red toned and dry skin. but I got it for her she loves the makeup, and bag.
03-21-15
Rated

4

out of

5
Nice Kit-but not for me...
This kit is really a great value,however most of the color products and the brushes don't work well for me. The eyeliner is too light and metallic for my taste, the lip product is much too light and peach colored for my cool toned skin, and the middle eye color is too sparkly for me. Only one eyeshadow, Presto, and one face color, the blush in The Natural High, work well for me. I do love the foundation and the bag is cute and well organized. I think this is a great kit and value for those who can use all the products.
03-21-15
Rated

5

out of

5
 by
Munk99
Great Kit!
I love this BE makeup kit! It is the best! I love it!!!
03-21-15
Rated

4

out of

5
 by
Mando
Great Value!
I've use bare minerals now for years and have never used anything else. This 8 piece set is a fabulous value! You get soooo much make up in this set and it will last you a while. It gives you everything you need with brushes included. Ladies, take advantage of this great offer, you will not be sorry! ' Thank you once again QVC !!
03-20-15
Rated

5

out of

5
 by
sueseidler
Love bare minerals
I have been using the Bare Minerals foundation for 15 years. I will occasionally try something different and it always ends up at the back of the closet. I am impressed with the new pressed blushes, I feel as if I have more control over how much I use. I used the instructions and tried their suggestions on using the 3 blushes for contour, it looked great! Nice makeup case, very roomy and I like the separate compartment for brushes. Bare minerals has always had great quality brushes and these are no different. The two brushes alone are almost worth the cost of the kit. Great bang for the buck.
03-20-15
Rated

4

out of

5
 by
Dbuff1101
Great Kit
This is a great face basics set. The all over face colors are beautiful as are the neutral eye shadows. I love that they included a full size foundation which is why I purchased the kit to begin with. The only thing I wasn't crazy about was the pop of passion lip color-just not enough color for me. Overall worth the price and I'm happy with it.
03-19-15
Rated

5

out of

5
 by
Best present Ever
The Perfect Kit! =)
Both me and my mom bought this kit, I'm 21 years old and she is 54. We BOTH love it! That just goes to show that BE is great for any age group. I'd never use anything else, the make up is high quality and it's good for you, so how can you get any better? Any way about the kit, I don't understand the people who are complaining about the colors, if you pay attention to what you are buying there is no reason to be disappointed, they went over everything about the kit multiple times on TV. The foundation is as great as ever, the lip balm makes your lips smooth and baby like, the eye shadows compliment each other, the blushes have three different choices for whatever mood you're in. the eye liner glides on and doesn't pull. The brushes are soft as ever and the bag is so cute! If you pay attention to what youre getting you will be extremely pleased with what you get. Thank You BearMinerals and QVC!
03-19-15
Rated

4

out of

5
 by
GrannyA
Nice set
I got this as a TSV. I like the kit. The colors are nice -not too dark. The powder make up covers well, doesn't look pasty like some makeups do and is covering my undereye circles quite well. That surprised me. The blush colors are nice and I can use all of them. I would have preferred better shadow choices but these will do. Brushes are nice. Good purchase, I think.
03-19-15
Rated

5

out of

5
 by
blouwho
what a lovely spring palette of products
1. Love the bag, it is just the right size and incredibly functional 2. Love the 2 synthetic taklon brushes. Eye brush shed a little when I washed it, but seems good now. 3. Was concerned the grey shadow would be too green on, but it's gorgeous and highly pigmented. The first and third colors are closer to matte (sheen but not shimmer) and the middle color is very shimmery gold. Love that these contain no talc. They stay put and blend beautifully. 4. Can I say how impressed I am with the lip oil stick? Totally my new fave. Not sticky, stays put, and doesn't dry lips out. Just a hint of color in this nude type shade. Don't be fooled by the orangey packaging. So lovely. I need these in more colors STAT. 5. As always, love the original foundation, and the pinky lid is sweet. The foundation and bag cover the cost of the kit, everything else is like a freebie. 6. These eyeliners are just okay on me, I think I run hot and they melt. Use eyelid primer on the lash line and lowest part of lid. 7. Face trio, blush looks like a hint of natural color, middle color works as blush or hint of contour, the light color highlights a bit. Not glittery, just a sheen like young healthy skin
03-19-15
Rated

5

out of

5
 by
LisaBl
Awesome!
I receive compliments anytime I wear these products. I might purchase another just to have!!
03-19-15
Rated

5

out of

5
 by
melodius
Good Value
I almost bought this for the bag!! It will be great for travel. I love bare minerals foundation. I had wanted to try "The Natural High" blush. I am glad I did. I agree with other reviewers that the the lip is very nude and the dark shadow is a bit green. However those are not bad things with my coloring. I have tons of eye shadows so I didn't get the kit for the eye shadows. almost any kit you get has something that doesn't work anyway.
03-18-15
Rated

3

out of

5
 by
sinut
A good kit for younger women
I feel this bare minerals kit is not for mature women. I am sixty years old and the eye shadow is frosty, which settles in lines and enhances every pore, wrinkle, etc. I wish bare minerals was around when I was younger I would have enjoyed this kit. The powder base is the same. I also noticed during the presentations there were younger women modeling this. QVC has fantastic products for my age group, just thought I would try this, however am sticking to IT cosmetics from the Q.
03-18-15
Rated

5

out of

5
 by
Millie63
Amazing
I am in love with my bareMinerals it is a beautiful set ... I use it every day the colors are perfect it is the best that I have orders ! love using it and I'm even recommending it to my two teenage daughters, and they are going to be using bareMinerals !!!! Thank you so much !!!! ;) absolutely beautiful ;)
03-18-15
Rated

5

out of

5
 by
APRI
LOVE THIS KIT!!!!!!!!!!!!!!!!1
I GOT THIS WHEN IT WAS THE SPECIAL OF THE DAY. I LOVE THIS SET, THE COLORS ARE FANTASTIC. AND THE BAG IS ONE OF THE NICEST IVE GOT IN A LONG TIME. USUALLY THE BAG IS TO SMALL FOR ANY EXTRA'S OF MY OWN BUT THIS HAS PLENTY OF ROOM. IM SO GLAD I GOT IT. THE LIP COLOR IS GREAT TOO!
03-18-15
Rated

5

out of

5
 by
bridget84
Love Bare Minerals
I purchased this set because I thought the colors were great for Spring; the bag is an awesome bonus too!! I have never used bareminerals powder foundation before; I have just used the new liquid. I really like the brushes and the eyeliner. The only thing that I did not like was the darker eyeshadow color. It is nice, but it just wasn't for me.
03-18-15
Rated

3

out of

5
 by
broomygirl
Liked some products keeping
The case is nice I like it.I bought mostly for foundation. I am questioning the color of the lip balm as I watched presentation on TV HD and on line and it is much more peachy orangy than it looked like on models. Will never where the champaign (middle color) eye shadow it is all glitter! Not a nice sheen like some of the other ready shadows I have had Please put out more kits with the basics like adding bisque concealer, more neutral color shadows not too light or dark and primer. Really don't need 3 blush shades. Agree with others on the cardboard cases. I am not feeling the value of shades and products I would use on a daily basis. Oh BTW we miss Leslie!! Also still love the brushes!
03-18-15
Rated

3

out of

5
 by
workingal
PLEASE remove the bags from these kits!
I really wanted to try the new lip color, it had no color and dry looking on my lips, it is as if they used something different on the models. I wish the bags would not be included in these kits and subtract about $10. I do like the color of the eye shadow and blush and I do like them in the cardboard containers, it beats opening all the little containers of all the old BE. I know I will cancel my next shipment, its is in the plum colors with my skin tone and hair color I do not care for those colors on me. Maybe in the future when you have tours their use some of the women do redo there make up. I've noticed that its always the same models with certain makeup. Oh also I did like the eye liner also it went on smooth.
03-17-15