bareMinerals Fresh Forward 8-piece Collection
Recommendation Test Anchor, don't delete
Recommendation Test Anchor, don't delete
In Stock
Sold Out
We're sorry.This item is not available at this time.
Pre Order Possible.
Low Stock
Recommendation Test Anchor, don't delete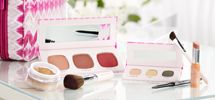 Reviews & Community QA
Rated

4.1

out of

5

 by

112

reviewers.
Rated

2

out of

5
 by
JTW1230
BareMinerals
I have been using this product since I received it in the spring. For the money, I have used other products that I like better. I have been wanting to try bareMinerals as I have sensitive skin. My curiosity has been met, but I will not purchase again.
08-03-15
Rated

5

out of

5
 by
AngelHeck
Fantastic
This kit is fabulous! Great coverage with the foundation, (it can become flaky looking if you don't properly moisturize!) I use it over the primer, and I can be at work all day (work at home depot) get sweaty, in the heat, sun everything and it stays no worries! My absolute favorite out of the entire kit has to be the blush set, PLEASE BM, Please carry these colors! They look great on me, I wear Medium in the bare minerals foundation, Blue/green eyes, and med/dark brown hair, and these blush compliment my skin perfectly like I wasn't wearing anything at all. The only downer is the lip stuff, for me it was just meh. You have to keep it reapplied frequently.
06-29-15
Rated

2

out of

5
 by
Cynta
Great bag!
Bare minerals foundation is not for everyone. It made my wrinkles more pronounced and left me with a slight orangey color tone even though I went fair and cool. The brush just made my skin more flakey. I have no idea what all the blushes were about I rarely use them HOWEVER the bare minerla eye shadows are lovely, if they didn't irritate my eyes. I like the brushes and the compact powder. This is not the product line for me although I may continue to try their eye shadows.
05-28-15
Rated

5

out of

5
 by
Biggie
Great Deal
Love this BareMinerals set - it is great for traveling. Great colors too! Would recommend this!
05-27-15
Rated

3

out of

5
 by
pmr627
So-so
I have mixed reviews for this kit. I ordered it because I really wanted to try the foundation. I think it gives good coverage, but I don't care for the shiny sparkles in it, and it breaks down in just a few hours in my oily t-zone. The eye shadows are very powdery and I get a lot of fall out when applying. Not crazy about the shadow colors either, but the dusty green makes a nice liner when used wet. The lipstick color is nice and soft - also very moisturizing, but has to be reapplied often. The shadow brush is really too big for precision application, but the blush brush is really nice. Speaking of the blush, the colors are okay, but they have the opposite problem of the shadows - they don't transfer to the brush very well so it takes quite a while to build color on the cheeks. The liner is okay color-wise, but it doesn't glide on very nicely. The makeup bag is the bomb! Very handy - love all the compartments and makeup brush slots with the nifty flap to cover and protect them.
05-25-15
Rated

5

out of

5
 by
slvrldy
still love my minerals
nice size set I have been using Bare Minerals for about 10 years and still love it It usually lasts me a long time as I am retired and no longer wear makeup everyday
05-16-15
Rated

5

out of

5
 by
Cinnie
My favorite kit so far
I am middle-aged, with blonde hair and blue eyes. The foundation color that I wear is medium beige. I love this kit! I can wear everything in it. Love that there is a full-sized foundation. The blush and eye shadows are complete...I don't need to add anything else. I really love the case that they come in. I use it at home and for travel. Brushes go on one side and there's plenty of room for makeup on the other, zippered, side. It also comes with a separate clear matching pouch, which I use to hold my face creams and lotions. My favorite...no complaints at all...and I am a long-time Bare Minerals fan. So glad I signed up for auto-delivery. Can't wait to see the next one!
04-30-15
Rated

5

out of

5
 by
AngieDog
Great Kit
Loved everything in this kit! Colors are great. Brushes are very nice, too. The lipstick is a pretty color and feels so nice on the lips. Excellent value, too. Thanks, bareMinerals.
04-25-15
Rated

4

out of

5
 by
Katmai
Good collection
This was my first purchase of BM products. It's a good starter collection although it would've been great to have had more brushes included. I like the 3 colors of blushes to use alone or together. The eyeshadows will need to grow on me but I don't care for the lipstick due to it having very little color on me.
04-25-15
Rated

5

out of

5
 by
Jdee
LOVE love love this!!!
I love this product and this collection is perfect! I actually USE every item!!!! Well worth the money!
04-24-15
Rated

4

out of

5
 by
Jdora89
Great Kit!
I absolutely love Bareminerals! I did some research on this kit before buying. The face pallet is fantastic! I am completely obsessed. Their brushes are the best! They blend the make up wonderfully. The eye colors aren't my favorite colors, but the combination opens my eyes for a nice spring look. The slate eyeliner is lighter than the videos suggest. The main thing that I had an issue with was the lip balm. I thought I was going to really like it, but the color is too light. Also, it goes on really smooth, but it was drying. I had to use a lip scrub every time I wanted to wear it to get it to lay on the skin right. Over all, this is a great kit. I got it on auto delivery and look forward to the new colors in the face and eye pallets!
04-21-15
Rated

5

out of

5
 by
Tayfusion
Nice
Nice coverage. The make up feels nice and light and very natural. The bag and additional items are nice as well. If your looking for great make up, than go with this.
04-20-15