ZUMBA FITNESS Exhilarate Body Shaping System
Recommendation Test Anchor, don't delete
Recommendation Test Anchor, don't delete
In Stock
Sold Out
We're sorry.This item is not available at this time.
Pre Order Possible.
Low Stock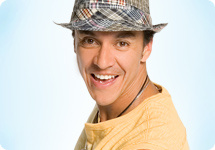 "Thanks to my nonstop, easy-to-follow choreography, this program helps you tone your body from head to toe-all without feeling like you're working out at all!"
—Beto Perez, ZUMBA® Creator
See the results for yourself with these Before & After photos.
Watch a video from the Activate, Exhilarate, Rush, and Ripped DVDs.
View extended clips from the Exhilarate program.
Recommendation Test Anchor, don't delete
Recommendation Test Anchor, don't delete
Reviews & Community QA
ZUMBA FITNESS Exhilarate Body Shaping System
20
20
Great
This is everything I wanted in a workout DVD they give you step by step to make it easier for you, You really do get a workout with this DVD's. The book tells you everything you need to know to get through this workout and more. There is also DVD's for your target zones. They are abs & legs / cardio & Glutes and arms & obliques and more.
02-23-14
No
Only like tonya and Gina. I don't know what was going on with the others. Bento was bad, no que to keep up. I like the original 30 times better. I like samba, salsa dances like that, if it wasn't broke don't fix it.
01-24-14
Excellent, but....
My Ripped DVD is missing the chair part. How can I get it? The remainder of the DVDs are excellent!
09-10-13
Exciting Exercise
If you're tired of hour after hour of monotony on the elliptical or the stationary bike, this is the plan for you. I'm a distance runner who wanted to break up her training plan with an invigorating routine. I tried Zumba classes at my gym, but found the classes to be unwelcoming to beginners- I felt silly for not knowing the steps. These DVDs provide the perfect instruction for newcomers. Although the first couple times you do each workout, you might feel like you're not doing it right, I found that the more I did them, the better I got. And anyway, if you miss a combination or get confused, just shake your booty!
04-03-13
FUN, FUN, FUN!!
I LOVE my Zumba system. I started my routine last week and it's awesome. The program is fun and it makes working out that much easier. I am over 100 lb overweight and I am able to get through the workouts just fine. As I get stronger I can see how this will be a long term exercise routine, because there is always something to improve. I recommend it to anyone who loves music and dance :)
03-01-13
Returning Item
I was so excited to get this but was quickly disappointed. The QVC demonstration made it look MUCH more fun than the actual videos. I find playing my own music I know & can understand the words allows me to "feel the moves" and dance much more productive than the music in the DVDs.
02-10-13
DVDs Won't Play In DVD Player Or Wii
We would love to try this, but can't get it to play in two DVD players and a Wii. Now bringing a different device to work out room. If it doesn't play then this goes back...
01-29-13
So Fun!
This workout is fun and effective! I am not talented at dance at all, but I can do these workouts! I actually look forward to working out now.
01-09-13
what a gal needs
I find the 2 options a plus as a beginner. It was easier to work my way up to a good sweat workout' which makes it better to go forward and not feel it is to hard and give up
12-04-12
Great Workout
Got this for the days I can't make it to the gym but found I love it so much more.. I can now Zumba whenever I get the urge. The workouts are great. Best deal in town..
11-18-12
Ripped DVD is not complete
I love doing this program, its fun and really has me sweating. I burn a lot of calories too and lost 10 pounds!!! My only issue is, the ripped dvd is missing the chair workout. That was very disappointing because i had my chair out ready to do it and discovered it wasn't there. Qvc should really fix this and send out a complete dvd, because in the video they show to get you to buy this product the chair workout is shown. But other than that this Zumba workout program is great!
11-13-12
Love Zumba Fitness
I love the zumba fitness I really get a good work out I would have given 5 stars but missing the chair workout on the RIPPED DVD.
11-12-12