WEN by Chaz Dean Pomegranate 16oz Cleansing Conditioner
Adds moisture without weighing hair down
In Stock
Sold Out
We're sorry. This item is not available at this time.
Pre Order Possible .
Low Stock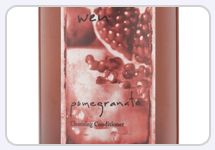 You Wanted It, It's Here
Watch this video to learn more about Pomegranate Cleansing Conditioner from Chaz Dean.
Find out what our hosts and models have to say about Pomegranate.
Reviews & Community QA
WEN by ChazDean Pomegranate 16 oz Cleansing Conditioner
855
855
Wen products
I just received the Wen products from QVC, and I must say they are the best products I have ever used in my life! I have used the most expensive hair shampoos and conditioners on the markets and in up-scale hair salons. There is nothing better than Wen products! The first time I used it, I noticed a difference immediately, then within 5 minutes of walking outside, my neighbor said your hair looks amazing. My hair is in good condition for highlighting it my whole life and I take very good care of my hair and myself, but this Wen product is just amazing, my neighbor is buying it as well as my friends. Good thing Chaz Dean had all those amazing heads of hair on his show because IT'S TRUE! You will have incredible hair!
04-21-12
what is the hype??
I have been trying to use this product for about two years now. I have a large bottle and try it occassionally to see if I ever notice anything....and I don't! Biggest complaints: 1. it leaves my hair incredibly greasy by mid day, and I don't have greasy hair ever. 2. It actually DRIES my hair out causing more frizz! 3. It leaves my hair very flat and unable to style whatsoever. 4. you have to use too much product-per directions-to be used properly and that makes this even more expensive. I just don't see how anyone has luck with this if I am using as directed and after watching videos on how to use? Sorry, but my $2 shampoo and conditioner work much better.
04-16-12
WONDERFUL PRODUCT
I have done everything imaginable to my hair....I am a child of the 80's so i permed, colored, ratted and sprayed my hair to near destruction in high school and it showed...now in my 40's i have to color away the greys and my hair has suffered from the rough treatment of years of the latest new hair trend..nothing made it feel better or look better..My wonderful sister bought me WEN for Christmas..I colored my hair Dec 31 as close to my birth color as i could remember....Jan 1st i started using WEN...WOW..the first time i used it i noticed a marked improvement..i could not stop touching my hair..3 1/2 months later my hair is wonderful..i went for a hair cut to a new salon two weeks ago..i told the stylist i used WEN.....AFTER ....SHE REMARKED WHAT WONDERFUL HAIR I HAD..she said in her 20 years she has never seen anyone that colored their hair and she could not tell..i had not colored for 3 months and there is no line of demarcation from growing out..it is as dark at the ends as it is at the roots...I LOVE WEN...JUST ORDERED MY NEXT TWO BOTTLES...
04-14-12
What a surprise
I have very curly, frizzy, dry, color treated hair. For years growing up I tried everything I could to straighten my hair NOTHING worked. I finally gave into the fact that I just needed to enjoy the curls and make the best of it. I watched the WEN advertisement on QVC late one night and thought the models had really nice hair. But as always I was skeptical. I figured their hair was gorgeous on it's own. But I broke down and made the purchase. For 3 days I used the Pomegranate Cleansing Conditioner and went through my normal routine with my normal products (Moroccan oil, hair gel, and hairspray). Hair was not much different than using shampoo and conditioner. Then I decided to give a flat iron a try using no product at all after cleansing. Wow, what a difference. I actually am wearing my hair straight now with NO product at all in it. I love WEN cleansing conditioner.
04-03-12
Was expecting something great, but it wasn't...
I purchase the cleansing conditioner because everyone was raving about it. I waited to use it after I colored my hair. They always said your color won't fade while using it, so I wanted to see. Well, first of all the pump was broken and I didn't notice until I was in the shower. So I had to pour it out trying to measure how many pumps according to the directions the pile in my hand equaled. My hair is down past my butt. It doesn't say how many pumps for that lenght, but I estimated it. Normally I have to wash and repeat 3 times due to the lenght of my hair. But according to the directions, I wasn't going to need to do that. But I could wash and repeat once if I wanted. So I did. I was expecting my hair to come out like they show on TV. What I got was a gross mess. I do not have oily hair at all. But after using this product, my hair came out like I poured oily all over it. The smell was okay at first, but then it was just too much. Everytime I moved my head I could smell it. This is probably better for shorter hair...maybe... 'All I know is if you come out of the shower with your hair more dirty than when you went into the shower, it's not a good product!
03-30-12
Best ever
I must say I first ordered Wen approx 4 mos ago loved the results ran out maybe 3 wks prior to 4 month put the other guys to the test and I must say I was Extremely DISAPPOINTED in the other guys I did not love my hair !!!!! I felt horrible I wore my hair in a ponytail until I ordered and received my Pomegranate Wen!! I will never put anything else in my hair!! Thank you Mr. Dean! Also thank u QVC for your prompt shipping ...Joeann
03-30-12
Works for me
I read reviews and researched this product. The infomercial is good but you how T.V. it can fool you. So, I reluctantly ordered a small bottle first. Thinking if I don't like it my granddaughters will use anything and waste most hair products. But, now I find myself hiding my Wen when they are coming to stay and putting out "hotel bottles" for them. They have there on Wen and usually ask for replacement products for their birthdays and Christmas. Seems my family is sold on the healthy hair we have now. At my age shine is not an option. But with Wen I notice the difference and so does my husband. Which, as most women realize, is rare for your husband to notice anything. Thanks Chaz Dean for caring enough to develop this product.
03-15-12
OMG~!
I was so skeptical about this product. I watched this on QVC for several years before purchasing it. I love the Vanilla Mint scent CHAZ PLEASE BRING THIS SCENT YEAR ROUND! I have natural curly hair and after I do the first round I rinse real well and then use one pump to leave in hair then get out and before drying hair use the stylin creme and blow dry part way. My hair is so soft I use stylin creme after my hair drys. The second day I have one pump in a spray bottle with water and I shake it up and spray all over hair and let air dry and good to go my curls are so bouncy soft.
03-07-12
Ehh...
I bought this item, thought it was ok, so I bought the huge (and overly priced) 1 gallon bottle in June in the cucumber aloe. My hair is very shiny, but Chaz raves about how your hair color won't fade. Well, I used this and ONLY this on my hair for months, and my hair color faded lighter every time. Also, the scent is not strong enough. It smells lightly the first day, but I go 2 or 3 days between washes and my hair never smelled nice after the 1st day. I also bought this because I was floored by how the women's hair looked on tv with "just a blow out." My hair looked NO different, even after using this product for months after I would blow dry it. It was still frizzy. Those ladies' hair looks like that because they have a professional (Chaz and his people) styling their hair before they go on camera. Overall, I was bummed by the results and the cost is definitely not worth it. The expense is basically almost all mark ups and they charge that much so they can make a hefty profit and because they know women will pay that much.
03-03-12
AMAZING !!! stunnig results
I was amazed !!!! at the results in one cleansing my hair was stronger and felt like slik please give this product a try you will save money and time useing this one product and reciving the best hair of your life.... thank you Mr Dean. I am Wen girl for life......
02-15-12
LOVE MY WEN PRODUCTS
I have been using WEN hair care products for a year now. I think its the best product on the market. When I didn't get my delivery recently I was very upset and of course the 5 bottle set was out of stock., so I would not get my next shipment until June 2012. I went on line to QVC and was able to purchase single bottles to hold me till then. I also want to thank QVC for refunding my money right away when I let them know what happened with my delivery.
01-27-12
Love the way my hair feels
This is my second time purchasing Wen and I love the way it makes my hair feel. I am not super thrilled with the scent of the pomegranate but I really enjoyed the Ginger Pumpkin scent and plan on trying the sweet almond mint. One tip I can give is that you may not need the amount recommended in the instructions. I have fine shoulder length hair and I only needed 5-6 pumps.
01-22-12