WEN by Chaz Dean Pomegranate 16oz Cleansing Conditioner
Adds moisture without weighing hair down
In Stock
Sold Out
We're sorry. This item is not available at this time.
Pre Order Possible .
Low Stock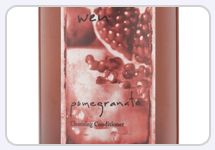 You Wanted It, It's Here
Watch this video to learn more about Pomegranate Cleansing Conditioner from Chaz Dean.
Find out what our hosts and models have to say about Pomegranate.
Reviews & Community QA
WEN by ChazDean Pomegranate 16 oz Cleansing Conditioner
855
855
Not my fave of the 4 formulas I use...
I don't care for this one. I have used nothing but Wen since Oct - 8 months - first the Autumn, onto Winter, then the Spring special formulas. My fave was the Autumn - the Pumpkin. But I decided this time to try this one, and it don't like it very much. It doesn't rinse out as well, and I am not doing anything differently than I have with the others. Maybe I have to?
06-06-12
Love my Wen
Ive used Wen before on my unprocessed, African-American hair and I wasn't impressed. Then I had a keratin treatment (Brazilian blow-out) and I borrowed my mom's Wen because I ran out of the shampoo I was supposed to use to support the keratin treatment in my hair. Wen worked really well on my hair. My hair is also color treated and Wen made my hair silky and I was able to comb right through my hair. It's an amazing product and I don't want to use anything else. I already threw away and removed all other products from shower. Because my hair is extremely kinky and I have 2 different textures of hair it's important to find a product that works on different hair types. Also Wen is cutting down on the amount of shedding that occurs when I shampoo. It moisturizes my hair effectively so my hair isnt weighed down, and it has amazing body. More importantly it works really well with the keratin treatment in my hair because it doesn't have all the harsh detergents and synthetic ingredients that strip your hair. Amazing product now nothing else will do.
05-13-12
Saved my hair.
This scent is the best scent ever. If you feel the others are too much menthol-ish this one is for you. Smells great and makes my hair full and soft and very thick feeling. I been using wen for a month now and I no longer loose hair in the shower! No more shedding like a sheep dog and my vacuum is happy LOL no more clogged drains in the shower! I have very baby fine hair that is medium in thickness
05-11-12
Misrepresented
This does not wash easily out of your hair - even when I used 1/2 to 1/3 of the recommended amount. My hair is thin, but not short or baby fine, either. This must be only for people with very thick, coarse, dry hair. If you have any doubts, do NOT order. The cost for S&H should be credited back to me!
05-07-12
simplify your routine!
My mom gave me some of her Wen products, and I started using them about a month ago. I had already stopped using sulfates and anything not water soluable on my hair probably two years ago, so I didn't get an amazing transformation, but is so amazing about Wen is that you really do only need the one product in the bathroom! It works extremely well both leaving my hair and scalp feeling clean and moisturized. I have to put some in as a leave-in, and I am also going to be using it as a body cleanser and shave cream as suggested on the show. I am eager to try the styling products but have a big backlog to get through first. BEST THING IS YOU THROW OUT ALL YOUR OTHER BOTTLES. My husband is so pleased to have some shelf space in the shower finally, and he is using it on his beard too. I will be back for more when I run out. Definitely worth a try!
05-05-12
Made hair feel like wire
Very disappointed. My hair is very thick and naturally curly. This made my hair very hard, almost like wire. My hair comes to the middle of my back and this shampoo made my hair very tangled. It was a nightmare to get it untangled. Lost a ton of hair.
05-04-12
love love love this product
My sister got me hooked on this product. I immediately fell in love with Wen. My curls have never had so much bounce. I've tried numerous products before and nothing has the quality that Wen does. Even have my Co-workers buying it.
05-03-12
Did not like
After all the hoopla about this product I finally decided to give it a try. I don't find it to be anything special, it leaves my hair feeling greasy, lifeless and limp; especially after using the styling creme and finishing creme. The finishing creme made my hair just go flat. And I have a lot of body in my hair. And the pomegrante smells "funky". I don't understand how they can have the models on the TV, and say there is no styling invovled, just the use of the products and Chaz's brushes. Of course, they probably want you to waste your money on the brushes too. I am not impressed and it is definitely expensive.
05-03-12
Love this formula!
I have to say at the onset that I tried Wen a few years ago (the Tea Tree formula) and did not have a good result. I used the product exactly as instructed but my hair just kept getting drier and drier with every use. I have shoulder length curly hair that I only wear in it's natural state during the summer due to humidity, My hair has a tendency toward frizz...the tea tree just exacerbated that condition! Fast forward to seeing the recent TSV set of the pomegranate. i love anything pomegranate so I thought it seemed like a good buy and i would give it yet one more try. Everyone wants to have hair like the Wen models! I was skeptical when it arrived but couldn't wait to give it a try. I have to say I LOVE it. I was able to get a smooth,silky,shiny result using a blow dryer and brush. I don't wash my hair everyday and I find that my style lasts and looks good until my next shampoo. I think the formulas are not a one size fits all kind of thing.....what works for one might not work for another I'm living proof of that. You have to experiment to find what works for you., the difference between this formula and the tea tree formula for me is like night and day. Anyway I am now a Wen girl and my hair does look like the models hair. For the record I am a hair stylist and have tried many many different product lines. I would not hesitate to recommend this to a client.
05-01-12
It works for me!
Using this product since January.....my hair had been fallen badly for over an year, all over the house. It stopped fallen and my hair is even getting ticker.....I bought the second bottle, and I like the smell...
04-29-12
Yuck.
I got the whole set a few weeks ago and find that it ,leaves me curly hair greasy and frizzy....I hate the pomegranate smell smells like cherries....and rotten ones at that... I just used this cream and went came out of my dressing room only to have people say that smelled a strong Oder of cat urine....and I don't have a cat sure enough it was this product...it has since then ( bout ten minutes)has worn off.
04-27-12
Disappointed
I was so excited to finally purchase Wen. I watched for years and finally went for it. I am still giving it a try, but so far my hair is drier and more frizzy. I am following the directions and keep thinking I will see a change for the better. I fear I will be returning the items, but will give it some more time.
04-25-12