WEN by Chaz Dean Pomegranate 16oz Cleansing Conditioner
Adds moisture without weighing hair down
In Stock
Sold Out
We're sorry. This item is not available at this time.
Pre Order Possible .
Low Stock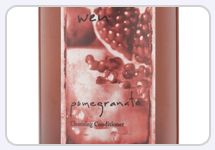 You Wanted It, It's Here
Watch this video to learn more about Pomegranate Cleansing Conditioner from Chaz Dean.
Find out what our hosts and models have to say about Pomegranate.
Reviews & Community QA
WEN by ChazDean Pomegranate 16 oz Cleansing Conditioner
855
855
LOVE
This stuff is amazing, you have to get the hang of it and learn how much product you need to use for your hair length and thickness. I have long and very thick hair I use 25 on top and 20 pumps on the bottom rinse and repeat that with only 15 on top and 10 on the bottom and let that sit the rest of my shower and at the end add one pump right as I get out. The bottles do go fast I go through a bottle a month and it does add up but the quality of the product and how amazing it is for your hair and how shiny it makes it feel ITS WORTH IT. Also they don't test on animals which is rare to find. Overall I give this to everyone as a present and they always love it. Once you figure out how much product works for your hair you will fall in love!
03-18-14
Awesome product
I have wanted to try WEN for a while...but having been a hair stylist in the past I was unsure that my hair would really feel clean without the lather. I finally gave in and I am so glad that I did. I noticed after the first use that my hair was indeed clean but also soft and shiny. I will continue to use this product and look forward to trying others in the product line...THANK YOU CHAZ!
05-30-13
LOVE POMEGRANATE WEN
i just finished using my wen pomegranate for the very first time and it is soothing to my hair, when i out it on it kinda has a mint feeling to your hair because of the freshness love this product :):):):):):):):):):):):):):):):)!!!!!!!!!!!!!!!!!!!!!!!!!!!!!!!!!!!!!!!!!!!!!!!!!!!!!!!!!!!!!!!!!!!!!!!!!!!!!!!!!!!!
04-23-13
THIS IS MY FAVORITE
I LOVE the pomegranate! WEN is amazing. I look forward to cleansing my hair with this and I'm almost out of pomegranate (also have four other "flavors"!) I start to panic when I get low on this one. What more can I say!!!
04-07-13
Glad I tried it
I was very hesitant to try this because I don't generally like fruity or flowery scents. I have very fine hair (but a lot of it) and I do get a "halo" of frizz particularly when humidity is high. When I asked for recommendations from WEN, this is one that was recommended to me. I'm glad I tried it. My hair is much "tamer" after using it, but not at all flat or weighed down. It's a very light formula. And the pomegranate "fruity" smell is not at all overpowering. I won't say I'm crazy about it like I am some of the other fragrances, but I will use it because of the good results I see.
09-16-12
Apparently I'm not a 'WEN girl'
I really wanted this to be the last cleansing product I would ever need. I like the way it smells and I liked the tingle I felt when it was on my hair in the shower. I also liked that it took no effort to comb through my usually tangled mop after toweling dry. That is where my love affair with this product ended. Once dry, my hair never felt clean and my scalp was itchy within 24 hours, which sometimes happens when I don't shampoo for a couple of days. I'm sorry I wont' be a 'WEN girl' but it's not for me.
09-02-12
Not impressed
I bought the gallon size and it is sold out so I am reviewing on the smaller size. Chaz makes a big deal about this cleanser not fading color from the hair. Unfortunately that is not true. I have been using this since having my hair colored to match a hair piece. That was about two months ago. I can no longer wear the hair piece until I re-color my hair. It will be necessary to run the color through the hair shaft to match it again, unlike what Chaz describes. I have my hair colored red and that may be a factor, but I didn't buy the product until he showed one of the models with red hair. I will continue to use the product for cleansing, as I think it is good for that, but I won't expect to color just the re-growth.
08-15-12
Just fair
I have tried it a few times, and I just dont like the feel of my hair afterwards. I didn't use too much and I really rinsed alot. Also, I did not like the smell. It smelled like medicine. I am going to return it, even though the shipping is high. I really wanted to like this shampoo, but I will stick with Nick Chavez.
08-09-12
Pomegranate vs. Almond Mint
While I very much like how the Pomegranate is lighter than the Almond or Chocolate products, I don't really care for the smell. It doesn't emit an unpleasant odor as I go throughout the day or anything, it's just a slight medicine smell in the shower. My kids & husband don't say anymore, "Mmm, your hair smells good." I would recommend it though if the others left your hair feeling heavy and over-coated. I've since learned not to use the full eight pumps to shampoo. I don't even add more after shampooing and it still has long-lasting curl and healthy body.
07-10-12
I'm a Convert
I have fairly healthy hair to begin with and didn't think this would do much for me, but I gave it a shot because of all the rave reviews. It felt nice and smelled really good, but for that price, I didn't think it was doing anything special. After a couple of weeks, I went back to shampoo. WOW, was there a difference! It was ASTOUNDING how flat and ashy my dark hair looked! No life, no bounce, no shine to be found. I immediately threw out the shampoo and ordered more Wen. I have since ordered the Lavender gallon and can't wait to see how that works for me. Yes, it's definitely more expensive than the generic, no-name shampoo I used forever, but it's worth it. At a certain age, a person needs to figure out where she can afford a little luxury in her life and having good hair is definitely worth it!
06-25-12
ok
It's hard to find the right amount to use so my fine hair doesn't feel heavy. When I went to get my haircut she told me my hair had alot of build up. Don't think I'll order again.
06-21-12
Pleasantly Surprised
I made my first WEN purchase a few days ago, and have used this product every day since. I was expecting to not like the product, as I have an issue with shampoo/cleansers that do not lather. But I have to admit I love it. It made my hair feel clean and during blow drying I could see how much body it had. Have also used it on my daughters hair, which is very curly, and was impressed with how soft it made her hair feel. Am now going to try the styling lotion for more curl definition on my daughter. I am a hairstylist and have tried many of the Sulfate Free shampoos and this product far surpasses the results that I received with other Sulfate free products.
06-15-12