Topstyler 20 Ceramic Heated Styling Shells with Accessories
In Stock
Sold Out
We're sorry. This item is not available at this time.
Pre Order Possible .
Low Stock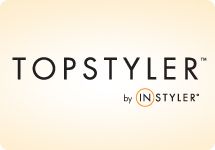 Convenient Curls
Learn more about the innovative ease of Topstyler below:
Description
What is it: Salon-style curls in the convenience of your own home! Topstyler locks in curls in less time--creating upscale hair styles without the salon price tag. From tight curls to smooth waves, this innovative styling tool reinvents the way you create curl, wave, texture, and body in your hair.
Who is it for: All hair types and most lengths.
Why is it different: The heat-set technology system uses a collection of ceramic clips, called C-shells, which allow curls to cool naturally in place. When gently heated, the C-shells reach the perfect temperature to reshape and set the hair. Because the shells are lined with ceramic and require less heat than many other tools, they won't damage your hair and are safer to use than curling irons.
How do I use it: Get your curl on! Simply heat the C-shells on the thermal base. Then, form hair sections into simple finger curls. Finish with the long-lasting curls, body, and volume of Hollywood hair. Give your hair dramatic dimension by using the sharp-wave clips to create a defined, zigzag patterned look. Use the EZ wrap styling combs for combing, detangling, and sectioning hair. One comb is for tight curls, while the other can be used for larger wraps resulting in a looser wave. You'll be amazed at all the different styles you can create!
So dress your tresses with less time in front of the mirror, less damaging heat, and less money. And you'll get more curl and body, more sexy styles to choose from--and of course, a lot more compliments!
Includes:
Heated base unit in zipper case
10 large C-shells
10 regular C-shells
10 sharp-wave clips
2 EZ wrap styling combs
Quick-start guide with instructional DVD
Caution: The sharp-wave clips are only for use with the TopStyler. Do not use them with any other hot hair appliance
100% ceramic-lined shells
Works on all hair types and most lengths
ETL listed: 1-year Limited Manufacturer's Warranty
Made in China
Reviews & Community QA
V31324 - Topstyler 20 Ceramic Heated Styling Shells w/Accessories
613
613
nice set good quality
Take the time to watch the DVD keep an open mind and practice with this set and you'll love it. I'm a professional and was impressed on the ease and quality. The dvd walks you through the "how to" and is great for both curly hair and straight hair. I would highly suggest for really straight hair using a styling spray (on dried hair) this helps the curl to have lasting memory. I think the bad reviews came from people who didn't practice or watch the dvd, It is not that hard to pin curl, ask your grandmother she probably knows how, and can teach you a trick or two!
08-29-12
Don't waste your time or money
I had high hopes for this product, but it is cumbersome and not effective. The clips are not easy to use, and the curl does not stay in my hair. Should have sent it back. It is a disaster of a product.
08-20-12
Time saver
I have tried everything for my unruly hair and was always disappointed.I think because this is so easy and fool proof is why I had such success.I can't even braid my hair if that tells ya anything.I have had the shells for months but didn't want to review until summer.pleasantly surprised how well the curl holds even in hot sticky weather.oh,and because it takes so little time my arms and shoulders don't hurt and I have longish(to my bra ) length hair.
06-22-12
Did not hold the curl
Not worth the price, does not have that smooth curl especially on the ends and the curl does not last long at all. The ends are especially hard to curl. Very disappointed. I will try the T3.
05-19-12
Not worth it!
Well this LOOKed like a winnder but it's not!! SENDING IT BACK ...Tred it on my med/long hair - that is fine but curls gret wth a curling iron and it really did gve me the beach waves! Also tried it on my grandaughter that has long hair and was no better
05-14-12
Top styler
I was so excited to receive the Topstyler. Opened the box then the bag and looked thru, 2 of the clams were broken. Love the concept but the ceramic plates are to fragile and thin. Will be returning.
04-21-12
WOW
I don't understand the bad reviews for this product. I am all about instant gratification and this product delivers just that. I didn't even bother to watch the instructional DVD that came with it. I just plugged it in and 30 mins. later I had amazing curls that lasted through the next day. So easy to use and versatile.
04-16-12
Easy, Wonderful, Natural Looking Long Hair Curls!
LOVE! LOVE! LOVE! WOW! I purchased this set as a TSV and have used it many times weekly now for several months........SO simple! I have THICK long ash blonde hair that has natural body, but virtually straight..........but this worked and held my hair beautifully! Also great for touch-ups as needed. I first thought that I should maybe order 2 sets, because of the thickness of my hair, but found that one set is perfect! I heat any size clip on any element, and not just as first recieved in the original configuration, and then have plenty of options. I usually just "finger curl" and "clip".........SO simple. Also, non-damaging to my already drier texture hair. Leaves it smooth and shiny! Thank-You for a GREAT product! Did I mention that I love it?!! Well worth the price, and saves time!
03-30-12
Best Purchase Ever Made
I've been using this product for 6 months and my hair never looked more beautiful. Ladies in church say that they admire my hair all through the service. It makes my hair look movie star perfect--healthy and full. My tip is to wrap your hair around a 3/4" wide bottle and slip it out before putting on the shell. It keeps the ends smoother than just using your fingers.
03-30-12
Great curls! Great body!
I have been using hot rollers for years on my thin, fine hair. Thought I would try these...WOW! Curls AND body!! It took some practice to get it right but now it is right! Love these! Been using these for the past 8 months. I spray on a little WEN and wrap my hair around my finger. Easy to use...don't be afraid to try these. Practice makes perfect!
03-29-12
Easy Curls
I love love love this product. Heats up quickly. Easy to use. Super beautiful shiny curls. So much better than hot rollers.
03-29-12
nice curl
My girlfriend gave these to me because she could not figure out how to use them. I gave them a try and i have to say my hair did have a nice curl to it. So i will definitely use them again. If you dont have the patience or the time to play with your hair and these shells then do not invest the money. I do think they should be on easy pay or priced a little more reasonably for todays economy. I would have never purchased them for the QVC price.
03-14-12