The Tracy Anderson Method Presents Post-Pregnancy Workout DVD
In Stock
Sold Out
We're sorry. This item is not available at this time.
Pre Order Possible .
Low Stock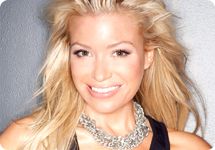 The overall mission of Tracy's method is to strengthen the smaller muscle groups so they can pull in the larger muscles, resulting in a leaner, rather than bulkier, figure.
Watch Tracy demonstrate a stretch from the DVD
Reviews & Community QA
The Tracy Anderson Method Presents Post-Pregnancy Workout DVD
13
13
Best dvd ever
i have been using this dvd. really hard to do at first but if you stick to it ,you do get results.it has the best of workouts from Tracy anderson dads without having to do a different dvd each day.i like it. it think its her best dvd.
04-30-12
Didn't feel the burn
I have not had a baby but I thought that this would be a good way to tone my abs based on the customer reviews. I have used this DVD once and was not very impressed by it. I did not feel the burn the day after like I do with my other workout DVDs. Keep in mind that I haven't worked out in over 6 months and even when I was working out, it wasn't consistently and I would consider myself to be a beginner/intermediate.
03-16-12
This workout actually does work
I am so happy to finally find a work out by Tracy Anderson that targets post baby! This is it.. I am so sore but that is good because I know it it working! Can't wait to see my 30 day results.
02-22-12
Best Ab Work Out EVER!!!!
I am not post-pregnancy. I want killer abs. So I thought, what the heck. Nice warm up and cool down. Tracy works your entire body, but the ab workout is probably the best on I have ever seen. The symphony music is nice, and the cues are great. Tracy does a really nice job with this. My dogs sit in the room and fall asleep to the music while I workout. LOL.
02-20-12
Amazing
Have been doing this video for a week and already noticing improvement in my shape. Love her style and vibe of the video.
02-18-12
Not just for post-pregnancy!
My youngest is 17 years old, so I'm not a new mom, I just wanted a good abs workout. I never did lose that belly flab that comes with pregnancy. This is a great workout. It's challenging, to say the least but after a few weeks I was able to keep up. Tracy touches on abs, hips, thighs and arms, all my trouble areas, and I do look leaner and feel stronger. Love it!
01-27-12
I don't regret about this purchase at all.
First of all it took them 10 days to send the Dvd. They did not explain why, but as soon as I got it I started to exesize. I don't have a baby and i exercise 3,4 times a week at home. I can say that this work out is not easy. Some exercises I did only on the second time.pn the third day my belly muscles sore. Except belly work out there are exercises for legs and arms. I would recommend it not only to moms but for everybody who has belly problems.
01-24-12
Not just for Post-Pregnancy
My baby is 31 years old and could never find an ab workout that I enjoyed doing until this one. It's a good workout. The music is ok, but I like the music on her DVD Matt Workout F0908 better, so I ordered the CD online and will mute the music on this video and play the CD from her Matt Workout DVD. It is so smoothing and relaxing, even if your not exercising. Gave it 5 stars even though I didn't care for the music, because I didn't buy it for the music, I bought it for the ab workout!
01-22-12
VERY HARD but GOOD!
This is an excellent workout BUT very difficult. If your a beginner you might want something easier. She doesn't talk much so you have to look at her all the time unless you know the DVD by heart. This will get you in the shape you want your mid section to be in but be warned it's hard.
09-29-11
Great Ab Workout for Everyone.
I was hesitant to buy this, since I don't have "Post Pregnancy" Abs, but I'm so glad I did. It's the BEST Ab workout EV-ER! I could feel the difference immediately, and actually see results after only a few days. You should ALWAYS watch ANY workout DVD before you do it for the first time, so you know what to expect. If you do that, you won't have any complaints about Tracy's instructions. Besides, after you do this workout a few times, you'll actually appreciate that she has a quiet, soothing voice and that she doesn't talk constantly.
09-25-11
this realy works
i had my baby 8 months ago,i had a c seation so i couldnt work out that much,but now i can ive been doing this work out for 15 days now and it realy works my wasit looks smaller they are realy hard they are not easy at all and the ather thing is that she doesnt tell how many time she is going to a excersice and all the sudden she says something in a low voice and changes so quickly to anther excrsice but ather then that they are good you get use to them
08-12-11
Tracy's Method is the Only Way to Go
You will get your body back in shape if you follow this program to a T. Take my word, I finally lost the baby weight after I recently started using this DVD... and my daughter is 21 years old! Every other program that I struggled with did not cut it for me... only this workout was the answer to my success. Just look at Tracy - the proof is right before your eyes that her Method truly does work.
05-17-11