Teeter Hang Ups FitSpine R.E.D Inversion Table w/ Ergonomic Flex Tech
In Stock
Sold Out
We're sorry. This item is not available at this time.
Pre Order Possible .
Low Stock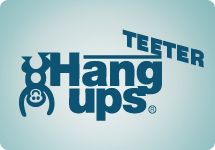 Click on the links below to learn more about the Teeter Hang Ups FitSpine RED inversion table.
Description
Relax, refresh, and reinvigorate! Experience the benefits of inversion for yourself with this Teeter Hang Ups table. Its ergonomic Flex Technology provides an excellent range of motion for stretching and puts a whole new perspective on your daily routine. From FitSpine by Teeter Hang Ups.
As always, please consult your personal physician before beginning any diet or exercise program.
Take a realistic approach: If you work consistently and follow the program, you maximize your results.
Includes inversion table and instructional DVD
Stable base
Large support handles with traction bars
Preset rotation control
Easy-Reach ankle lock system with extended handle and triple-lock security feature
Ankle comfort dial
Adjustable pillow
Assembly required
Measures 49"L x 28-3/4"W x 59"H; Supports up to 300 lbs; accommodates height up to 6'6"
Plastic/steel/foam construction
5-year Limited Manufacturer's Warranty
Made in China
Reviews & Community QA
Teeter Hang Ups FitSpine R.E.D Inversion Table w/ Ergonomic Flex Tech
29
29
GREAT!!!!
We ordered this for my husband because he has back issues. His spine area seems to stiffen up. He gets on this for 5 minutes and then he lays down for a while to give his body a chance to stay stretched. It really is helping him. The price of this is GREAT here on QVC. If you have been looking for an Inversion table. This is the one you want for the money and what you get....
04-09-14
Need Lumbar support pillow
I bought this machine a year ago and I am seeing in your info-mercials that it now has a lumbar support device. Please offer this as an accessory, my chiro doc says one really needs this to keep the curve in your back from disappearing as one gets older
11-01-13
Great product !!!
Very sturdy. Take your time and read all of the instructions on how to put it together and how to use it. We are both in our sixtys and both of us have had back surgeries. Thank You wonderful product.
09-25-13
Relief
I would recommend this product to a friend. I already have. My lower and upper back and neck have hurt for years and getting worse. I was careful as I do have back problems and I was in pain when I first tried it. I had a lot of pain the first time using it, but since my back has not been use to this inverted postion and pressure was taken off my spine. I would tell you to take it slow at first until your body adjusts. Once I stay on for about 10 minutes slightly inverted and then a full inversion for 5 minutes. I then came back up slowly as let my body rest at each different level to allow my body to reconnect without damaging any nerves. It is a strange experience at first. Move slowly before bending over to pull yourself up and release the leg brace carefully as not to pinch and nerves again. Once off walk carefully until body has adapted. My upper back and neck felt awesome. My lower back was trying to adjust, but the second time using it, major difference in my lower back. I use it everyday now and love it. I sleep better too as I go to bed without pain.
09-16-13
This thing works
I love this thing. I had it put together in about 15 min.s, maybe 20. Only advice I can give is Don't stay on it longer than the instructions tell you. Start easy and build up. I just wish I had bought it 10 years ago.It only takes a few min.s once or twice a day or every other day. It's worth every penny.
09-08-13
Best Purchase Ever
My husband and I both have bad backs very painful. So when I saw this on T.V.I did not think something as simple as this could help us. I did not order. My husband saw this on QVC and told me he wanted to try it so we ordered it. The very first time we used it we both notice the next day that we had no back pain. W e could not believe it . It has been two weeks and still no pain. This is the best thing we have ever bought we would not give it back for any reason. To walk all day with no pain is life saving. Thank-you Teeter Hang Up
08-17-13
Awesome
One of the best purchases I have ever made! Qvc made it possible with the special easy pay and shipping. I have a herniated disc and was walking straight in no time. My chiropractor recommended the Teeters Hang-ups and I would too! Awesome product!
08-14-13
Disappointed
Very disappointed, I thought this would be the answer to all my back pain problems but it wasn't. When moving my arm up and down nothing happened, I needed help to move back then needed help to come back up. While down I could feel all the blood rushing to my head (made me a little light headed) and felt like my ankles would come out of their sockets. Sadly this big and heavy thing has to go back after I have to spend all the time disassembling it.
08-13-13
Please offer a lighter weight one!
I want one of these so bad but have seen a lighter weight version for the same price by Teeter.....please please please offer one!!!... and I will be first to buy one ....especially if you put it on easy-pay...people will be standing in line. If there's any way to let me know if you ever make this avaible please do !! I want and need one .....so keeping my fingers crossed it will be available really soon. I know Teeter is an excellent company and have seen many reveiws from people who love it but know because of my back and hip problems not being able to move it easily would be a problem for me.
06-25-13
Awesome
Comfortable and works great!! I would recommend this to any one with back or hip issues!
06-16-13
Love this item
I have a bad back.And when it starts to hurt i just hang upside down.My back feels much better after just a few minutes.
06-02-13
DO YOU SIT ALL DAY? Do you do yoga 2x a day? No?
THEN, read this!!! I work at a keyboard for 10 -12 hours a day, 5 days a week. I used to have misalignment in my neck weekly and get horrible migraines due to posture and stress. My only relief was spending a ton of money going to a chiropractor at least once a week. Well, I stopped that because I heard from my friend who has one of these, that this works miracles. IT DOES. At first when you use it, you will be sore. That's because all of your tight, shortened ligaments from sitting and not stretching - are finally being stretched out! I first felt it in my lower back and hips. Now, using it at least once a day, for about 5 to 10 minutes stretches out everything and yes, you will even feel your vertibrea moving and popping (which does feel great!) This is NOT a light weight, portable piece, however, it does fold easily and can be leaned against a wall when not in use. I have mine set up in my walk-in closet which keeps it out of the way, and when I'm on it, I am in a quite place and can relax. If you are serious about your back, try this. I LOVE IT!
05-17-13