Tacori IV Diamonique Epiphany Art Deco Inspired Ring
In Stock
Sold Out
We're sorry. This item is not available at this time.
Pre Order Possible .
Low Stock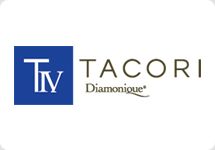 About the Design
"This art deco-inspired ring has everything to become your future granddaughter's keepsake. One of our most popular Tacori platinum bridal rings features baguettes that surround the center stone, and we wanted to recreate this feel for our Tacori IV customers. The shank features highly detailed metalwork that subtly complements the striking princess center stone."
—Paul Tacorian, Senior Vice President of Marketing for Tacori
Description
Estate sale treasure or family heirloom? The amazingly intricate, art deco-inspired design of this ring is sure to keep everyone guessing as to its storied past. Only you'll know that the ring--with a princess-cut Diamonique(R) simulated diamond gleaming at the center, plus various Diamonique stones twinkling throughout--is a recent addition to your collection. From Tacori IV--Diamonique Jewelry.
The Epiphany(R) Collection uses Platinum Clad(R) sterling silver to create a big bold look at a fraction of the price of platinum.
Brightly polished platinum plated over sterling silver
Total Diamonique simulated diamond weight is approximately 3.65 carats
Tapered baguette and round, bead-set Diamonique simulated diamonds accent the prong-set center Diamonique stone
Intricate shank accented by round, tension-set Diamonique simulated diamonds
Milgrain details
Sizes 5, 6, 7, 8, 9, 10; due to the special nature of the plating process, QVC does not recommend resizing by a jeweler
Measures approximately 5/8"L x 3/4"W
Made in China
Reviews & Community QA
J154947 - Tacori IV Diamonique Epiphany Art Deco InspiredRing
15
15
FOUND THE PERFECT RING FOR ME!
Shhh, don't tell anyone else this is not the real thing, no one will know by just looking at it. Searched a long time to find perfection. What is perfection for me? Comfort, believability, not too big not too small. Old world attention to detail, new world techniques blended to create an elegant Art Deco work. Looks like the treasured piece of jewelry my favorite Aunt left for me. This is the ring I always wished I could afford, thank you QVC and Tacori for making is possible for me to wear. Would love to have a band to match. Happy 67th birthday present to me.
06-09-11
Beautiful Vintage Piece
Love Tacori and love the fact that it is affordable through QVC. This ring is a keeper and a beautiful piece of vintage looking jewelry. No one will know that it is not the real thing! I own a few Tacori pieces and this is definately in my top ten favorites!
05-17-11
Not for me
I was hesitant to buy this, but read all the reviews and gave in. When I got mine it looked like cut glass and didn't even shine, I was hoping to like it but should have gone with my gut feeling and not ordered it. The style is just not me and the shine was not there.
05-05-11
Vintage Perfection!
This ring is so beautiful! The stones are very sparkly, and not too big to be unbelievable. and I would never know it was fake if I saw someone wearing it. The cuts of the stone also make this ring look unique and expensive. The band is thick and the details are fabulous! I have always loved these square vintage rings; I have a diamond and 14K WG one I paid around $800.00 for and this ring looks more expensive AND I like it MORE!! I am wearing as a right hand ring and it is perfect!! FYI- I am usu a size 7, but the 7 was waitlisted so I ordered a 8 just to try it and although it may be a little loose I think a 7 would have been too tight so if you are in between sizes, I'd say go up
05-05-11
I am addicted to Tacori IV
This ring is absolutely beautiful. It has presence on the hand but is believable because of the unique setting. I wear it every day as a right hand ring and when I get compliments I love being able to say "it's Tacori". I will definitely be back for more.
03-28-11
LOVE IT!!
This is a WINNER! Vintage styling with a modern twist, looks like you paid so much more! Great job on this one Paul!
03-16-11
Absolutely Beautiful!
After a couple of mix ups with my order, I just received my ring. It was well worth the wait! It's absolutely beautiful and I'm so pleased. It's a little thicker in the back than I expected but I think I prefer it. It's very comfortable and sparkles like crazy. Love it, love it, love it!
03-01-11
Love it
I love the look of Tacori and hope to one day own a real Tacori diamond. Meanwhile I love that QVC has a Tacori line. It has the details and the quality of Tacori. They don't skimp on that. The stones sparkle and arranged in a way that isn't too flashy or trashy. It looks like something your grandma wore and it got passed down to you. This is by far my favorite Diamonique piece, and I have quite a few. It has a high end feel, right down to the under gallery.
02-26-11
WOW
I just received this exquisite ring ( a "late" valentines gift from the husband). The style of the ring and the construction is beyond expectation. Very believable, sparkles like crazy and looks great on my hand!!!!
02-25-11
Are you kidding me?
This is a beautiful ring. I wear it on my right had as a right hand ring. I love the style and sparkle and quality. I own a real diamond Tacori for my wedding ring and I have to say this is just as beautiful.
02-16-11
Elegant
I got this in the mail yesterday afternoon. It is very beautiful, comfortable on your finger and is not "too much" . I have small hands and I can pull it off. I am wearing in place of my wedding set and it looks great. Great purchase. It also has weight to it. TACORI PLEASE MAKE MORE ANTIQUE STYLE RINGS!!!!!!!!!
02-16-11
Breath Taking Doesn't Cover IT!!!
Ladies and Gents can we say jaw dropper! I purchased this ring as a gift for my mother for this up coming Mothers Day. My mother has a ring that is very similar to this ring that was my Great Grandmother's. At the age of 30 I can only recall my mother wearing it on a handful of occasions due to the value of the ring. This ring is a absolute show stopper! If you are looking for a beautiful estate style ring this is the one for you!...When I first ordered the ring I was a little worried about the carat weight. Boy was I wrong...It has a very regal feel and not in a" over the top" type of way. I love this rings so much I think I will order myself one as well....Thank you! Thank you! Thankd Tacori/ QVC for such a wonderful piece of jewlery. PS: The only negative thing that I have to say about the ring I recieved is that it did not come with the Tacori Stamp?...I don't know if this is a defect or not....but that does not take away for the rings beauty.
02-13-11