Supersmile Super-size WhiteningSystem w/ActivatingRod Auto-Delivery
In Stock
Sold Out
We're sorry. This item is not available at this time.
Pre Order Possible .
Low Stock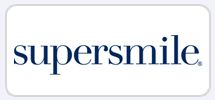 Description
The faster way to a whiter smile. The Supersmile oral care kit, created by Dr. Irwin Smigel, known as "the father of aesthetic dentistry," has everything you need, including powerful activator rods. This super-sized set effectively enhances the natural whiteness of your teeth. With this auto-delivery program, a new shipment is delivered right to your door approximately every four months, for as long as you remain enrolled.
An award-winning formula. If you've tried Supersmile before, you're familiar with the whitening toothpaste and accelerator. They're easy to use--just combine a pea-sized amount of each on a brush and brush for two minutes twice a day. The non-gritty toothpaste, formulated with fluoride and baking soda, helps remove plaque and prevent cavities while helping remove coffee, tea, tobacco, and more from your teeth--thereby whitening and cleaning the teeth. Simultaneously, the whitening accelerator, formulated with carbamide peroxide and Calprox, gently and safely whitens teeth. Many have found this duo alone highly effective--but this kit also features another way to whiten.
The included activating rods contain a special gel you rub into teeth once a week prior to brushing. This gel helps remove surface stains and prepares teeth for whitening--and it's proven, too. A clinical in vitro study found that the Supersmile Activating Rod formulation was more effective in removing extrinsic stain deposits than treatment under the same experimental conditions with de-ionized water. In short? It really works.
Want whiter teeth for a special occasion--or do you simply want to present your best all the time? Give it a try! For such a great value on a super-sized set, it can't hurt to treat yourself to a brighter smile and a more confident you.
From Supersmile.
Each shipment includes 8-oz whitening toothpaste, 8-oz whitening accelerator component, and 16 0.28 ml activating rods
Individual results will vary
Each shipment will be billed separately at the above price, plus any applicable taxes, for as long as you remain in the plan; a one-time shipping and handling fee will be added to the first shipment only; no S&H charge will apply to remaining shipments; no obligation to continue the plan; cancel anytime
Important Details
If you take advantage of both Auto-Delivery and Easy Pay™, it is possible that more than one Easy Pay installment could be due in the same month. For example, if your Auto-Delivery plan ships every three months and you select 4 Easy Pay installments, you would pay the fourth installment of your first shipment in the same month you pay the first installment of your second shipment.
Reviews & Community QA
Supersmile Super-size WhiteningSystem w/ActivatingRod Auto-Delivery
is rated out of
5
by
169
.
Rated

4

out of

5
by
lucyfan
from
Whitens even crowned/capped teeth
This product is wonderful. Unlike over-the-counter whitening products that will not whiten crowned or capped teeth, this product does, and specifically states it will. It may take some people longer than others for results but it does work. And once you achieve your brightened smile, maintaining it is a breeze as well. The rods are so simple to apply (once a wee)k once you learn you must insert the q-tip SLOWLY into the stem for the solution to SLOWLY absorb into the stem. But it really only takes seconds. My only criticism would be be to have an easier dispensing of the product. Although method is like a regular tube of toothpaste, I think a longer extended tip where the product comes out would be less messy. I have gotten our adult daughter hooked on this product now as well. Her smile is even more beautiful than before. Just be diligent and give this product a chance. You wont be sorry. I have had people at work ask me what I use on my teeth. I tell them I brush them! lol Cant give all my secrets away!
Date published: 2011-07-30
Rated

5

out of

5
by
queenofknit
from
It Really Does Work
I too do not understand why all the negative reviews of this product. I have four dental implants and have to have them cleaned every four months. I went to the hygienist in November 2010. I saw the dentist in March 2011 for the yearly removal of the bar, xrays and his cleaning. Back to the hygienist last Friday, July 15, 2011. She was totally blown away with the lack of plaque since my last vist with her in November. There was very little cleaning to do. I didn't start using SuperSmile until January 2011. And it DOES whiten too. It is suppose to be a whitening toothpaste but the ingredients must be doing something to reduce plaque and tarter too. I did not do anything different with my brushing except change from store bought to SuperSmile. I am going to continue using SuperSmile and maybe I can reduce my cleaning sessions from four months to every six months. The hygienist was so impressed that as soon as I left she was going to QVC.com to check out SuperSmile. QVC--you probably will have another SuperSmile customer. Thanks Dr. Smigel.
Date published: 2011-07-18
Rated

5

out of

5
by
i-cats
from
My Husband Even Converted!
I was first introduced to the Supersmile brand at a very high-end department store two years ago, and have used the whitening system consistently since that time. The quality is unsurpassed. These products clean your teeth to a shiny, brilliant natural white. I have always had a nice smile, but now continually receive compliments from friends, peers, and even strangers in passing! After seeing the results, my husband quietly threw out his store brand, and converted to Supersmile too. With super-sizes from the Q, each kit easily lasts us four months and at a fraction of the retail price. The whitening rods are an added bonus, used every couple of weeks or before any big events. The products are very effective, but do not cause any tooth sensitivity. We highly recommend the Supersmile whitening system!
Date published: 2011-07-04
Rated

1

out of

5
by
mp9 1
from
Save your money for the real deal
Bought after watching the product showing several times. Each host raved about the remarkable results. My teeth are not very stained or yellowed....just moderate from natural aging process. Only drink one cup of coffee per day and rarely colas or tea. I followed the instructions exactly and many times brushed a little longer than the recommended 2 minutes. Hardly any difference at all after 30 days, continued usage and no further whitening at 60 days. I will continue to use the product until empty but over the counter toothpastes with advanced whitening properties are move effective than this product and certainly a lot less expensive. This is a gimmick....save your money, buy baking soda and a tube of Crest Whitening if you want to improve your smile!
Date published: 2011-05-26
Rated

1

out of

5
by
Nancy218
from
Does Not Work
I have used this product for over 6 months and sadly I do not see a change. Also note this toothpaste is not adequate for the prevention of tartar and plaque. I have noticed a significant change in that area since using this product and I am not happy. I will go back to Colgate or Crest.
Date published: 2011-05-17
Rated

2

out of

5
by
gizmo1234
from
jUST OK
I have been on the AD for awhile now and see no big difference. I was really dissapointed. I will be cancelling this AD. Sorry. Just didn't work for me and I gave it a really good shot.
Date published: 2011-05-10
Rated

1

out of

5
by
Savannah23
from
Supersmile whitening system
I have used this religiously for a month now, and I absolutely cannot tell any difference in the whiteness of my teeth. Other products work better
Date published: 2011-03-27
Rated

1

out of

5
by
Cyn G
from
Not for me
I used for almost 2 months and it didn't do squat for me.
Date published: 2011-03-18