Spinning Mirrored Jewelry Safekeeper by Lori Greiner
In Stock
Sold Out
We're sorry. This item is not available at this time.
Pre Order Possible .
Low Stock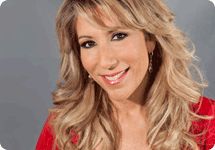 "The reason I created (and love) this jewelry organizer is because I can see all of my jewelry hanging beautifully at a quick glance, just like a fine store display. I lined it with my special anti-tarnish lining so I would not have to polish my silver pieces as often. We all love our jewelry, so I like creating products that help us see and store our pieces in minimal space with maximum visibility."
—Lori Greiner
Description
To have and to hold. Organizing and storing over 300 pieces of jewelry, this beautiful, mirrored wooden cabinet spins for easy access to your entire collection. From Lori Greiner.
Two mirrored doors, one stationary shelf, three tilt shelves
16 necklace hooks, 16 bracelet hooks, 11 earring bars, ring storage tray
Silver Safekeeper antitarnish lining; helps keep jewelry tarnish-free for 25 to 40 years
Wood/wood veneer construction
Measures 10"L x 7"W x 20-1/2"H
Made in China
Reviews & Community QA
H00959 - Spinning Mirrored Jewelry Safekeeper by Lori Greiner
279
279
One of my best buys from QVC
Its been 3 years I've had this spiining mirror, as a matter of fact it was one of my first purchases from QVC back in October 2007. So I've had all the time to really use it and appreciate it. First of all its neat I always find what I'm looking for [ without having to go through boxes] to find what I need, it does not take much space and I can fit much more than it actually says, and it truly is anti tarnish for all my silver jewelry. I have the cherry and its made of good material ,very sturdy, even the mirrors are excellent quality,I've had mirrors on other jewelry boxes that after a while become stained and lose their brightness, not this one.So as I said this is one of my best buys, worth every penny.
11-06-10
So Happy Together!
So glad I bought this -- I have a lot of earrings/chains/bracelets/pendants and most fit into this cabinet which takes up just the right amount of space on my dresser -- I use one of Lori's other boxes to store my many QVC rings and other bracelets/pendants -- I wish it were even taller so I could more easily use the mirror & hang more necklaces/earrings!
10-22-10
Where to hang the hoops
This is a very nice jewlery box but there is not a place to hang large hoop earings which is mostly what I have. Any suggestions
10-22-10
Happy with my purchase
I receive this jewelry safekeeper yesterday, it is perfect, I have lots of jewelry so may be I have to order one more in future.Its sleek but it holds so much.please one request can lori make this mirrored jewelry sakekeeper with a lock on both side, because this is the only size that is perfect for me due to limited space I have.I really need this one with a lock I will be waiting to see if it is possible.
09-04-10
Beautiful and Functional
Love it - Have a jewelry box for me fine jewerly. This one fits all my costume jewelry. Really does work for me! Bought the Cherry
09-02-10
awsome organizer
i just love this jewlery organizer its awesome!!! it came by ups in great shape!! no damages and no asssmbeling required i got the cherry color and i just love it its beautiful and now all my jewlery is neatly organized!! thanks qvc and lori greiner this is defanitly a 10 star organizer not a five star!! way to qvc another winner!!! i just love it !!!!!!!!
08-31-10
Beautiful Organizer!
I have owned this in Cherry (also the cosemetic version) for over a year now. Both organizers look stunning on my dresser top. The quality and the finish is excellent! The mirrors are clear and the unit spins easily. Holds so much!! Perfect sizing to hold a variety of jewelry. Love the anti-tarnish lining! It really works, keeps my sterling silver tarnish free, along with all of my other jewelry! It is so easy to find the jewelry that I'm looking for.
08-28-10
Great jewelry organizer LOVE IT !!!
I love this jewelry organizer!!!! Now after I see how a ring which is silver and I love that ring but hated the polishing, stays tarnish free, I see the silver safekeeper does work. Now to get more silver jewelry!!! Such organization!! I love it! Takes up so little room where I have it, yet holds so much! How do you do it Lori? I don't know but keep it up. I highly recommended this to those who have a moderate amount of jewelry. LOVE LOVE LOVE LOVE IT!!
08-08-10
AWESOME!
I am very thrilled that I now have a very sizeable necklace and earring jewley box. It hardly takes up any room since it is tall rather than wide and my chains and necklaces, which are many, now have the chance to hang straight. My husband is thrilled because now he does not have to try and unravel them when I need them. (What a job that was.) Also, it really allows me to see my earrings facing me instead of digging in some little corner to find a pair or suddenly coming across earrings I did not know I had because they were face down somewhere in their little corner. THIS ITEM IS CALLED A LIFESAVER!
07-22-10
Great design
I am very happy that I ordered this safekeeper. I got it in the black, as I couldn't decide which color to get. It is attractive. I am so glad to have most of my silver jewelry organized into one unit. I had a lot of boxes of QVC purchases, and now can find things much easier. The mirrored doors are a great feature. There is plenty of room for earrings. And I love the fact that it doesn't take up a lot of room!
07-22-10
dissapointed
nice looking but it took me half the day to try and put earrings on the slits that half of them were not open.they were still closed...Did not fit my jewelry as expected..draws were much too small and the organization was not that great..Had to send it back,,
07-21-10
Greatest Thing Since Sliced Bread
I LOVE, LOVE, LOVE my new jewelry box. I even posted before and after pictures on Facebook. My jewelry was all over the place. Half my dresser was taken up by 2 smaller jewelry boxes and cardboard boxes. Trying to keep it organized was becoming a nightmare. I was pulling my hair some mornings trying to locate a pair of earrings. (I have about 50 pairs) This jewelry box is like a gift from heaven. Thank you Lori Greiner, I can sleep an extra 15 minutes in the morning.
07-15-10