Smithsonian Paula Crevoshay 1.50 ct tw Multi-gemstone Butterfly Ring
In Stock
Sold Out
We're sorry. This item is not available at this time.
Pre Order Possible .
Low Stock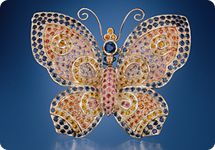 The spectacular Conchita Sapphire Butterfly highlights the amazing variety and color range of natural sapphires from Montana. The sapphires represent a rainbow of colors, from steely blue to fancy-colored shades of purple, pink, orange, and yellow. The Conchita Sapphire Butterfly is on display in the Gem Hall at the National Museum of Natural History.
Description
With wings unfurled in magnificent fashion, the butterfly perched atop this ring mesmerizes with its dimensional, openwork design. Round, bead- and bezel-set orange sapphires, rubies, and blue sapphires dazzle on the wings and body, while swirl accents add artistic touches. The beautiful piece is inspired by the collection at the Smithsonian National Museum of Natural History's National Gem Gallery.
14K Yellow Gold-Clad Sterling Silver or Sterling Silver.
For more details on this ring's fit, please refer to the Ring Size Guide above.
Total gemstone weight is approximately 1.50 carats
Openwork design on split shoulders
Tapered shank
Standard fit; sizes 5, 6, 7, 8, 9, 10
Measures approximately 3/4"L x 3/4"W
Made in China
Reviews & Community QA
Rated

4.2

out of

5

 by

22

reviewers.
Rated

5

out of

5
 by
spongebob77
unique and pretty
I think this ring has high quality stones though they are small there are a lot of them. I wore this many times over the summer and couldn't take my eyes off of it. I wish I had the pendant!
01-19-14
Rated

5

out of

5
 by
kalimah3266
Beautiful!!!
I have never watched a Smithsonian show and to be honest just assumed I would not be interested in the merchandise; well I have been missing out. I happened to stumble on the show and ended up purchasing two items. The rep mistakingly placed an order for this ring in the gold clad instead of processing the original order I had placed in silver so I received both and returned the clad. Very pretty and the sapphires are very vibrant. I wish I had the opportunity to get the matching pendant. I will be watching these shows in the future.
02-08-13
Rated

2

out of

5
 by
ate Bing
Gold Plating coming off
The ring is beautiful but the gold plating is coming off. It is fading. I am hesitant to buy gold plated rings at QVC. Plating comes off. I have a diamonique flower ring and the same thing happen. I could not wear it now.
07-25-12
Rated

5

out of

5
 by
cda
Stunning!
Got this in the sterling and WOW! The stones are beautiful and they really sparkle in the sunlight. One review mentioned that the blue stones in her ring looked more like black. Not the case with mine. there is no mistaking that they are blue. Maybe the stones look darker in the yellow gold clad setting, but the colors really POP in the sterling. So happy with this purchase!!!
07-13-12
Rated

5

out of

5
 by
RoLT
Beautiful!!
I think this ring in the gold is beautiful! I was fortunate to be able to purchase the necklace with the same butterfly, only larger, pendant/pin before it sold out & this goes beautifully with it!
07-10-12
Rated

4

out of

5
 by
Honest Ann
Very Nice
The ring is very nice and seems to be well made. Like one of the other reviewers mentioned, the sapphires are so dark, there's no hint of blue in them, even in sunlight. So I just pretend the ring comes with black sapphires instead of blue, and I'm okay with it. I also like the tonal colors of the other stones. At first I thought they were unevenly coplored, but the pattern of gradient stones was so matched on both sides, I'm sure it was done on purpose. Four stars instead of five because of the packaging, and because I had to convince myself the ring was done like this on purpose. I got it at a one-time only price, and have never seen it less expensive, so I'm satisfied.
05-06-12
Rated

5

out of

5
 by
Truth
Smithsonian...DELIGHT!
I was fortunate to see this ring for the first time when it was at a "one time only" price. I am so happy to receive this unique butterfly, given the history of how it came about. I purchased it in the silver and the stones though small are sparkly and the colors are very bright. May be worn with any style of clothing. A very well made and attractive ring! I know I will enjoy this ring for years to come and am looking forward to seeing the original in the Smithsonian.
05-01-12
Rated

5

out of

5
 by
westieluver
Pretty and Fanciful!
I am delighted with this ring. I'm not a butterfly jewelry person at all but I was attracted to the designer story and the fact that these are real gemstones. Why pay the same for simulated stones? The ring has good balance despite the elevated nature of the design and I do find it comfortable to wear. It has a good weight to it and the stones on my ring all have sparkle. I got the silver because the gold clad looked a little "too much yellow" and I'm pleased with the color contrast. It is the kind of ring you can just sit and stare at whether you're in a meeting or waiting room so I find it entertaining as well. I know I will enjoy it for years.
04-25-12
Rated

4

out of

5
 by
crazy me
MOST UNIQUE RING EVER PURCHASED
I love this ring! It is so different. Yes, the gems are small, but they sparkle and make the ring beautiful. I personally believe the ring is worth the $150.00 I paid for it. I don't think I would have spent any more for it. The silver was very well designed in the shape of the butterfly. It was just beautiful. The only complaint I might have is that it is a bit heavy and slides to the side. I am very happy with my purchase.
04-25-12
Rated

1

out of

5
 by
AuntSlappy
Disappointed
SO disappointed in this ring. Even though many reviews talk about the great colors of the stones, the dark stones around the edges on the one I received had no color at all, they were just BLACK, even in strong direct sunlight. The rest of the stones had very good color but the ones around the edges just ruined the ring for me. It's going back.
01-02-12
Rated

5

out of

5
 by
replee
lovely
I looked at this for a long time before buying. What a delicate and beautiful piece. I am so glad I got it. It is a little treasure.
08-26-11
Rated

5

out of

5
 by
eclipsemuse
beautiful n perfectly crafted unique treasure
love this ring. gems are gloriously brilliant and unique intricacy of design is breathtaking.
07-05-11