Slatkin & Co. Set of 5 Holiday Scented 9.5 oz. Candles with Gift Boxes
In Stock
Sold Out
We're sorry. This item is not available at this time.
Pre Order Possible .
Low Stock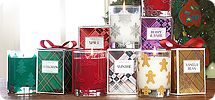 What a difference! The Manufacturer's Suggested Retail Price on this item is $82.50,* but QVC is bringing it to you at the Featured Price price of $43.98.
See the light on how this candle set is the perfect gift-giving solution!
* The Manufacturer's Suggested Retail Price is based upon the supplier's representation of value. No sales may have been made at this price.
Reviews & Community QA
H168556 - Slatkin & Co. Set of 5 Holiday Scented 9.5 oz Candles w/Boxes
412
412
Melted wax
These candles smell great but the red ones were melted in both sets I ordered. That means the wax was not properly done. These would have been a great Christmas present for the girls in the office.
08-03-11
Great Gifts
I recieved my set today, had fun smelling them all. I am sorry now that I didn't get more than 1 set as I will not be able to keep any for myself. Boo hoo!! I live in Vegas and its hot here not one of my candles were melted. Great value great purchase great gifts!! Thank you qvc and Harry Slatkin.
08-03-11
Wish I could take a bite out of them!
I just got these candles today and before I could totally open the box the room was filled with wonderful scents. They are a perfect size and if I could, I'd take a bite out of each one of them! The price is phenomenal along with the free S&H makes these candles an even better purchase. I bought them for my co-workers and the scents are perfect for either a man or woman; not too girly or too masculine. Please, please, please bring them back at this price if possible.
08-03-11
Best Purchase EVER!
Should have gotten multiple sets!!!!! I'm so sad these are sold out now!
08-03-11
If this comes back I am getting more!
I was very impressed when I opened my box. This is very well packaged and already in their gift boxes. the scents are to die for. I couldn't believe I got all of these candles for such a low price. I hope they come back because I will definitely be purchasing more of these when they do. They will make great Christmas gifts for everyone here at work not to mention at church as well. Outstanding job on this one.
08-03-11
BUY NO OTHER CANDLES
Slatkin candles remain the very best on the market. True scent, long lasting without smoking, and beautifully presented. While I bought these to give as hostess gifts, it will be very hard to part with them. WINTER is already sitting on my bookshelf, giving off a lovely aroma without being lit. It makes me smile every time I walk into the room.
08-03-11
melted
I ordered 3 sets and they were melted. One of the sets had melted wax all over the place.Very disappointed because they were supposed to be holiday gifts. Up until now I have been very satisfied with the Slatkin products!
08-02-11
Fantastic Scents!
I ordered 1 set, and probably should have gotten a few more at the value these were offered. I previously worked for BBW for 8 years, and these candles are by far my most favorite item sold in their stores. Slatkin candles are great for the quality & make wonderful gifts. Spice, Evergreen & Winter are Classics I get every year.. but love the other 2 scents as well! Each different, but yet pleasant :) Not sure if I will give them all away... may keep 1 or 2 for myself :) **My only issue is for QVC to possibly offer delayed shipping. I know I'm not the only person who ran into "melting issues". Mine sat outside for maybe an hour, so I was lucky as they weren't completely melted & ruined... Def. not a product to be left outside in this heat!
08-02-11
Luv Luv Luv
Bought two sets. Will give out to friends for the holidays. Smells divine.... Love each fragrance. Boxes are a bonus.... :)
08-02-11
Why didn't I order more???
They came and I am so impressed. Slightly melted but firmed right up. I am so sorry I only ordered one set. I was thinkging about them for gifts but I am keeping them for me!
08-02-11
HARRY DOES IT AGAIN!!!!
What can I say.....Harry Slatkin outdid himself again. I have bought many Slatkin candles over the years and have not been disappointed with any of the purchases. The candles are exceptional with the fragrance AND FREE SHIPPING.....Merry Christmas to me. I was planning on using these as gifts but I think I may have to rethink that. Wish I had order more so I would not be so torn to give as gifts. Maybe they will come back in stock so we shall see.
08-02-11
Just Lovely...
This is my first "Slatkin & Co", purchase from OVC. I am very pleased and surprised...The candles smell great...Look lovely...Packaging is beautiful. I love the Winter Secnt. These were a GREAT buy...I will very much enjoy burning the candles as soon as Fall arrives. Thanks again, for such a " Great Buy and Great Product".
08-02-11