Slatkin & Co. Set of 5 Holiday Scented 9.5 oz. Candles with Gift Boxes
In Stock
Sold Out
We're sorry. This item is not available at this time.
Pre Order Possible .
Low Stock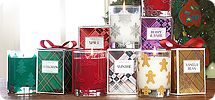 What a difference! The Manufacturer's Suggested Retail Price on this item is $82.50,* but QVC is bringing it to you at the Featured Price price of $43.98.
See the light on how this candle set is the perfect gift-giving solution!
* The Manufacturer's Suggested Retail Price is based upon the supplier's representation of value. No sales may have been made at this price.
Reviews & Community QA
H168556 - Slatkin & Co. Set of 5 Holiday Scented 9.5 oz Candles w/Boxes
412
412
One of my favorite products!
I have purchased many brans of candles and this brand is my absolute favorite. The fragrance is beautiful and you really get the wax completely. Please keep having gread deals like his one!
08-06-11
Excellent Value
I bought this set during the Christmas in July sales event to put away as gifts toward this Holiday season. However, I found that I enjoyed the Vanilla scent so much, I lit it upon receipt that very same night! Gingerbread men are lit in my living room this July and August season! I was also pleasantly surprised that the size is larger than a typical 'votive' from a specialty store or gift shop. These scents are amazing and cover quite a bit of room space, despite some of the other reviews. I can even smell it while climbing my stair case and into the upper second story of my home. I can't wait to give these as gifts this season, and ask QVC to return them as soon as possible so that I can order more!
08-06-11
Wonderful scents !
I purchased these to give as christmas gifts to neighbors but if I keep burnig them I might have to get them something else! These make your whole house smell wonderful.
08-06-11
Good Value
These are nicely presented candles, very decorative. They are a very good value for the money. I have burned the vanilla scented one and it is not as fragrant as other quality candles I buy. I have had the same problem with other Slatkin candles but still enjoy them because of the value.
08-05-11
Buy as many sets as you can!
These are the highest quality candles. One candle easily will scent your home. The fragrances are just wonderful. They are great for gift giving because they come in an easy to wrap box, so the presentation is nice too. These sold out before I could order more but if any come in I am so ordering more.
08-05-11
Too strong
Maybe it's just me as most of the reviews were favorable. I lit the berry and bark candle and the aroma was overpowering. It was so strong that I placed it on my screened-in porch to see if that diluted the scent somewhat. No such luck.
08-05-11
Disappointed
I bought these last year and truly enjoyed giving them as gifts to family and friends. So I bought 2 sets these year planning to do the same, however, most of them were melted and will need to return them back. Hopefully they will be available later in the season.
08-04-11
Great gift
These are a great gift because of the price point. I love Slatkin candles. The burn clean and the scents for the most part are wonderful. My only complaint is that they're a tad oily. Perhaps it's because they were shipped in the summer heat, but oil seemed to rise to the surface of the candle and make a small mess in the box. It's not hard to clean up, but it's a small annoyance. I'm blaming the heat of this summer!! I'm keeping them.
08-04-11
Great Little Gifts
I love these, they smell nice and will make a great gift for people like neighbors and teachers.
08-04-11
Remarkable fragrance, I practically stole these...
These smell lovely and were an unbelievable bargain. I bought three sets and I am so happy I did. The cost is six bucks and change for each candle!! Now if I can just keep from burning them myself and get them into Christmas (or Thanksgiving) wrapping (in August!) these will prove to be very handy come holiday-time. I live in Southern California and was also concerned about the candles melting. I just kept an eye out for the delivery man and once on my door I got them inside. Two (out of fifteen) had a little bit of oil accumulated on the top, but I immediately got them into the 'gift closet' and they are as right as rain.
08-04-11
great gifts
I was so excited with this offer of 5 holiday scented slatkin & co. candles, the scents of each one of them are delicious, beautiful containers, lovely gift boxes. I purchased two sets of them for christmas gifts, but after I got one smell of each one I know that I have to keep at least a few of them myself. The price point is exceptional and everyone loves a great quality candle.
08-04-11
Melted
The candles are great scents and I love to purchase Slatkin, because they smell wonderful and burn soooo even, but one from each order was melted. Please lets have candles on advance order for a later delivery date.
08-03-11