Slatkin & Co. Set of 5 Holiday Scented 9.5 oz. Candles with Gift Boxes
In Stock
Sold Out
We're sorry. This item is not available at this time.
Pre Order Possible .
Low Stock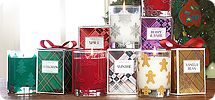 What a difference! The Manufacturer's Suggested Retail Price on this item is $82.50,* but QVC is bringing it to you at the Featured Price price of $43.98.
See the light on how this candle set is the perfect gift-giving solution!
* The Manufacturer's Suggested Retail Price is based upon the supplier's representation of value. No sales may have been made at this price.
Reviews & Community QA
H168556 - Slatkin & Co. Set of 5 Holiday Scented 9.5 oz Candles w/Boxes
412
412
SLATKIN & CO CANDLES~BEST~ BAR NONE
To say that I enjoy candles would be an understatement! I am VERY picky about the candles I purchase. I look for quality..I want a candle the burns EVEN EVERY time I light it!( Oh the money I've wasted on candles that burned uneven! NOT cheap ones either!)*Tip* When lighting any candle for the 1st time be sure to let it burn until the wax has completely melted from center to edge! This is the candles memory. If you don't then the candle will not ever burn even! I want a candle that I can SMELL! There is nothing worse than buying a cande that smells wonderful only to find out when LIT it has NO SCENT! You won't find that with these candles.. SLATKIN & CO has the BEST CANDLES! They are TOP QUALITY, BURN EVEN TO THE BOTTOM, None of that black smoke with these!, They SMELL WONDERFUL, ( Unlit AND Lit!) and they look beautiful! They are heavy. Nothing Cheap about this set! This is the 2nd year purchasing this Holiday Set. EVERY SCENT is GREAT! Also. Each Candle Comes In A Beautiful Box for Gift Giving. You'd be proud giving one or all of these candles as gifts...but I bet you'll be second guessing yourself if you really want to give them away or keep them for yourself! :)
09-04-11
Great gift for employees
I bought these candles last year as Holiday gifts for my employees- they absolutely loved them. The aroma was wonderful, the boxes were beautiful! I hope Slatkin will bring the same offer back this season- I would buy them again!
09-03-11
Frangrance and then some !!
The best candles, EVER !! Highly fragrant and burn is clean. PLEASE NOTE: They will melt sitting on your front porch if the temperatures are over 90 !!!! Please be careful what time of year you order these beautys.
09-02-11
Favorite Candles
The quality and value of these candles are amazing. These are by far some of the best candles ever!
09-01-11
Best Gifts EVER
Love these SO much. Got them last year and had to get them again! So hard to decide which to keep and which to give away!!
08-27-11
Love, love, love these!
Bought these durinjg Christmas in July, such a great value. So wished I would've bought several sets. Just love the Slatkin scents!
08-26-11
WONDERFUL!
I purchased these during Christmas in July. I have Slatkin & Co. scentbug with oils and wallflowers, and fully enjoyed those, but never bought candles because of the price. The Christmas in July price was great, so I caved. So glad I did! The scents are wonderful, they burn really cleanly, and the glass jars are cute as well. I've already started burning winter, berry, and vanilla. The vanilla is not as strong as the others, but still great smelling. Definitely will buy these in the future.
08-26-11
LOVE! <3
I ordered during Christmas in July. What a great set at a great value. I am a BIG Slatkin fan. I like having these candles on hand for gifts. Honestly, I will probably end up using them myself! All of the scents are wonderful and some of my favorites.
08-26-11
love love love
I bought these when they were on clearance. I had never purchased Slatkin candles prior to this. If I had know what a value I was getting, I would have ordered 5 orders. The best candle I have ever purchased
08-20-11
My favorite holiday candles
I had these last year and still have a small amount of the last one (red) that I am enjoying in my bedroom. I loved these and during the holidays friends and family commented at how great they smelled. Beautifully boxed they would make a great gift if I could let go of any!
08-18-11
Big Disappointment
After reading all the hoopla about these candles, I thought I was going to be awed by their smell. Well, I was awed by their lack of smell and sloppy burning. There are many better products out there that cost less and smell much more fragrant.
08-17-11
Beautiful
I ordered these candles in the Christmas in July show and I had never heard of this brand before but took a chance and ordered them seeing the price was good and FREE shipping! When I got them home I could not believe how beautifully packaged they were and they smell wonderful! They do fragrance my home, I have only used one so far which is the vanilla and I love the scent. It is not overpowering and could be a tad stronger but definitely u can notice the smell. The best thing I like about these candle in comparison to other candles out there is that when you go to blow them out you do no get that awful black smoke pouring out so that makes me think these are cleaner to burn. Good job!
08-16-11