Slatkin & Co. Set of 5 Holiday Scented 9.5 oz. Candles with Gift Boxes
In Stock
Sold Out
We're sorry. This item is not available at this time.
Pre Order Possible .
Low Stock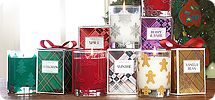 What a difference! The Manufacturer's Suggested Retail Price on this item is $82.50,* but QVC is bringing it to you at the Featured Price price of $43.98.
See the light on how this candle set is the perfect gift-giving solution!
* The Manufacturer's Suggested Retail Price is based upon the supplier's representation of value. No sales may have been made at this price.
Reviews & Community QA
H168556 - Slatkin & Co. Set of 5 Holiday Scented 9.5 oz Candles w/Boxes
412
412
Beautiful Gifts for Co-Workers
I ordered two sets and could have used three! These made wonderful gifts for co-workers and those surprise times when you need a quick gift. Bring these back next Christmas. Oh, and we kept one for ourselves.
12-30-11
Please bring this item BACK!!
I received my candles this summer, down here in sunny and HOT South Florida. My box sat outside by the mailbox until I got home from work. They didn't melt at all! I opened them up, marveled at the scents, colors and beautiful packaging, then put them away, wrapped in the plastic sleeves they were shipped in. I am wrapping them up for gifts right now. And I'm really SORRY that I didn't order MORE! I'm struggling to figure out which to keep and which to give as gifts. The WINTER smells amazing, but they are ALL incredible scents, each with its own dynamic. Truly, I think my friends are going to be thrilled when they open these ... unless I decide to buy them something else and hoard these for myself! ;-) I've looked at the prices online and at other retailers. There's no way I could have received this much quality and/or quantity for the price. The "Q" does it again! Thanks so much!!
12-22-11
Where's the scent ?
I have a house full of Slatkin candles, many from QVC, others from Bath & Body, various sizes and scents. Bought these for gifts, but feeling greedy, I tried one. Although it burns well, no residue, design on glass very nice, there is NO SCENT after a 3 hour burn of the green one. In that time period the whole house should be over scented. I'm keeping them all, can't use as gifts. Never had this problem with a Slatkin candle before. Harry, please take note.
12-20-11
Not the quality expected.
I am very disappointed with the burning quality of these candles. They burned straight down the middle, leaving a lot of wax along the sides. The wick broke off when attempting to trim it. The wick ran out before reaching the bottom of the wax. I cannot recommend these candles and I certainly will not be purchasing them again. Back to Yankee Candle for me.
11-28-11
Where's the fragrance?????
I purchased these candles during Christmas in July so I just recently lit them. The ONLY time I smell anything on any of them is when I walk by. No wonder during the presentation he said to light more then one and mix them. That's so you can smell something in a couple of different places in a room. Sticking with Yankee, have never been disappointed with them.
11-27-11
best scent ever
I hope in due time you bring this item back!!! I gave as gifts last year and everyone loved them as did I...
11-11-11
Holiday Spirit
I feel so fortunate to have bought this candle set during the Christmas in July event. I opened them trying to decide who to give them too and decided I'm keeping them all! I consider myself a candle expert having bought everything from dollar store to Yankee candle but Slatkin candles are my FAVORITE! Currently burning the SPICE candle which has lasted a very long time and is still going! Someone even stopped me at the grocery store and said your house smells amazing! I asked how they knew and they said they came trick or treating at my house and it smelled awesome! Happy Holidays Everyone...I just bought the large triple wick cinnamon/clove, spice candle set today...probably won't share those either!
11-08-11
Very disappointed
With the exception of the vanilla bean these were in my opinion the worst smelling scented candles we've ever had in our home. The fragrance is as cheap smelling as candles from the dollar store. Yankee Candle products are far better smelling. No more Slatkin & Co. products for us.
09-24-11
Slatkin has turned me into a candle snob!
These candles are just wonderful. I got them during Christmas in July and I am burning them now. I find it difficult to burn any other brand of candles since discovering Slatkin & Co. They all burn even and so clean. The flames don't smoke or flare. The scents are wonderful!
09-17-11
Fabulous Scents
I purchased this box set during Christmas in July as holiday gifts for friends and/or co-workers. Upon receiving the box, I didn't smell anything, but when I opened the box....then the individual plastic wrapping varies fabulous scents emerged. These are going to make wonderful gifts.
09-16-11
Yummy
Love each of these candles, smells are delicious. Winter is my favorite.
09-12-11
ABSOLUTELY NO SCENT WHEN LIT
I imagine that those positive reviews are from people who have never had the pleasure of smelling a truly "fragance infused" candle. Mine did not come melted, but the only purpose they will serve in my home, is when the power goes out. My inexpensive Yankee Candles purchased in a discount home goods store are ten times more fragrant than these are. Didn't bother to return, too much of as hassle. Seriously disappointed!!
09-07-11