Slatkin & Co. Set of 5 Holiday Scented 9.5 oz. Candles with Gift Boxes
In Stock
Sold Out
We're sorry. This item is not available at this time.
Pre Order Possible .
Low Stock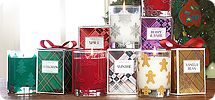 What a difference! The Manufacturer's Suggested Retail Price on this item is $82.50,* but QVC is bringing it to you at the Featured Price price of $43.98.
See the light on how this candle set is the perfect gift-giving solution!
* The Manufacturer's Suggested Retail Price is based upon the supplier's representation of value. No sales may have been made at this price.
Reviews & Community QA
H168556 - Slatkin & Co. Set of 5 Holiday Scented 9.5 oz Candles w/Boxes
412
412
Nice candles
Very nice candles for a good price.. suitable for gifting...but I only gave one...I kept them for myself. I have large open rooms and these candles are strong enough that they make the rooms smell nice. Other candles just don't smell enough for large rooms. LOVE THEM!!!
03-13-13
Wonderful Candles; Bummed These Aren't Available
I love this set and this was a very good price for these. I'm bummed that these are no longer available and that Slatkin is going out of the candle-making business (you won't find these in BBW anymore either once they're gone). I think these burn very well and I like the scents.
01-27-13
Why would you cancel these??
These candles hold their scent, loved by all who are given these as a gift. I have tried other candles from the QVC site and they do not compare to these candles. :( Price was excellant!
11-25-12
Best Candles Ever!! Bring them back PLEASE
I bought these candles last year and ended up giving most of them as gifts to the girls in the office. All they did was rave about the scents, they are just wonderful. I kept one candle for myself (Winter) and I'm still burning it even though it's a Xmas scent, we just love it so much. PLEASE, PLEASE bring them back.
11-07-12
Not As Fragrant
Not as fragrant as advertised. Even in a small room the candle scent was weak.
10-07-12
OMG!!!!! Please Bring These Back QVC!!!!
I love these calendars. I originally bought them for gifts but when I got them I couldnt give them away. The packaging was sooo impressive and the scents were just wonderful. Please QVC brings these back so I can by 2 sets. One for me and One for gifts :-)
08-27-12
absolutely amazing!!!
I have purchased these the last 2 yrs...I use the glass from these as juice glasses and you can put candy in them with some netting for little gifts!! so many uses. I sure hope they come back in for this yr. i have quite a collection of adorable glasses! Love the scent and they last FOREVER!!! I burnt each one for over a week. The boxes are beautiful also. IF i could give these more than 5 stars i certainly would!
07-01-12
DON'T BOTHER BUYING THESE!
Bot this set during the Christmas in July. I really felt this could be a good candle product with all the hype during the sessions with the host and Mr. Slatkin. Thought this would really be high-end scented candles. Saved one candle (evegreen) for myself and lit it last week. Oh, my, there is absolutely NO FRAGRANCE, NO SCENT, NO NOTHING. What a waste of money and I can only imagine what the people think to whom I gave this gift at Christmas.
02-07-12
Greatest Candle I have ever owned
I have bought about every kind of expensive candle they make and these are the only ones that live up to my expectations. The odor goes through the room and I am a smoker, doesn't burn down in the center like others, which after a few times used the wax on the side puts the flame out. These candles burn evenly all the way to the bottom, he said not to blow the flame out but put a top on it and let it go out and it works great. Fortunately I bought 2 sets when they were available and I will continue to buy his candles. QVC got a big hit with these candles.
01-29-12
LOVE THESE CANDLES
I purchased these to give as gifts and kept all but one of them. LOL. I am not sure but I swear the Slatkin candles you order on here are stronger and last longer than the ones you buy at Bath and Body works. This was a great buy on easy pay especially at Christmas time. Please bring this special or one like it again to QVC!
01-25-12
Beautiful Scents
I purchased these candles to give as gifts. I decided to keep one for myself, but after lighting that candle, I couldn't part with any of the others. I can't decide which scent is my favorite. The scent of the candle is so fresh and strong, they are perfect in the kitchen, living room and bathroom. I actually came back to QVC to see if I could reorder another set, but unfortunately these candles are no longer available. I will definitely be looking for this set again next year!!
01-21-12
Not A Fan
Although these candles look pretty, the scent is harsh when unlit and even more harsh when lit. I planned to give these to some of my friends but decided not to.
01-07-12