Sarah Potempa BEACHWAVER PRO Rotating Curling Iron, Clips & Comb
Recommendation Test Anchor, don't delete
Recommendation Test Anchor, don't delete
In Stock
Sold Out
We're sorry.This item is not available at this time.
Pre Order Possible.
Wait Cancel
Low Stock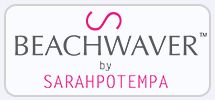 Click on the links below to find out more about the BEACHWAVER.
Reviews & Community QA
Sarah Potempa BEACHWAVER PRO Rotating Curling Iron, Clips & Comb
312
312
My Desert Island Product!!!!
This is the most innovative and simple tool to use for that natural beachy wave. I have curly hair and I use this to tame my curls to be those beach waves! The brilliance of it is the Right and Left buttons, which ensure that the curls go in the proper directions!!! It's GENUIS!!!!!!! Every time I use this, I get compliments! I am literally stopped by strangers. I have done so much PR for this that I should work in marketing for Sarah!!!! LOL Do not hesitate...it has changed my life! It has made me love my curls again!!!! Thank you for this product!!!! <3
01-29-15
not for me
I am sure this is a great product just could not get the hang of it so back it went .
01-25-15
Great beach waves
After using this iron a few times, I got really comfortable with how to use it and it makes great soft curls. It blows my hot rollers away. I also like that you can adjust the temperature for your hair type.
01-24-15
Quit working
I purchased this iron a little over a year ago. It worked pretty well. It was used very little, maybe a total of 5 times in the time I had it. Pulled it out last weekend and it wouldn't turn on. Into the trash it went. Seems like a lot money for a product that did not last very long. Would not recommend it for 5 times of use before throwing away $200.00.
01-11-15
Too Difficult to Manuever
This product isn't what it's cracked up to be. Very hard to get the hang of it. I bought a Bubble Curling Iron and absolutely love it!
01-08-15
Worst Item Ever
I'm so disappointed as this was a big gift for my daughter for Christmas and it's poorly made and doesn't work half of the time. To heavy on anyone wrist to hold and it's a good idea but not worth more the $12 for the one I can get a Walmart. Sorry but a cheep product and not worth the money at all I'll be returning it.
01-06-15
Really Curls
I have long straight hair down to my bra strap and this really curls my hair and the curls stay in and last. I bought the perfector and my curls did not last. When I got done curling my hair with it the curls fell right out before I went out. With this Beachwaver Pro my curls were even still in the next morning I woke up. I love it curls by itself it makes it so much easier with long hair. I love it, it really works and lasts, yay!!!!!!
12-30-14
Love this!!
I just received this product and have used it twice and I absolutely love it! It is so easy to use and works great!! I recommend this to anyone!!
12-30-14
works if it stays powered
Bought this for my niece works if the curler stays on but unit kept beeping every couple of seconds and shutting off. We thought we were doing something wrong and kept turning unit back on and curling pieces of hair when the unit worked. When unit did work it would make nice curls. Will try sending her another unit but disappointed with quality because it was a Christmas gift.
12-26-14
AMAZING!
I have long, thick hair and have always had trouble with curls lasting (unless I paid a fortune to have my hair styled). This curling iron did the job, and my hair looked like a "rock star" to quote my friend! I love that it self turns, and that you can switch from the left to right button so that the curls are facing the right direction on both sides. LOVE, LOVE, LOVE it!
12-20-14
awesome!
This is the first review I wrote and have been a customer of QVC for several years! But since this is such an excellent product I thought I would share my thoughts on it. I have bought many curling irons and hot rollers over the years and have tried to get curls like this…..this rotating curling iron works VERY WELL! Great product and I would recommend it to everyone looking to get awesome curls! I should mention I have very long hair (to my lower back) and the curls STAY in my hair. Curling iron is a little pricey but it is worth it. Thank you for making such a great product.
12-15-14
Salon Quality Results! Love It!
I was skeptical about the product and it is a little spendy but OMG!!!! Worth every penny!! It is so easy to use and I have very thick hair... I was done in no time. The iron is a little heavier but you don't have to hold it up over your head so it was no big deal. Buy one, you'll love it but your daughter might steal it. :)
12-14-14