Samsung Galaxy 2 7" 8GB Tablet w/ Front & RearCam - WiFi
Recommendation Test Anchor, don't delete
Recommendation Test Anchor, don't delete
In Stock
Sold Out
We're sorry.This item is not available at this time.
Pre Order Possible.
Low Stock
Recommendation Test Anchor, don't delete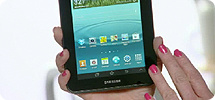 Recommendation Test Anchor, don't delete
Recommendation Test Anchor, don't delete
Reviews & Community QA
Samsung Galaxy 2 7" 8GB Tablet w/ Front & RearCam - WiFi
30
30
Good tablet But
I recently discovered that my tablet would not turn on or keep a charge. I'm not sure what the problem is, but, initially I assumed it was not charging. Now, I noticed that it will not turn on. I'm going to contact Samsung and see what if they can help. Prior to this problem the tablet worked great. I really like this device.
11-07-13
3rd Times the charm = Hopefully
I bought this tablet in July and used it a couple of months and then it would not work, I called Samsung and they had me reset the tablet. Everything worked fine for about 2 days and then it did the same thing. When I called them this time I was told to send it back to them to be repaired. It was 2 weeks when I got it back again it worked 2 days and did the same thing. This is now the 3rd time I have had to have this repaired in 3 months time.
10-14-13
Best Purchase
Love my Samsung Tablet, it was very easy wi-fi connection and fast downloads : )
08-15-13
Great
I read all the reviews before getting this and it helped. This is great for the price and it does what you want. It's fast! The only thing I don't like is that it's a little on the heavy side. I thought I read it was light weight. I ordered it and got it the following day so the shipping was fast! Happy so far
08-07-13
A Solid 7" Android Tablet
Ever since the tablet became one of the more "mainstream" devices in the marketplace - whether it be an Apple, Android or Windows-powered device - there have been hundreds of installments, all promising to be excellent supplements or replacements to other electronic devices. While many of them are good, few deliver the same goods that Samsung does with this little device: the Galaxy Tab 2 7.0. It has exceeded my expectations and has served as an excellent compliment to my laptop computer, as well as a few other devices in the household that I use on a daily basis. Although I own a multitude of devices (a few desktops, laptops, another tablet, and even some blade servers) this is by far one of the ones that I enjoy using the most due to the balance of portability and power that this device offers. Generally, I like to break down my descriptions of the item using a few categories including screen, battery life, performance, and available features. The resolution on this device is excellent and the screen is easily viewable from a multitude of angles. Picture quality and sharpness is evident when you watch an HD video or movie, or just browsing through a collection of pictures that you may have on your device. This leads me to my next point: performance. While this is most certainly not as powerful as any modern desktop or laptop, it does offer robust performance compared to the multitude of other tablets that are out there: especially those in the "7" screen size" category. Combined with its dual-core processor, the 1GB of internal system memory allows for smooth multitasking and flawless playback of HD content. Use of the IR Blaster is a cinch and I would highly recommend giving it a try. Battery life on this Galaxy is very acceptable; I managed a good two days of use out of it before it required a nearly-full recharge. Your rate of discharge and overall battery time, however, depends on how you use the device. That is, back-to-back streaming of HD content is going to drain the battery quicker than it would if you were checking your Email or surfing the Internet. While there are many strengths about this device, there are a few drawbacks (as one may expect). One of them is the lack of external expansion and storage ports. On the device, there is a MicroSD card slot and Samsung's proprietary sync-and-charge cable connector port. Negating the power and volume buttons on the unit, that is really all there is to be had. And speaking of MicroSD cards, I eventually ended up investing in one, seeing as the internal storage on the unit is a bit small: measuring around 8GB. In addition, the on-board cameras are not the greatest. Still-photo quality is fuzzy in many indoor scenarios and the video recording can seem a bit washed-out at times. Since these are just personal gripes, I see no need to take off a star on the review for this device. Overall, the Galaxy Tab 2 7.0 is a lot of bang for the buck. Combine good build quality, a built-in IR Blaster, responsive touchscreen and a lot of other Samsung goodies, and you have a solid device that is ideal for complimenting any other devices in your household. I would highly recommend giving this one a second look!
06-16-13
Galaxy 2 is My New Companion
Perfectly sized to fit while in case inside my purse. It's fast, the resolution is very good and compared to the Ipod mini, I must say I prefer the Galaxy 2.
06-13-13
Excellent product!
Our household has alot of gadgets. We have the Ipad, Ipods, Iphones, computers etc etc. I have to say this pad measures up really good to the Ipad. While my wife is on her Ipad I am on my mini pad! She has mentioned how much easier it is to use vs the Ipad handling wise. Either way I love this thing and you will too!
06-11-13
Not What I Expected
When my item arrived, I was really excited, However, I misunderstood about the Wi Fi. There is no built in Wi Fi, which is a big difference, If there is an built in Wi Fi as oppose to have to purchase an separate plan, this would have been great for me. For example, my Kindle has built in Wi Fi, when I download a book and turn it on my book downloads in less than 2 minutes and I don't have an separate plan. Where there is no built in Wi Fi you have to get a separate plan. Other than that I thought this item was great
06-10-13
awesome !!!
I just got my tablet a few days ago & I LOVE it ! Thank u QVC for bringing me into the 21st century !
06-02-13
Great Tablet
I purchased this for my 12 year old son who loves it!!! Easy set up and decent battery life. As far as I can see it is very close to an I Pad and a lot less money!!!!
05-28-13
great product glad it was purchased
this is a great product shipped very fast the screen is the right size the color is great and it is user friendly , the price is great and makes for a great gift just the right amount of features and the ability to add on is excellent . would recommend this for aged 12 and up .screen resolution and the volume is also great
05-28-13
Too small for older eyes
Came quickly, nice tablet for younger folks; too small a screen for us. When you "stretch" the screen for reading, you loose most of the right and left side of the page! Sliding it back and forth to read a page is way too much work. Set up was quick n easy. Came with active battery. Sent it back to get a 10' tablet for our old eyes! Love Samsung, just not this small tablet.
05-12-13