Pearl Hands-Free Ionic Teeth Whitening System
Recommendation Test Anchor, don't delete
Recommendation Test Anchor, don't delete
In Stock
Sold Out
We're sorry.This item is not available at this time.
Pre Order Possible.
Low Stock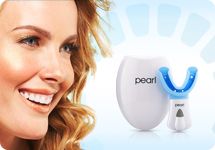 Whiter Teeth in Just 5 Days!
Learn more about the Pearl Ionic Teeth Whitening System:
Reviews & Community QA
Pearl Hands-Free Ionic Teeth Whitening System
129
129
whitening????
I am very disappointed in this system. In the garbage it goes.
10-05-13
BIG DISAPPOINTMENT!!!!!
The first 5 minute treatment went fine. I followed directions exactly. Later that evening when I tried to do my second 5 minute treatment the orange light came on, but then went off and the green light never came on. Therefore the gel never got activated. Such a waste of money. I would give it zero stars if I could. QVC...you can do better!
10-01-13
Only one series completed then machine broke
Product did whiten teeth. Did feel sensitivity. Unfortunately, on attempt to whiten for second time (after first series), the machine would not work. Very expensive.
09-29-13
Not Worth a Dime....
I could see absolutely no difference.... I should have sent back!
09-27-13
HATE THE STRONG MINT
I HATE, HATE, HATE the strong mint flavoring. It stings my mouth for hours afterwards. It does not feel minty-fresh as marketers of mint flavoring say. It is MAJORLY ANNOYING! I have to rinse my mouth continuously for hours to try to lessen the mint burn. I will NOT be buying the maintenance kit. I feel I wasted my money. I am unhappy with this purchase. I would like to strongly recommend to this company to offer a different flavoring, like cherry. My dentist cleans my teeth with cherry and orange which I do like, instead of mint. Where is it written that mouth products have to be minty, other than the mint marketers?
09-15-13
Great Product
I have always used the whitening strips in the past. This product is much better
09-09-13
Just OK
I purchased this and should have returned it but I did not. It is just OK. Just as good as the White Strips you can buy but costs much more. I did not have real yellow teeth as I don't smoke but I saw no real change.
09-09-13
Waste of money
i used this as instructed, and had severe sensitivity in the gum area, I really had high hopes but my teeth were only slightly whiter. Should have returned it.
08-16-13
I got the results in less than 5 days!
I was very skeptical about this product, but decided to try it anyway. As a kid I broke one of my front teeth and got it fixed at the dentist. I looked for a way to whiten my teeth without hurting my "fake" tooth, and without creating a significant color difference between this tooth that obviously won't change it color, and the others. I got the results that I wanted in less than 5 days, so I still have a few gel tubes left for future maintenance! I absolutely love this product!
07-29-13
CONCEPT OF WHITENING GUMS AND BACK TEETH IS BAD
This product requires that you put whitening gel on every single tooth, front and back and all over your gums! This is a very bad concept. Everyone knows that whitening causes sensitivity. That is why the dentists tell you to put the gel ONLY on the teeth you see when you smile, and certainly not the back of the teeth you don't ever see and ESPECIALLY not on your gums! This product won't turn on unless the gel is all over front, back, and all around. which includes a lot of your gums. My gums were sore and it's bad for sensitivity as well. On top of all that the product didn't whiten my teeth at all. It made them feel clean, but that was all.
07-26-13
Very Good Value With Sparkling Results!
I spent hundreds of dollars on ZOOM Whitening, which caused so much irritation and sensitivity. I also had professional bleaching, which was a disaster, and too time consuming and expensive. I reluctantly tried this product, and experienced results within just days. My teeth were brighter, whiter, and cleaner. I would recommend this product to anyone; it really does work!
07-22-13
Nice idea BUT
The first time I used this it was okay, just a tiny bit uncomfortable but I noticed my gums turned very very white took a while till it went away. Then the next few times it burned and I couldn't wait for the light to go out so I could remove it gums still turned white, it really looked yucky. Didn't notice too much of difference and for the amount of money that and the fact that the whole unit needs to be replaced after what was it 40 something uses...hmm not good for your wallet or the planet...lol Wonder who called that one. Thanks to QVC you can always return less than satisfactory items not that we expect items to be unsatisfactory but sometimes things aren't what you expect or work the way they need to and the Q makes shopping safe on that front, they ALWAYS say, if you don't like it for ANY reason return it, you have nothing to worry about that's what makes us (QVC) different!
07-10-13