Pandigital2-in- Portable Wand & Sheet-fed Scann w/2GB SD Card & Software
Recommendation Test Anchor, don't delete
Recommendation Test Anchor, don't delete
In Stock
Sold Out
We're sorry.This item is not available at this time.
Pre Order Possible.
Low Stock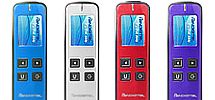 Scan-tastic!
Learn more about the Pandigital 2-in-1 Portable Wand & Feed Scanner offer:
Recommendation Test Anchor, don't delete
Recommendation Test Anchor, don't delete
Reviews & Community QA
E167997 - Pandigital 2-in-1 Portable Wand & Feed Scanner
70
70
Not Reliable, Buyer Beware
I purchased this to scan all the older family photos and it stopped working right after return time expired. The Pandigital customer service is non existant and I now have a very expensive paper weight. Please save your $$ and buy a different brand.
12-10-12
was great but now,,,,
I bought this thing in April and used it for approx 2 weeks. It then sat on a shelf for 3 months and when I went to go use it. I plugged it in and now the base part runs constantly when plugged in and wont work at all when it is not plugged in. The handheld part sorta works but not consistently -- is this a known issue with this thing? 5 stars ti begin with but barely 3 now and if not fixed that will drop further.
08-23-12
why wont it shut off?
I used it twice and it worked fine, then a week later after it was boxed up it would not shut off when i plugged it in. the wheels are turning and it will pass a pic through but it wont recognize it on the screen, the hand held part works fine but it wont shut off when i plug it in to use the dock!!! VERY FRUSTRATING!
06-10-12
DO NOT BUY
I BOUGHT 4 OF THESE FOR CHRISTMAS PRESENTS AND I HAVE HAD NOTHING BUT PURE HECK FROM PANDIGITAL IN HAVING TO RETURN ONE BECAUSE IT WILL NOT WORK CORRECTLY. PANDIGITAL COMPANY IS NOT WORTH YOUR TIME OR MONEY SAVINGS FROM QVC. THEY HAVE PUT ME THROUGH HECK WITH THE PROCESS OF THE RETURN. THEN WITH PROOF THAT THEY RECEIVED MY SCANNER, NOW THEY ARE SAYING IT WILL BE 6-8 BUSINESS WEEKS BEFORE THEY WILL LOOK AT MY SCANNER OR RETURN CLAIM. IN AN EMAIL FROM THEM, THEY STATE WHEN THEY RECIEVE MY SCANNER, I WOULD RECIEVE A NEW ONE WITHIN 3 WEEKS. EVERY CUSTOMER SERVICE PERSON I HAVE SPOKEN TO THERE ALL HAVE SAID SOMETHING DIFFERENT.
05-17-12
CUSTOMER SERVICE IS HORRIBLE
If there was less than one star or a negative star I would pick that. This is the worst experience of any purchase, I have made that I can remember. Because it was purchased through Qvc, IT TAKE 6-8 WEEKS TO REPLACE, after they take their SWEET time logging in the return,,[ANOTHER 5 DAYS],, IF it was a normal purchase 2 wk turn around, per their customer service telephone person, AS IF THEY WERE PUNISHING ME FOR BUYING THROUGH QVC. First the product "sheet feeder" stopped working and then the C/Service problems began. I was told 2 wk turn around at first so I sent it. Once it was discovered that it was QVC THEN IT WAS A 2 months wait MINIMUM. THEN on the phone today....another 3-6 weeks, [they are backordered and don't have any to replace]. If another problem develops it would be out of warranty. This Pandigital company is the most horrible, and I am being polite, company that I have had the misfortune of having to deal with. DO NOT BUY THIS OR ANY OTHER PRODUCT BECAUSE OF THE COMPLETE LACK OF SERVICE. I will be getting my money back and because QVC will stand behind the product, for one year and return your money. THAT'S why I will continue to shop w/ QVC
04-25-12
Pandigital Scanner
I bought this on 12/11/11 and used it once on 2/8/12 and it worked for 2 hours then quit. I sent it back to Pandigital and they received it on 2/13/12. I have called several times and still do not have it after several promisses as on 4/18/12. Today they gave me a Fed-Ex tracking number that was no good, but they got the number 10 days ago. Then they said it takes 24 hrs to have it logged onto the Fed-Ex System and it was just given to them today. I sure hope I get it back this year. I will never buy anything fomr that company again.
04-18-12
Awesome
I received this as a gift for Christmas this past year from my family because I am an adult student and I do a lot of scrapbooking. I love this item and when I went to a crop recently everyone loved the item and wanted to know where I got it. I told them it came from QVC and was so disappointed to come here tonight and find that it was no longer available. Hope it comes back soon!
02-19-12
Very good product
This Wand works wonders and better than I expected
02-15-12
Works Great
I bought this mainly to scan receipts and records for tax purposes. However, I am now using it to scan photo albums older family members have in case something happens to those albums before those pictures are put into a digital format. It's works great for both.
02-13-12
Great Time-Saver
This scanner is the greatest! It is very easy to use whether you are scanning with the Wand or the Feed Scanner. The quality of scanned documents and photos is excellent and the scanned image is saved to the card with the scanner immediately ready to scan the next document or photo--NO delay!! The only drawback is that a scanning sleeve is not included in the purchase and even though the User Guide states that a 5" x 7" Scanning Sleeve is available for purchase on the website, I could not find it. When I was researching scanners to purchase, I did notice that other models of this same scanner had the scanning sleeve included. I would definitely recommend that the sleeve be included in all future models. The sleeve helps protect and facilitates the process of scanning old and fragile photos.
02-10-12
Not what I had hoped for
I purchased this when it was the TSV. I have the smaller Pan Digital and love it, I was excited to see this update version. I was looking forward to being able to scan larger photos and larger documents to have an electronic version. This was terrible. It never scanned items correctly, it put a large black strip at the top of all the photos. I also has trouble getting it to scan evenly, when it would pull the photo through it would do it crooked. The batteries drained out quickly and it was difficult to get it the wand in and out of the unit. Even though it was a great price I can't afford to keep items that just don't meet my standards, it was sent back. I think they are on the right track but this item needs to be retooled and they need to try again. I hope they eventually get it right.
01-28-12
Best of Two Products
I have a small 3x5 pass though scanner and a b/w wand scanner. I wanted to be able to use both features in color and for full page documents and images. Every time I saw one feature upgraded it cost $$$. This is the best of both worlds and I carry it everywhere in my 'gadget' bag. At work we have the Neat organizer (very expensive) but you cannot take it with you. The only problem I have is the batteries go fast and so I carry extras and load them when I use this tool. For those who have difficulty with the feed part, practice bc once it grabs, it rolls through. If you are into genealogy or scrap-booking or anything that has to do with reproducing an object, this is for you! The other channel has a color wand only for the same price. So this is a no brainer.
01-25-12