NuWave Pro 8-in-1 Digital Oven with 7-pc. Baking Set
In Stock
Sold Out
We're sorry. This item is not available at this time.
Pre Order Possible .
Low Stock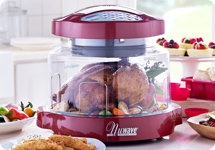 Description
Busy days and nights call for the NuWave Pro digital countertop oven. This 8-in-1 device helps you create all your favorite meals--bake, broil, barbecue, steam, grill, and more--all in less time, with less hassle than conventional cooking.
It's homemade meals made easy. The NuWave's innovative triple combo cooking--combining conduction, convection, and infrared--prepares food evenly, inside and out. Your dishes will turn out juicy and delicious, meal after tasty meal. You can cook all types of food at the same time, including meat, fish, vegetables, and potatoes. The NuWave lets you directly cook frozen foods, so there's no need to waste time de-frosting.
It's versatile, convenient, and oh-so easy. Just add your ingredients, set the power level on the Touch-N-Go panel and you're ready to broil, roast, grill, bake, barbecue, steam--or even dehydrate and air-fry! And, the bottom liner pan collects the fats and oils, so your meals are leaner and tastier.
Forget about having to tackle a huge pile of dirty dishes after every meal. Except for the power head itself, all the components of the NuWave are dishwasher-safe.
This offer also includes a red silicone baking set. With an 8" x 8" baking pan and six cupcake molds, you're ready to create delicious desserts for the whole family in no time.
From NuWave.
Includes NuWave digital countertop oven, liner pan, wire cooking rack, extender ring, silicone baking pan, six silicone cupcake molds, quick and easy cooking guide, cookbook, and instructional DVD
Broil, roast, grill, bake, barbecue, steam, dehydrate, and air-fry
1500 watts
Digital Touch-N-Go panel with controls for variable time and temperature
10 power levels, ranging from 106F to 342F
Dishwasher safe, except for power head
Cookbook: soft cover, 112 pages
Instructional DVD run time: 55 minutes
Silicone baking set is red
Approximate measurements: NuWave oven 16-1/2"H x15"W(including handles) x 14"Diam; weighs 10 lbs, 5 oz; cord 36"L; liner pan 12"Diam; wire cooking rack 11-1/2"Diam; 3"H extender ring; silicone baking pan 8" x 8"; cupcake molds 2-3/4" Diam x 1-3/8"H
UL listed; 1-year Limited Manufacturer's Warranty
Imported
Reviews & Community QA
NuWave Pro 8-in-1 Digital Oven with 7-pc. Baking Set
923
923
Worst Purchase Ever
This product was terrible. The food had a strange smell and taste to it after cooking. We tried using it a few times. Now it just still in the basement. Don't waste your money, I'm sorry I did.
04-21-15
NuWave Oven
We use this many times a week. Love the convenience and yummy food we have prepared in it! Keep these great products coming, QVC!
04-03-15
Great Item
I love the way it cooks and everything comes out moist.
03-11-15
Has changed the way we cook MEAT! Wow!!! :)
The NuWave is the BEST way to prepare meats, from boneless chicken, roasts, sausage links, tenderloin, etc. The first time I cooked chicken breasts I could not believe how MOIST and delicious they were. Now I cook breasts or thighs from frozen with just a bit of salt and pepper----no thawing or marinating needed!!! I have cooked tenderloins from frozen--when I got home from work-- and I had forgotten to thaw something that morning. Oh my goodness! It only took a little bit of extra time and the meat was so moist and perfectly done. ---As for cleaning, I find I have to wash the plastic dome by hand as it is too large for my dishwasher. However, the rack and bottom metal liner fit in my dishwasher. It is certainly easier than cleaning a big roasting pan or my regular oven!
02-15-15
Dome cracked
Love burgers and fries in this. Makes great hash browns and baked potatoes. Cookies are not as good as conventional oven. The dome started cracking and be came inoperable. Qvc was very gracious to accept it back after 30 days.
02-07-15
Horrible to clean
Says nothing concerning the time/energy to clean the rack. Just an ok product to me. I wish I had not waited so long to use it or I would RETURN IT.
02-03-15
Healthy Cooking
Enjoy the quick cooking of frozen food & the oven fried food without oil. Only problem I have encountered is the dome cracked on both sides. Having trouble getting a replacement sent to me.
01-20-15
Convenient but counter hog
I bought this to save money by not using my "real" oven. The fact that it takes a long time to cook things is what keeps it from being a 5-start item. There's no real time savings by using this, but I'm hoping it actually uses less energy and will still save me money. The "footprint" is larger than I expected (thus the counter hog comment), so I tend to shuffle things around on the counter. It bakes fine, follow the recipes and things will taste great. Wish it came w/the extender kit not just the ring. By the time I buy the pizza kit (required to cook pizza since it has to be upside down) and the extender kit I could have paid for a "real" oven.
01-11-15
Raw Food
Hate it. If you like your meats raw it may be ok. But cook long enough to get it done, it so dry and tough you cant eat. Not everybody wants raw meat. Did muffin in the muffin cups ant tops were good but bottom, not so much. Returned it. Not for us.
01-10-15
Love this oven!
I've been using this oven for over 6 months and I have NEVER regretted the purchase. I don't even mind having it sit on my counter. My husband retired last year and now eats more meals at home. Since I work part-time, I was always coming home to a dirty kitchen. This oven makes it so easy for him to fix whatever he wants without making a mess. The oven is SO easy to keep clean and it cooks quickly and evenly. We use it for both cooking and baking (made homemade bread and it turned out perfect). The only thing I don't make in this oven is pizza ... I don't yet own the pizza kit but am planning on buying it. You will love this oven!
01-09-15
Works great
This was one of the best purchases I ever made and the only reason I didn't give it 5 stars is I wish the clear part was glass instead of plastic I love the way my chicken comes out it is just so moist and juicey I tell everyone how much I love it. :)
01-08-15
Waste of money
Yes this product does cook food however not real happy with the texture of the food cooked. Doesn't live up to all the hype.should have sent it back but its too late now.
01-04-15