NuFACE Trinity Microcurrent Facial Toning Device w/ ELE & Year of Gels
Blush & Platinum are Exclusive to QVC Until 1/1/19
In Stock
Sold Out
We're sorry. This item is not available at this time.
Pre Order Possible .
Low Stock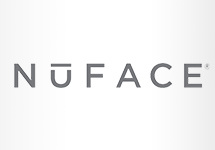 Extended-Return Item
This item comes with a 90-day return option, a special offer only available for select products that QVC specifically identifies as being eligible on QVC.com. All other terms of QVC's standard return policy apply.
Reviews & Community QA
NuFACE Trinity Microcurrent Facial Toning Device w/ ELE & Year of Gels
is rated out of
5
by
51
.
Rated

5

out of

5
by
punky48
from
So Far, So Good!
Used my NuFace tonight. It was my first time using any products like this. Keeping my fingers crossed. Used the gel. By the way, you don't rinse the gel off. Also, the power cord is under the Nu Face device. It is kind of hard to find. You might have a little trouble finding it. Okay. I put the gel on part of my face. When I finished that one side, I asked my husband which side I did. He guessed the right side! Went on ahead and did the other side. Great results! I used the prongs, and actually reduced my labial smile lines. Not saying everyone will get this result, but I will continue using this for at least the six weeks that they recommend. My results might be great for a first time use...not everyone will get these results. Read the directions, use enough gel, use both the ball top, and the prongs. Rub the rest of the gel into your skin. Don't rub off. Certainly a lot better than the fillers that the deems do....they hurt.. I know I have had them done before.
Date published: 2018-11-11
Rated

5

out of

5
by
nolimitshopping
from
This WORKS!
Well I have used this for 2 days in a row, and I can tell you IT WORKS. My neck looks so different! This is not inexpensive, but how much would you pay to have your jawline back? I have eyelids again!?!? Take a photo before you use and wait for your mind to be blown. I won't ever do needles/fillers/surgery so this is a gift from God for me. I was THE BIGGEST skeptic, but I have to hand it to them. This may be the best purchase ever, and that's saying A LOT! If you'll commit to using it, don't even hesitate.
Date published: 2018-11-09
Rated

1

out of

5
by
Ms Fox
from
Gel Dries Ash White
I wish I had read the reviews prior to buying this product. With the amount of gel you have to use, don't see how it can be left on the face. All it does when dried is turns white. This is not for me. Cost too much to recommend to a friend or gift.
Date published: 2018-11-09
Rated

1

out of

5
by
Spark
from
Refurb/Used?
When I opened the box, I did a thorough inspection of the unit. As I turned it over, I noticed that there was once a sticker on the back of the unit, but it was peeled off. However, the sticky residue that stickers usually leave behind remained. I thought to myself, nope, not taking any chances on such an expensive item. Not sure if someone swapped it out or what. I never have much luck when it comes to electronic items. Back it went.
Date published: 2018-11-07
Rated

1

out of

5
by
lithal65
from
Looking Forward To Using
I'm truly excited about my NuFACE Trinity...unfortunately, the external power adapter wasn't included in my box! Ugh!
Date published: 2018-11-05
Rated

1

out of

5
by
Jewelsformommy
from
Wish it worked
I've tried both the mini and more recently this model when it was a Beauty IQ Steal with a longer return time of 90 days. I did not see much in the way of results for the time commitment. Using both attachments I was spending about 20 minutes on my face per day/6 days a week for 90 days. The gel gave me terrible break outs so leaving it on after the treatment was not an option. Because I had to wash my face before applying the gel for the treatment then again after using it my skin became very dry. To compare the mini with the full size Nuface; I really loved the size of the mini which I think fit the contours of my face better than the full size version but didn't see results so I sent that one back too. I liked that the full size Nuface came with the Ele attachment so I could concentrate on the lips, eyes and "11s" which are my problem areas but since I didn't see a real difference after doing the treatment for 90 days and I didn't feel it was worth the price point. Maybe if the bundled it with the one for wrinkles too it would be a better deal. When it was a steal it was almost $400 for this configuration and that's just too much money for results that were hardly noticeable.
Date published: 2018-11-01
Rated

1

out of

5
by
JADIVA
from
Dead After Six Months.
I purchased this last May 2018, it is now the end of Oct 2018 and it does not turn on. The lights show it it fully charged on the stand, but it will not turn on. I had another NuFACE a couple of years ago that died after a year or so. I will not purchase another.
Date published: 2018-10-31
Rated

2

out of

5
by
dpotter8
from
Great results while it worked
I bought my first trinity as a TSV. It arrived and I started using it. Loved the results. I hadn't really realized my eyelids were sagging, but the trinity w/ele certainly lifted them. My jaw line was more defined as were I do believe even my cheekbones. However, one day (about 6 weeks in) I turned it on only to have it immediately turn off. Repeated the process with the same result. Called NuFace. They suggested I reset it and charge it 24 hours. Did that with the same result. Packaged it up and returned it for a replacement. Replacement arrived. Tried to be even more careful about using it only to have the same thing occur after about 8 weeks. Hated to return it, but it's just too much money for that level of reliability.
Date published: 2018-10-29