NuFACE Trinity At-Home Microcurrent & LED Wrinkle Reducer Device
Recommendation Test Anchor, don't delete
Recommendation Test Anchor, don't delete
In Stock
Sold Out
We're sorry.This item is not available at this time.
Pre Order Possible.
Low Stock
Recommendation Test Anchor, don't delete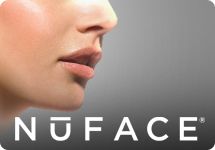 Learn more about the FDA-cleared NuFace device:
Reviews & Community QA
NuFACE Trinity At-Home Microcurrent & LED Wrinkle Reducer Device
39
39
Subtle Results
I've been using my NuFACE for almost four weeks now, and am starting to see subtle results. My expectations were not for an immediate difference -- I have an almost 65 year old face and since my lines and wrinkles didn't appear overnight I can't expect them to disappear overnight either. The treatments do take a little longer than I expected, but I think I deserve to take the extra time if this device is going to make me look better. I have deep marionette lines by my mouth, drooping eyelids, jowls and my lips turn downward a bit. I'm beginning to see that my eyes are opening, my brows are lifting, the marionette lines have lessened a bit, and the jowls have gotten a little less noticeable. I'm excited at the results so far. I intend to keep investing the time in ME!!
09-27-13
Take to much time !!!!!!
This product takes to much time to do daily . Had it for a few weeks and I didn't have the time everyday to complete the process. This product might bring results when you follow the instructions everyday.
09-27-13
Didn't see any change
Used regularly for several weeks and didn't notice any change. So, back it went.
09-23-13
leah
I love love love this product. I have used the microcurrent for a long time with great result, but just recently started using the red light and already see results around my eyes and mouth. which is where I needed it the most. It is very easy to use just follow the directions on the video.
09-22-13
Sitting On The Fence
Trying to decide if this is worth it. It does take more time than explained on air. I am seeing a little improvement in lifting above my eyes so I'm plz'd w/that but have had to quit using it on my face since the gel broke me out n a fine rash . Want to try it w/moisturizer or serum under the gel b4 I make up my mind. Not blown away w/it, but will continue using and hope I start seeing some other improvements.
09-19-13
Nothing like looks in TV
I have no luck with this,i returned.My face is small,i could used,on my cheeks only.Hard to use around the eyes,no way in small fohead.My only area of concern is the chin,and neck,No worsed for me,Too expensive,just for small area.No everybody have a big face,I got better results with my old ,old Connie Stevens machine.Lift my eyes,and last.
09-17-13
sending back
Had high hopes for my 59 year old skin but it seems to move the wrinkles to another area..
09-16-13
NuFace Trinity
I've had my device for almost a month and cannot see any difference so far. Since I have 90 days to return, I will keep for now and continue using it in the hope that I see a difference soon. It does take more than five minutes a day as was stated during the show to use this device.. To see a real difference, one should use the toning device for approximately 25 minutes and the wrinkle device for another 20 minutes. That is quite a while to spend daily. Also as stated, it is difficult if not impossible to use the wrinkle device while reading or watching TV since the light is very distracting.
09-16-13
Love this product
It is so nice to have two products in one! I am 59 and seeing the sagging skin and wrinkles starting to take over I needed to try something at home (I can't afford to keep going to the day spa). These two products are helping with both the sag and wrinkle problem. You have to use it for it to work. I'll admit I use the wrinkle treatment more often as I love how relaxing it is ( I've even fallen asleep while using it). Thank you for a great product.
09-16-13
So far so awesome!
I have been using the NuFace for about 2 weeks. I didn't expect to see much because the reviews and presentation said it would be a cumulative effect and not and instant one. I thought I saw something, but I thought it was because I wanted to see it. Then my friends started to notice and I realized my daily sessions are having an effect. My eyes look lifted and I look more rested. Before I bought this, I did a little more research and found that this technology was developed to treat a medical condition where facial muscles can becomes paralyzed. With the data behind it, I felt comfortable with my purchase. I gave it 4 stars because I'm still working with wrinkles remover attachment. The blinking red lights can be a bit hard to tolerated when you uses near your eyes, but the warmth feels really nice. If you do purchase, take a before picture so you can see your progress!
09-15-13
A lot of work.
Not for me. Takes a lot of time & effort. I don't have the time to dedicate to the product to obtain any results. For me - I'd rather go for an injection.
09-13-13
A skeptic is impressed.
I bought this as the TSV and started using it nearly two weeks ago. I really mulled it over that day, all day long. Big investment for me. And do I want currents and lights and all that on my face? But the wrinkle attachment reeled me in as well as the assurance I could have all my money back after 90 days. That seemed more than fair to me. I am not overly vain but suddenly it seems as though my face has gone the way of my body...droop, drop, sag. I have noticed jowls and pockets just below my lips that look droopy and wrinkly. On top of that, I have some pretty deep wrinkles above my lips. I've tried a million creams...some are better than others surely but they really don't do much. Well, so far, so good. And I mean, yeah, noticeably good. The changes are small but they are there, even with my wrinkles which NuFace states will probably not noticeably improve for 8 weeks. But they have improved. What is really neat is the pockets below my lips, above the jowls, are tightening so are drooping less which in turn, is smoothing out the wrinkles! My jowls are tightening as well as the folds on either side and below my nose. Before starting this, I would pull my cheeks back to see how deep those folds were getting...now there is simply less pulling before it smooths out. My husband has noticed as well and he surely would not lie considering the expense of this machine. I am confident that if I continue the changes I am seeing already are going to be more pronounced and will last longer but if they don't, I still have another 2.5 months for return. That's pretty good. I am lazy and this is a commitment after all. But to me, well worth it. What it means is I don't have to have my face fall down. I am 52 and don't mind looking my age but don't want to look haggard and saggy. And with this I don't have to keep wasting money on creams and serums that are frankly a waste of money most of the time. As for how it feels, it can be kind of weird. I started with a low current until I got used to it but what I found was actually, if you properly cover with the stuff they give before using the machine, you barely notice the current and it doesn't really hurt when you do feel it, it just feels kind of weird. I'm now on full power and no problem. As for the light from the wrinkle attachment, it doesn't bother me however weird it seems. If you sit in front of the tv while you're doing it, the time flies. I appreciate the beeps that let you know you are done with whatever section you're working on. NuFace does state people's results will vary depending on their issues and skin. I think with such a generous return policy, it is worth the try but of course you need to follow directions and stick with it. I would never recommend something this expensive if I didn't truly see the results they promised.
09-13-13