Ninja Storm Designer Series 400 Watt 40 oz. Food & Drink Maker
Recommendation Test Anchor, don't delete
Recommendation Test Anchor, don't delete
In Stock
Sold Out
We're sorry.This item is not available at this time.
Pre Order Possible.
Low Stock
Recommendation Test Anchor, don't delete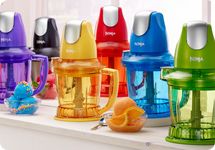 Reviews & Community QA
Ninja Storm Designer Series 400 Watt 40 oz. Food & Drink Maker
712
712
Easy to use & easy clean up.
Bought this a year ago & gave one to my son also. Didn't use it too much but lately I've been watching my carbs & using it w/cauliflower both cooked & raw & its wonderful. Just the right size for what I'm using it for & love that its so easy to clean.
05-17-15
Didn't Last
This worked fine until the motor gave out after I had owned it about 18 months. Expected better longevity from this purchase.
04-22-15
Use in the office
Great little blender. Good price. Not obnoxiously loud, but not silent either. I use it to blend up lunch (protein shakes) in the office. I put ice cubes in and the consistency reminds me of an icecream shake (no kidding!) Not all blenders are created equal. Ice is challenging for most. I have a large Ninja at home, which is more powerful, but for this application, this is the right tool for the job.
04-09-15
Mold under the gasket
I mostly like how this works, but ice always gets caught in the blades, and doesn't get chopped up. The biggest problem is that I found mold growing under the folded part of the gasket of the lid. (I do clean it immediately after using.) Even soaking it in vinegar couldn't get rid of the mold. The lid has too many little crevices where food gets caught. There is also mold that I didn't notice immediately because it is where the gasket is glued onto the bowl. UGH. Time for a new blender option.
04-01-15
Great While It Lasted!
This worked so well for about 6 months, then it's like the engine burned out. I wouldn't but it again. It should've lasted a lot longer.
03-23-15
Great for smoothies
I had a much more expensive, two pitcher Ninja. This one takes it's place. This one is easy to use without so many pieces and parts!
03-23-15
15 Seconds...NOT Thirty
I just went back and looked at the video were Bob Warden says to hold down the power button for THIRTY seconds. I do believe this is why my first Ninja Storm went bad. I loved my lime green one and at one point decided to order another as a back up. Unfortunately they only had Fuchsia available. Anyway...the green one started making a loud noise and it got to were I couldn't make it stop. Getting out the new one I decided to reread the instructions and it says NOT to hold the power/pulse button down longer than 15 SECONDS. I hope this info will get more life out of my new Ninja...and YOURS.
03-13-15
Great Product!
When I bought this, I really thought I'd return it. Nothing could be further from the truth! I absolutely love it and use it almost every day! I would definitely recommend this to anyone!!
03-06-15
Good and Bad
I absolutely loved this as long as it worked! I just expected it to last more than 18 months. I like the looks of the one with additional blades and will give it a try but I hope it holds up better. It seemed there was a problem where you push down to make it run, the plastic jar and lid have held up fine. This is 5 Stars for the time it worked, 2 Stars for short life span. So it gets a 3 Star.
02-21-15
Go To Product
This little machine has become my go to product and I simply love it!! It is a powerhouse and can be used for practically everything. I purchased the orange color so it adds a lot of pop to my kitchen. Love it!
02-15-15
Choppy Chop
Love to cook and this lil wonder saves so much time in chopping, and also mixing.....
02-10-15
GOOD BUY
WE REALLY HAVE ENJOYED USING THIS PRODUCT. NO REGRETS. IT IS SIMPLE AND EASY TO USE, AND WASHES WELL IN THE DISHWASHER.
01-19-15