Nature's Code ONE 90 Day Multivitamin Women's Capsule Auto-Delivery
Choice of: Over 50 or Under 50!
In Stock
Sold Out
We're sorry. This item is not available at this time.
Pre Order Possible .
Low Stock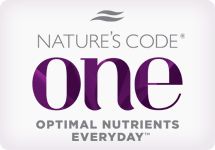 Learn about Nature's Code® ONE Optimal Nutrients Everyday™ multivitamins.
Description
What is it: Nature's Code ONE, Optimal Nutrients Everyday, is a convenient, one-a-day multivitamin capsule. Nature's Code ONE comes in a 90-day supply. And thanks to this handy Auto-Delivery plan, you'll receive a new shipment approximately every 90 days for two years.
Who is for: The ONE Women Over 50 formula is specifically designed for women over the age of 50.
The ONE Women Under 50 formula is specifically designed for women under the age of 50.
Why is it different: Nature's Code Women's Over 50 and Under 50 formulas provide essential vitamins and minerals, in addition to supporting immunity and energy production. ONE's clear veggie capsule features patent-pending, advanced Inno-Flo technology, which replaces the need to use synthetic flowing agents to fill the capsule. Also, the capsule does not include artificial colors, flavors, preservatives, or sweeteners.
How do I use it: Take Nature's Code ONE once daily with a glass of water.
From Nature's Code(R) Vitamins and Supplements.
This statement has not been evaluated by the Food and Drug Administration. This product is not intended to diagnose, treat, cure or prevent disease. As always, please consult your personal physician before taking any dietary supplements, especially women who are pregnant or lactating.
For ingredients and supplemental facts please see above. Other ingredients include Vcaps(R) Plus (vegetarian capsule), Inno-Flo(TM) (rice hull fiber), and BBlock(TM) (vegetable cellulose). Contains soy.
Each shipment includes 90 capsules; each shipment arrives approximately every 90 days for two years
Women Over 50: designed for women over the age of 50
Women Under 50: designed for women under the age of 50
Please click on the About Auto-Delivery tab for more information
Important Details
If you take advantage of both Auto-Delivery and Easy Pay™, it is possible that more than one Easy Pay installment could be due in the same month. For example, if your Auto-Delivery plan ships every three months and you select 4 Easy Pay installments, you would pay the fourth installment of your first shipment in the same month you pay the first installment of your second shipment.
Reviews & Community QA
Nature's Code ONE 90 Day Multivitamin Women's Capsule Auto-Delivery
is rated out of
5
by
26
.
Rated

5

out of

5
by
Anonymous
from
Well thought out Formula
I have trouble swallowing pills and only having to take 1 a day is a big plus. These are easy to swallow, do not have any odor. I saw in some reviews they said they couldn't get past the smell. There is no smell to my bottle. Gives you a good amount of the important Vitamin D. And I like that they added Lutein and Zeaxanthin as these are good for your eyes. Good amount of Potassium also. For those who said they had more energy. I can't comment on that because I was taking other vitamins before this. I guess if you weren't taking anything maybe you would notice a difference. I just like the ease of one pill, and easy to swallow. I will continue with these as the price was good also.
Date published: 2015-01-18
Rated

4

out of

5
by
jayhols
from
Good Supplement
They are good for you, don't "smell" and unless you are chewing them (?) there is no taste, you take them with water and "swallow"! Also, they are not too large!
Date published: 2014-10-18
Rated

5

out of

5
by
Minderella
from
BEST EVER
Nature's Code ONE for Women 50+ is THE best vitamin I have ever taken. I'm 67 years old and have never had so much energy. I used to take single vitamins from 5 or 6 different bottles (couldn't tell much difference in energy level), and now just the one does the trick. If I just had the stamina to match all this energy, I would be a real go-getter. As it is, I've been cleaning, gardening, canning, cooking, baking, and doing other things that previously I didn't have the energy to do. Sure, it's not all that tasty, but I take it with a meal and the aftertaste goes away immediately after I bite into something else. PS - I wouldn't recommend it as a gift, but would highly recommend it to anyone to purchase their own.
Date published: 2014-08-09
Rated

1

out of

5
by
Corner Cathy
from
Nature's Code (for Women Over 50) Vitamins
I have been a LONG-TIME customer/user of Nature's Code (for Women Over 50) vitamins in packets. However, I do NOT like the smell of, nor the taste of the new formulary. I also do NOT like the after-taste. I have canceled my auto-delivery & based on the reviews of the "once daily multivitamin" I will not be ordering again in the future. Should another NEW FORMULARY come out, I will consider giving them another try.
Date published: 2014-07-29
Rated

1

out of

5
by
misslillian
from
hard to swallow
I have been on auto delivery for several years for the women over 50 packet vitamins but I notice on my last shipment they have changed the configuration from 6 tablets to 5 and they are larger and harder to swallow. The new ones don't seem to work as well and I am hoping they will bring back the older packets as they seem to work better with better benefits. Not sure if I will stay on auto delivery if these new packets stay like they are. I have read where other customers have complained as well. Thanks for any help you can give to improve the packets.
Date published: 2014-07-29
Rated

3

out of

5
by
CBrown
from
Liked other vitamins better
Like that it is just one tablet, but I think I liked the muti packet better. Felt better with multi packet
Date published: 2014-07-12
Rated

4

out of

5
by
jawfish
from
Upsets my tummy
I have no problem swallowing these capsules, but they give me instant indigestion. I will continue to take them until I have finished the bottle, but I have cancelled my auto ship. This is my only complaint and it may not bother someone else the way it does me. I will keep looking for a similar product that goes down smoothly.
Date published: 2014-07-05
Rated

2

out of

5
by
leone
from
dissappointed
I love almost all of the vitamins I have received from the Q. This one did disappoint, however.....They are HUGE horsepills. Now I can take a lot of meds at one time but this was about 1/2 the size of my little finger...When I tried to cut it in half, I got orange goo all over my fingers and it did tend to sting.....My husbands vitamins are almost half the size of the womens.......Now I ask you, what is wrong in that????? Please reformulate to a smaller size.....thanks for listening. Sincerely, Kathy K
Date published: 2014-07-01