LidiaBastianich Hand Painted Stoneware 3-pcRectangular Bakeware Set
Customer Top Rated
In Stock
Sold Out
We're sorry. This item is not available at this time.
Pre Order Possible .
Low Stock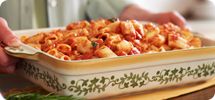 Bakeware with Handpainted Flair
Click the link below for more about this stylish stoneware from Lidia Bastianich.
Reviews & Community QA
K33478 - Lidia Bastianich Hand Painted Stoneware 3-pc. Bakeware Set
424
424
Best purchase - best pricing!
I have several pieces from this line of stoneware and they are perfect! Look is stunningly Italian and clean up is a breeze! Wish you could bring more of this back as it is (in my opinion) the best there.
01-16-13
The Most Important Purchase I have made on QVC
This bakeware is beautiful and functional...I want more...Please bring more...These are my most treasured pieces in my kitchen. My casseroles bake like gourmet dishes. I care for this bakeware like it is a treasured antique passed down through the generations of my family. Absolutely nothing sticks even after an hour in the oven. I have owned this bakeware for more than a year and I am still amazed with the easy clean up... Have to have more....One more thing....The bakeware is absoluely gorgeous... A work of art. Love love Love it....
01-16-13
Best Bakeware ever
Not only are these lovely to display, they are so easy to clean and I absolutely LOVE them!
01-03-13
Best ever
I ordered this the first time about a year ago..I love it!! The sizes of the three pieces are perfect..I have purchased many ovenware pieces over the years and this set is by far the best in every way..I love the color and the weight is perfect..I didn't think the smaller ones would be as useful, but I was wrong..I use all three all the time..Not only do I serve in them..I bake in them all the time.. My daughter begged me for one of the pieces and I couldn't do without it, so I ordered one for her and she loves it too..Thanks Lidia..keep them coming..
10-19-12
Best Bakeware I have purchased! Thank You Lidia.
The bakeware is phenomenal! It is beautiful and so well made. I love the weight and feel of the bakeware. Cannot say enough about it. So much nicer than the other bakeware lines. Please get more. I want more!!!
10-14-12
Wow! Easiest cleanup EVER!
Yeah yeah, whatever...I hear you saying out there. I'm always skeptical when they make claims like that, BUT in this case it's true! Stuck on mess that was left for two days in the oven (sneaky kids that didn't want to do dishes) I was not looking forward to attempting clean up on that! But, I just put it in the sink and to my amazement it cleaned up like it had nonstick spray under the stuck on food! No kidding! I would definately recommend this set! and can't wait to try other Lidia products!
10-07-12
Great!
Love it! My mom gave my sister and I this set as Mother's Day gifts. I have the blue set. They are great sizes and clean up great!
09-23-12
Great Deal!
Quality stoneware. Generous sizing. I'm buying a second set at this price!
09-19-12
Beautiful!!
I really enjoy Lydia's pieces. It's sad that they are no longer available. I would love to order more sets....
09-13-12
beautiful
I purchased this at the clearence price and it is a great buy. I am trying to replace all my teflon pans(had to many) and this is a great start. the art work is beautiful ,looks great when serving ,cooks well and non stick.. great purchase
08-31-12
Feel so nice
My Mom bought these and I am in charge of all the cooking as of late and I love this bakeware. Easy clean up, great all around cooking and I love the way these dished feel on the inside- very smooth. Have this set in 3 colors.
08-26-12
Breath taking beautiful !!!!!
I have purchased many pieces from Lidia bakeware Always so pleased. High quality, even baking, absolute beauty. A true Tuscan beauty! Can't wait for October s show with Lidia... Houston
08-24-12