Laura Geller Bake Sale 6-piece Baked Color Collection
Recommendation Test Anchor, don't delete
Recommendation Test Anchor, don't delete
In Stock
Sold Out
We're sorry.This item is not available at this time.
Pre Order Possible.
Low Stock
Recommendation Test Anchor, don't delete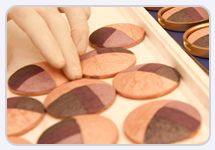 One Sweet Collection
Click below for more about Laura Geller's Bake Sale Collection
Recommendation Test Anchor, don't delete
Recommendation Test Anchor, don't delete
Reviews & Community QA
A218398 - Laura Geller Bake Sale 6-piece Baked Color Collection
438
438
I love this set!!
I have been a Geller girl for about 5 years now, and this set is awesome. I stopped using Laura Geller about 2 months ago, because i wanted to try IT cosmetics. Well, I thought I liked It better but then i noticed my face started breaking out Bad. I have never really had any issue with acne. I stopped using It and went back to my balance and brighten and in two days my face looks 50% better. I know my face will clear up before i know it. So, if your a Geller Girl stay a Geller Girl.
10-02-12
Would Love If Right Color
I want to love the balance and brighten so badly but I am true porcelain and porcelain is a bit too pink for my already rosey color and the fair makes me super tan looking, way too dark I think I would love this formula for my skin if it matched color wise
09-19-12
Try it, you'll like it!
If you've never purchased any LG products before, you should try this first as it is an amazing set! The eyeshadow alone is a work of art (and comes with an excellent brush) and the colors will work for any eye color. I'm cautious about what colors I purchase because I have light green eyes and not many eyeshadow colors look good on me but these colors will make your eyes stand out whether you apply lightly or go for a deeper and more dramatic look. The face and blush powders are wonderful coverage and won't dry out your skin (especially with an application of LG's fabulous spackle which moisturizes your skin and gives you a dewy glow). The "marbled" lipstick is ingenious and gives you a beautiful splash of color while it moisturizes your lips. Can you tell that I'm a big fan of Laura Geller? I found this set to be a real winner and would recommend it to all of my friends to try.
09-03-12
Awesome Lipstick
I love the entire set, but REALLY LOVE the lipstick! I wish we could buy just the lip stick without whole kit. You use lipsticks faster then the rest of the items uhgggg! Also I loved the baked kit that was on autoship bring it back with new colors PLEASE!
08-17-12
Finally - color with glow not shimmer or giltter!!
I LOVE this set! My kit came with the champagne spackle which was lovely. I am finding that I prefer the spackle to any other primers - not heavy and doesnt ball up on me. The eye shadow colors are a lovely shade of pinkish brown and the blush does not have shimmer that makes pores look huge. I find the lip color to be a pinkish hue - nice and creamy with some slip to it. I got the kit because I needed the Balance & Brighten. This is my all time favorite color kit from Laura Geller - and believe me, this is not my first rodeo - I have LOTS
08-15-12
FAVORITE!
I really love this makeup set. I am so disappointed that I am not able to reorder this. Like the other reviewer stated: Please, please bring it back! LOVE!
08-02-12
I want it again!!
This is my favorite Laura Geller Kit!!! I am so sad that I can't reorder. I love it!!
05-04-12
VERY warm colors- still work
I usually use cool colors but these do work well. I love the powder and am still adjusting my use of the blush. Have to admit the primer is a mystery to me. It seems to just make me shiny, no help otherwise. The lipstick is has an odd effect and is very coral. I cannot recommend because I think it is too hard to know how this would work on different skin types (oily, normal, dry).
04-22-12
Great kit!
I love and use all the products in this kit. That doesn't usually happen, so I was pleasantly surprised. The foundation is my favorite for many years now. I really like the new blush. And I have never found a baked eyeshadow that I didn't like. The spackle helps the foundation stay all day and the Strawberry toffee lipstick is creamy and looks lovely as well. Great kit Laura!
04-21-12
Perfectly coordinated set......
I was so excited to receive this kit. The eye pie colors are fantastic. If I'm not sure what I want to put on for the day, I choose the light pink in this pie and just line with the dark brown. Also, the kit comes with the pink buttercream, which is a fantastic pink that looks like baby cheeks on. It just looks like a natural flush to the cheeks. The lipstick is a good match and it is always nice to get an extra brush to add to my collection.
04-18-12
More Good Geller Stuff!
Got this to get the full size tinted Spackle and the new Pink Buttercream blush. All that was left was the porcelain shade and I use regular but is ok as I can blend them together for a custom color so don't mind. The blush is beautiful-love it--nice warm pink. Am sure I'll be using it a lot. Love the Ethereal Spackle. The shadow palette is a great palette-- if you're into these colors. Very generous portions. I like the highlighter color best---a really pretty shimmery light neutral pink; the mid tone is a very rich pink brown. Not nuts about the darkest shade which is a deep bronze--but can use wet as a liner so it won't go to waste. I ended up liking the lipstick a lot more than I thought I would. Looks kind of yuck in the tube but put it on and Wow! Great watermelon shade; nice for summer and will look good with my coloring. So: Ethereal Spackle=5 stars, Pink Buttercream blush=5 stars; Shadow Palette=3.5 stars; lipstick=4 stars; brush=5 stars (Laura's brushes are nice). Total 4.5 but will round the whole thing up to 5!
04-05-12
Finally...Good Makeup!
I got this kit last year when she premiered the new porcelain color option, which I desperately needed. I had been using her regular color foundation, and while it was close, I couldn't build coverage because it did not match my pale face. The tan face, white neck look isn't a good one! The porcelain matches my skin tone perfectly! You cannot see the foundation at all! It covers my acne and dark eye circles. This is the best foundation I've ever used! The eyeshadows are phenomenal! I am told that my blue eyes pop, look electric, look like a professional did them up, etc. You don't even have to wet the darker color to use as a liner. Of course the brush is great & it really helps you make the darker smokey look in the crease. The blush is fantastic & you can use just a little to get a natural rosy hue without too much shimmer. The lipstick is a great color & I like it very much. My only complaint is that it lacks staying power. You will have to reapply after drinking, kissing, eating & after about an hour of just normal wear. The spackle does help the foundation lay down evenly & if you skip it you will notice a difference in how the makeup goes on. LG makeup does not break me out, does not smell weird, does not irritate my sensitive skin & gives me buildable makeup to change my look. Since switching to LG over a year ago, I now get compliments on how I look regularly. That never happened before! This kit will help you get started & is a great 1st order to build your new LG collection if it's your 1st time.
03-13-12