KitchenAid Deluxe Edition 5qt 325 Watt 10SpeedTiltHead Stand Mixer
Recommendation Test Anchor, don't delete
Recommendation Test Anchor, don't delete
In Stock
Sold Out
We're sorry.This item is not available at this time.
Pre Order Possible.
Low Stock
Recommendation Test Anchor, don't delete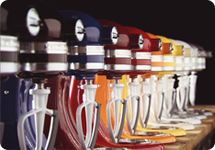 Learn More
Click below for details about this classic KitchenAid essential.
Reviews & Community QA
KitchenAid Deluxe Edition 5qt 325 Watt 10SpeedTiltHead Stand Mixer
754
754
Doesn't Come Any Better!
I've owned many kitchenaid mixers, I guess I collect them. These are the best kitchen work horse. There isn't anything it can't do. I read others mention that speed one is too fast for liquid or flour, both are light substances and its obvious. Dont think twice about purchasing one, they are worth every penny!
04-29-14
Cannot go wrong with a Kitchen Aid Mixer
You cannot go wrong with any Kitchen Aid Mixer. The only complaint I have is that it was promoted with a free extra bowl and there was no mention of how to order this so I never did.
04-27-14
Best Purchase Ever
I bought this Kitchen Aid Mixer for Ali, my then nine year old great granddaughter's Christmas present. She loves to bake on a regular basis. This mixer gets a real workout several times a week. She still stands on her stool so she will be tall enough to work her magic with this mixer. I could never have bought her a better Christmas present.
04-25-14
Best Mixer Ever
Since receiving this product, I have received so many compliments regarding the color and appearance of KitchenAid mixer. I gave my old KitchenWare mixer to my daughter and she is using that one. Now my son is getting ready to get married and I promised I would buy them one for their wedding present. His fiance is so excited. This mixer has been so durable and dependable and I have not regretted one moment since I purchased it. Thanks KitchenAid!
04-13-14
Cant get any better!!!!!!!
I love all my kitchen aid products, but love my mixer the most!!!!! Works awesome, I use it multiple times throughout the year!!!!!!!!!!!!!!!! Cant go wrong with this product!!!!!! LOVE LOVE LOVE!!!!!!!
03-11-14
THE BEST
After years of watching this mixer, I purchased the 325 watt deluxe edition when it was at a special price. I knew I would like it but did not realize that I would love it. This mixer is the best. It is quiet and operates like a well-oiled machine. I have been a QVC customer for years and this is one of my best purchases. Thanks QVC for all your great products.
03-09-14
Love It!
Bought this for my husband (he is the cook in our house) and he loves it! He uses it all the time. Clean up is a breeze. He does want more parts eventually but that will come in time. He has wanted a kitchen aid mixer for years. I am so happy that QVC offered the Easy Pay for this item.
03-05-14
Love this item
Thanks qvc for offering this item!! Love making every thing
02-06-14
KitchenAid Mixer
This mixer is the best purchase I have ever made. It made my life so much easier baking for Christmas. I love love love this mixer. Just wish I would have purchased it years ago.
01-04-14
LOVE LOVE LOVE!!!
I have put off for years buying a kitchenaid mixer, I always thought my hand mixer was enough. I was soooo wrong!!!! The ease of using the stand mixer was definitely worth the price tag. I got the expresso color & it was gorgeous. I am a firm believer that every kitchen needs this mixer.
12-22-13
Love the mixer..rebate has become a hassle..
I love the mixer...but the rebate has become a hassle! I didn't have UPC from the box and called Kitchen Aid, finally agreed I could send in form ( had all the other original paperwork). They sent it back saying they would not honor the rebate. I called again and Finally...they said to resend it....we will see if they honor it! QVC should just take the rebate and subtract the amount or add the bowl etc....
12-09-13
Probably shouldn't, but very glad I did!!
At 70 years old, living alone in an apartment, didn't make sense to order a Kitchenaid Deluxe Edition Mixer!! But.......,my favorite thing to make is peanut butter cookies and as one gets older stirring in the flour by hand takes some strength. I start out with the flat beater to cream the mixture and then remove that and add the dough hook which thoroughly mixes the flour into the dough. So far, the mixing hasn't gone beyond cookies, but I'm going to try cinnamon rolls eventually. The easy pay made it possible to afford this mixer. Yes, it might be a bit extravagant, but I'm very very pleased with this Kitchenaid. Thanks Kitchenaid & QVC for a great value, easy pay purchase! :)
12-04-13