KitchenAid 3.5-cup Food Chopper
In Stock
Sold Out
We're sorry. This item is not available at this time.
Pre Order Possible .
Low Stock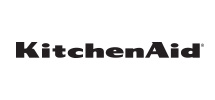 Recipes & Tips for Your KitchenAid
Description
Give it a whirl, and see how quickly this 3.5-cup food chopper powers through everyday kitchen tasks. It's the ideal accessory for prepping single-serving sizes, chopping veggies, or pureeing your favorite dressings and sauces. The one-touch operation is so simple: just press the chop or puree button. An opening at the top allows you to add wet ingredients as the unit spins--ideal for preparing emulsions or soups. From KitchenAid.
Includes KFC3511 food chopper with 3.5-cup bowl and lid
Two-speeds: chop and puree
One-touch operation
Buttons located on top of unit; unit is designed to fit any hand position
Opening on top of unit for adding wet ingredients
BPA-free bowl: dishwasher-safe
Measures approximately 6-1/2" x 8" x 10-1/8"
UL listed; 1-year Limited Manufacturer's Warranty
Reviews & Community QA
KitchenAid 3.5-cup Food Chopper
is rated out of
5
by
37
.
Rated

2

out of

5
by
ToniLynn
from
Problems with the lid
I just received my Kitchen Aid 3.5 cup processor. My husband and I both had problems with the lid. Its not easy to turn the lid on both bowls. I don't like the handle. My hands aren't that big and I can barely grasp it. I like the older model, it was easier getting the lid on and off and grasping the handle was easier. If this mini processor is the only model, I will look for another manufacture which I don't want too. I really like my Kitchen Aid appliances, except for this one.
Date published: 2017-02-10
Rated

5

out of

5
by
Nanita
from
I am in LOVE with an appliance!
My daughter gave me a food processor about 30 yrs ago & while it is NOT a KitchenAid, it still works as it did when my daughter first gave it to me in the 1980's. My problem with it was the bulk & the weight of it. It is HUGE & weighs a ton! I always wanted a smaller food processor & I always dreamed of owning a KitchenAid appliance. Well, with this processor I got both! I love this mini processor, though I don't see anything mini about it. I was pleasantly surprised to see how much I can put in the bowl. I have used it everyday since it arrived about 2 & 1/2 wks ago, every single day! It chops/purees incredibly fast. Clean-up is a breeze. I did read the prior reviews & was a bit nervous because many complained about the difficulty of removing the bowl because it has no handle. I have severe, chronic & painful rheumatoid arthritis in my entire body. My hands & wrists swell so badly that sometimes my husband has to put the toothpaste on my toothbrush because I can't squeeze the tube. So it was a big concern that I wouldn't be able to operate my new processor after reading all the negative reviews. But I wanted this so much that I decided to take the chance. I'm so glad I did. I had no trouble, none whatsoever!! It is so easy, I can't understand why so many people couldn't remove the bowl... If you're on fence about this purchase, take the plunge. At this price you really have nothing to lose. You try it for 30 days & if you decide it's not for you, use the provided return label & send it back. I promise you won't though. It is a workhorse & looks great in the counter. Takes less room than my toaster! Have I mentioned how much I LOVE my KitchenAid? I LOVE MY KITCHENAID!!!!
Date published: 2017-01-23
Rated

5

out of

5
by
fairyd
from
Great little chopper
I purchased this in the green, very pretty color. I wanted to replace my ninja chopper, which just took up too much space, in my little pantry. I read a lot of reviews for having a hard time getting things off, but I read the instructions, and then I played with it taking the lid off by holding the thin black part and then you twist. The blade pulls straight up, and out, , and the cup you also have to twist off. When putting everything back you should hear a click with the cup when you twist back on, push down the blade, and twist the lid back on until you hear a click. Play with it unplugged and you will get it. Its a nice size, and the cord does wind underneath, but I find it to be a pain, so I just leave it loose when I put away. Two buttons, and easy to use. I want to make the whip cream like she showed on air....yummy.
Date published: 2017-01-20
Rated

1

out of

5
by
Princess Mel
from
Worst Chopper Out There!
I got this as a Christmas present that I requested. I love KitchenAid and figured I would get a quality chopper. This chopper is impossible. I had to get my husband to get the bowl off and back on after I washed everything. Then I added my small onion pieces to the bowl & it doesn't work. So again I call my husband who tries everything. Going over all the direction's to make sure everything is correct. He tried for at least an hour. We never got it to work. So we are returning this gift & I'm not going to replace it with another Kitchenaid. I'm going to get a different brand. This model by Kitchenaid is horrible. Maybe that's why it's so cheap. People you have been forwarned even if this machine had worked I was going to return it because it's so difficult to use.
Date published: 2017-01-01
Rated

1

out of

5
by
FLceecee
from
WORST PURCHASE EVER
Purchased this chopper for holiday baking...... Unit didn't work......Contacted Kitchen Aid and was told that I would receive a return shipping label in my email. Waited 5 days and had to call Kitchen Aid a 2nd time. Was told that the return label would be included with the replacement unit, which was on the way. Called again and was told that it would be delivered in 3 weeks..... Rec'd the replacement unit...no invoice, no return label and the replacement unit didn't work...... I will "NEVER" purchase another Kitchen Aid product...... JUNK JUNK JUNK Where is the QUALITY in QVC?
Date published: 2016-12-26
Rated

5

out of

5
by
Mainiac60
from
Perfect For My Needs
I purchased this small chopper because the full-sized food processor that I had was so complicated, took up a ton of space, and I found myself never using it. This little KitchenAid chopper is perfect! I cook A LOT, but there are only the two of us, so this handles every job with ease. I purchased the yellow and it's really pretty with a bit of a retro look to it. I did worry that it might be hard to remove from the base since it doesn't have a handle, and that seems to be a common complaint in the reviews. However, I am tall and have fairly large (long) hands so it is easy for me.
Date published: 2016-11-01
Rated

4

out of

5
by
Cathy Z
from
Great food chopper
Was going to order it from QVC but changed my mind because I found it in my local store, for the same price and the exact color I would of order from QVC. I've used this product and like it so much. I would definitely suggest this item to my friends and family.
Date published: 2016-10-26
Rated

4

out of

5
by
lovinfall
from
Nice mini chopper
So far I like this mini chopper. I've only used it a couple times and it has worked great. At first I had some trouble disassembling it but after some practice it got easier. the cord is wrapped up in the underside of the machine so there isn't a long cord hanging out all the time and that makes it look neater on the counter. I purchased the yellow and it is a very pretty light yellow shade.
Date published: 2016-10-18